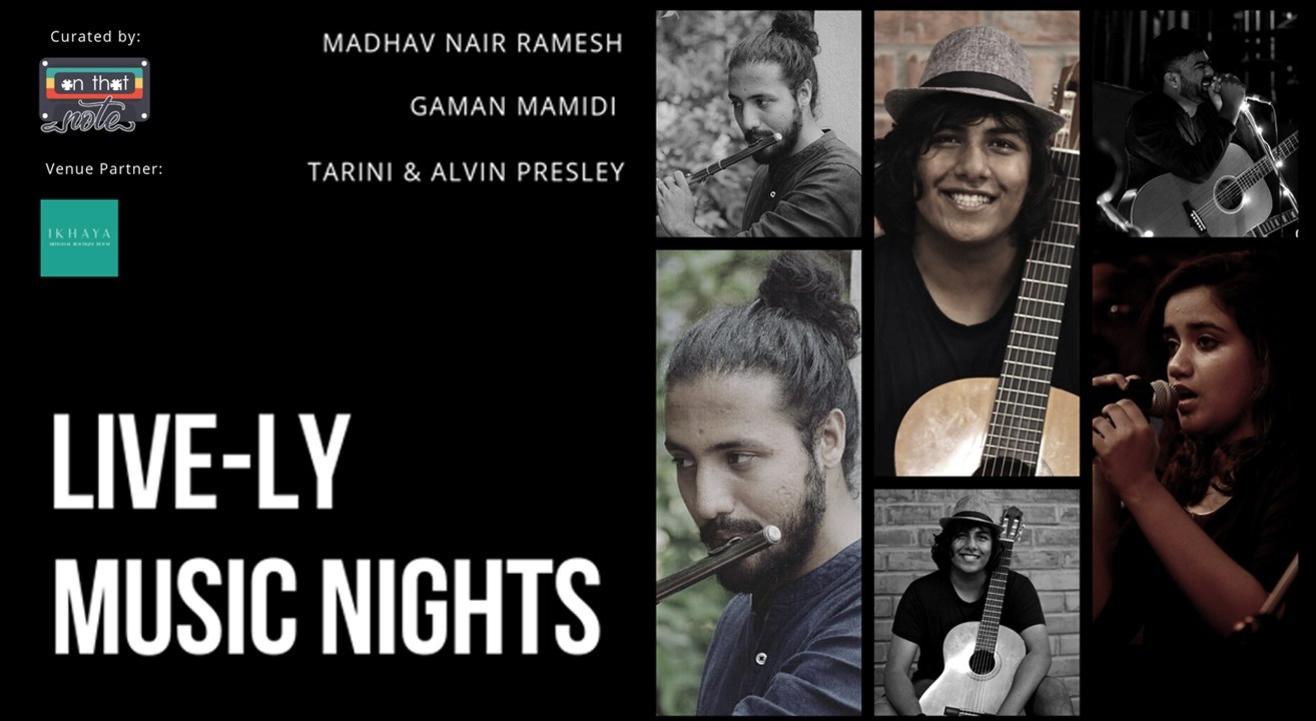 Music
Live-ly Music Nights
Ikhaya Artisanal Boutique House
About
Our intention at On That Note has always been to provide a platform for musicians to give them the opportunities they deserve. This is why we are very excited to present what we have lined up next, super exciting live (live-ly) music shows!
On That Note is now featuring artists/bands every month and hold two (or more) super exciting live shows where these extremely talented artists are going to perform their own original content, music worth listening to!
Performers for the month
Tarini & Alvin
Tarini is a singer-songwriter from Chennai, India. She has been trained in Western classical music for more than 10 years and has also performed in an acapella group and has also done musical theatre. She is currently focusing on her journey as an independent artist and a singer-songwriter.
Joining Tarini on guitar and vocals is Alvin Presley. Alvin is a Singer/Songwriter from Chennai who has been performing across India at Various Fests and Venues. His music revolves around Sufi/Indie Folk Genres and is an amalgamation of soul music and Bollywood. He is also the lead vocalist of experimental post progressive rock band 'Attva'.
Gaman Mamidi
Gaman Mamidi is a singer-songwriter/guitarist from Chennai, Tamil Nadu. He started learning guitar at the age of 4 but only received formal training at the age of 20 at A R Rahman's KM Conservatory.
Gaman tries to write about stuff which happens in his day to day life with a certain comic element to it. He is currently pursuing a professional music major at the prestigious Berklee College of Music in Boston with concentrations in 'he'll let you know when he figures it out.'
Madhav Nair Ramesh
Madhav Nair Ramesh, a.k.a, Maddy, The Flautist fell in love with the flute in class 11. Drawing inspiration from greats such as Pedro Eustache, Hari Prasad Chaurasiya and Jethro Tull, Maddy taught himself how to play the flute. He has a keen ear and can play any tune just by listening to it. He is not just a great performer (with a very active YouTube channel), but also is a collector of various wind instruments, which he promises to talk about when you come listen to him perform.
Venue
Ikhaya Artisanal Boutique House
6 Nawab Habibullah Avenue, 1st Street Off Anderson Road (near British Consulate, Thousand Lights West, Nungambakkam, Chennai, Tamil Nadu 600006
GET DIRECTIONS