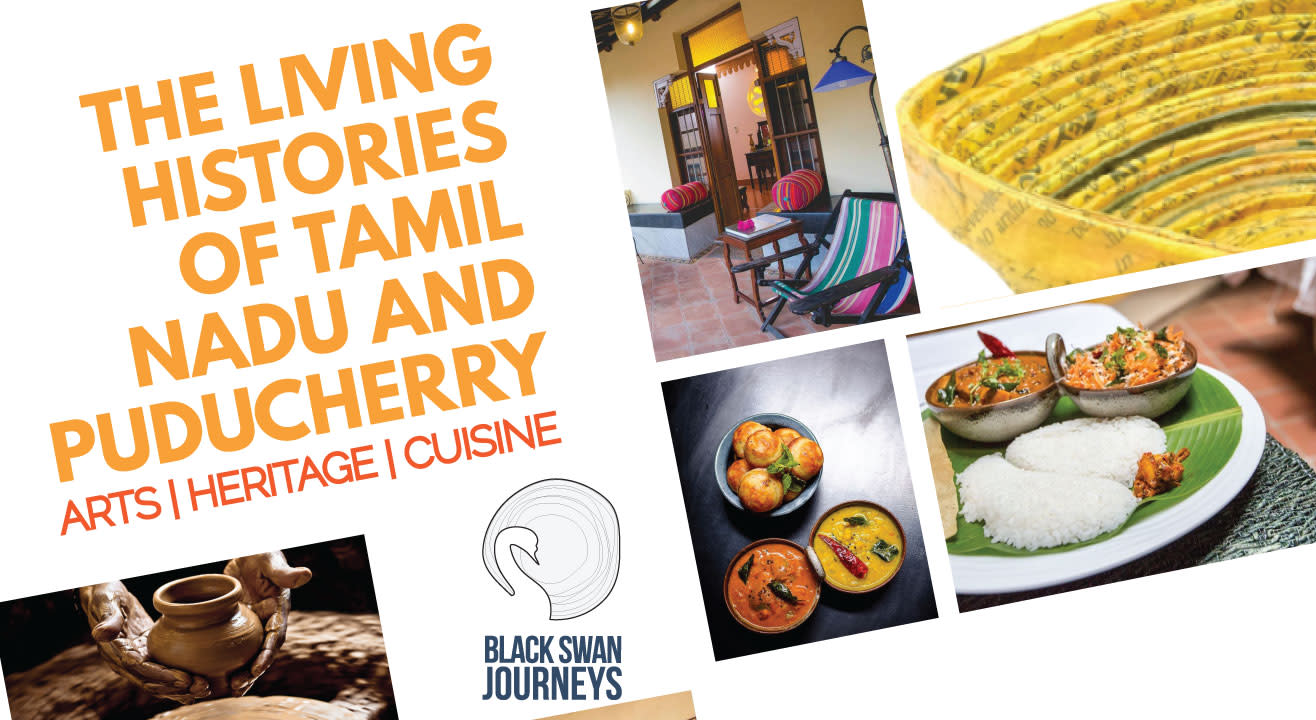 Explore
Living Histories | Pondicherry & Tamil Nadu
About
The essence of a place is intrinsically woven in its culture, art, and heritage. And that is precisely what Black Swan Journeys' Tamil Nadu-Puducherry cultural trail offers, it threads in intangible subtleties and provides a new canvas of these two destinations. Our experts guide you through its rich heritage, and skilled artisans provide insights into their lives, craft, and techniques. Traveling through Tamil Nadu and Pondicherry, you will come away with a new-found appreciation for food. Link back the influences to the colonies that settled along the southern coast and appreciate the delicacies born out of a marriage of native ingredients and foreign recipes. Experiences from the way your food is made to the way their statues are cast, in the way of their forefathers, we present to you a slice of Tamil vibrance, past present and future combined!
Mahabalipuram – Pondicherry – Swamimalai – Thanjavur - Karaikudi –Madurai

Day 1: 12th Aug 2018: Arrival in Chennai (-/-/Dinner)
On arrival at Chennai airport, you will be received by our driver and transfer to Mahabalipuram. (approx. 1hr35mins)
Visit Dakshina Chitra Museum - A living history museum dedicated to the art & craft of the Southern States, embark on a guided walk through the exhibits here.
Later you will have a Guided visit to the Shore Temples at Mahabalipuram - UNESCO WHS Shore temple, built in 700–728 AD
Post lunch on own, you will attend a demo/walkthrough of Pallava Stonecraft
Hard Granite Stone mined in the Swamimalai and Kanchipuram. These are hand sculpted by artists mainly in the Dravidian style.
Post demo, you will be transferred to Pondicherry. (approx. 1hr50mis). On arrival, check-in and relax.
Overnight Pondicherry at Maison Perumal / similar

Day 2: 13th Aug 2018: Pondicherry (Breakfast/-/Dinner)
After breakfast, and drive to Auroville. Embark on a guided visit to Auroville with a resident guide to explore the beautiful surrounds and understand the way of living here.
Free time for lunch on own at Auroville restaurants and then participate in a Waste Paper Craft Work Shop at Well Paper - Well paper products are hand-made and eco-friendly, transforming recycled newspaper into art and accessories. From baskets, bowls and coasters to jewellery, X' mas ornaments, and colourful Paper Mache figures.
Later in the evening, take part in a demo of local Tamil delicacies at your stay. Return to the stay.
Overnight Pondicherry at Maison Perumal/similar

Day 3: 14th Aug 2018:Pondicherry to Swamimalai (Breakfast/-/Dinner)
After breakfast, today morning you will embark on a Heritage Guided Walk of the Old Quarter with an INTACH expert.
Post walk, you will be driven to Swamimalai. (approx.3hrs)
On arrival, check-in and relax.
Later enjoy guided orientation tour of the heritage Swamimalai property – the hotel emerged from the existing village framework, its heritage, culture, traditions, lifestyle, and practices. Created by local craftsmen, serviced by the neighbourhood and entertained through local talent.
Overnight Swamimali at INDECO Swamimalai /similar

Day 4: 15th Aug 2018: Swamimalai (Breakfast/-/Dinner)
After an early breakfast today begin the full day Chola Bronzecraft workshop - The craft has been in existence since the Chola Empire, 12th century AD and still remains unchanged. The artists model a figure in bee wax, cover it with a special clay mixture and heat the mould. The wax drains out, molten bronze is poured into the mould and is then dried and chiseled to perfection! Return to your stay.
Enjoy local dinner.
Overnight Swamimalai at INDECO Swamimalai/similar

Day 5: 16th Aug 2018: Swamimalai to Kadiapatti (Breakfast/-/Dinner)
Today, after breakfast, we leave for a visit to Thanjavur.
Visit the Brihadeshwara Temple with a historian/ archaeologist. Visit Tanjore Palace and Sefroji Saraswati Mahal Library
Later you will attend a demo on Veena – A musical Instrument Making - The veena's history records back to the Vedic times. Identified with goddess Saraswati, the veena also finds mention in the Ramayana and the Mahabharata. It is often called the Hans (Swan) Veena. And is it unique to Thanjavur because the instrument is made from a particular strain of matured jackfruit tree found only in that area.
Post the demo you will start for Kadiapatti.
On arrival here check in and relax.
Overnight Kadiapatti at Chidambara Villas/similar

Day 6: 17th Aug 2018: Kanadukathan to Madurai (Breakfast/-/Dinner)
After Breakfast at the hotel, check out of your hotel for a visit the Athanagudi Tiles Demo - named after Athangudi a manufacturing place in Chettinad, the tiles are handmade tiles which are used to decorate the interiors (floors, walls etc.) of houses. The craft is popularly known as 'Pokal'
Later drive onwards to Madurai (2hrs).
On arrival in Madurai, enjoy lunch (on own).
Later embark on a Guided visit to Meenakshi Amman Temple – This 6th century BC temple is dedicated to Parvati, known as Meenakshi, and her consort, Shiva, here named Sundareswarar. It houses 14 gopurams (gateway towers), ranging from 45–50m in height. The tallest is the southern tower, 51.9 metres.
Overnight Madurai at Heritage Madurai /similar

Day 7: 18th Aug 2018: Departure from Madurai (Breakfast/-/-)
After breakfast, check out and you will be transferred to the airport for your departure flight.

Maison Perumal/similar - Pondicherry
INDECO Swamimalai/similar - Swamimalai
Chidamabara Vilas/similar - Kadiapatti
Heritage Madurai/similar - Madurai

Accommodation and Meal Plan as shared in itinerary
Two way airport transfers as per recommended flight timings only.
AC Tempo Traveler 12 Seater (including driver allowance, tolls, taxes and parking)
English Speaking Guide throughout the itinerary
Local cooking demo
Visit to Dakshinachitra Museum
Visit to Mahabalipuram Temple – UNESCO WHS
Demonstration of Pallava Stone Craft in Mahabalipuram
Auroville Sightseeing for Half Day with Resident Guide Assistance for
Waste Paper Craft Workshop in Auroville
Pondicherry Heritage Walking Tour
Heritage Walk of Swamimalai hotel
Chola Bronze Craft workshop in Tanjore
Visit Brihadeswara Temple
Visit Tanjore Palace
Visit Sefroji Saraswati Mahal Library
Demonstration of Veena in Tanjore – Musical Instrument carved out of wood
Demonstration of Athinagudi Tiles Making in Chettinadu
Visit to Meenakshi Amman Temple in Madurai
Entrance Fees for
Dakshinachitra Museum
Mahabalipuram Temple
Tanjore Palace
Meenakshi Aman Temple

Airfares (international and domestic)
5% GST on Tour Cost
Meals (other than mentioned), Drinks and surcharge for special request on foods and meals
Entrance fees (other than mentioned)
guide service during free time & other personal expenses
Early check-in and late check-out
Surcharge for public holidays (if any)
Driver and Guide Tips
Gratuities
All other services not stated in the program
Optional excursions and activities
Additional transfer required due to any emergency situation