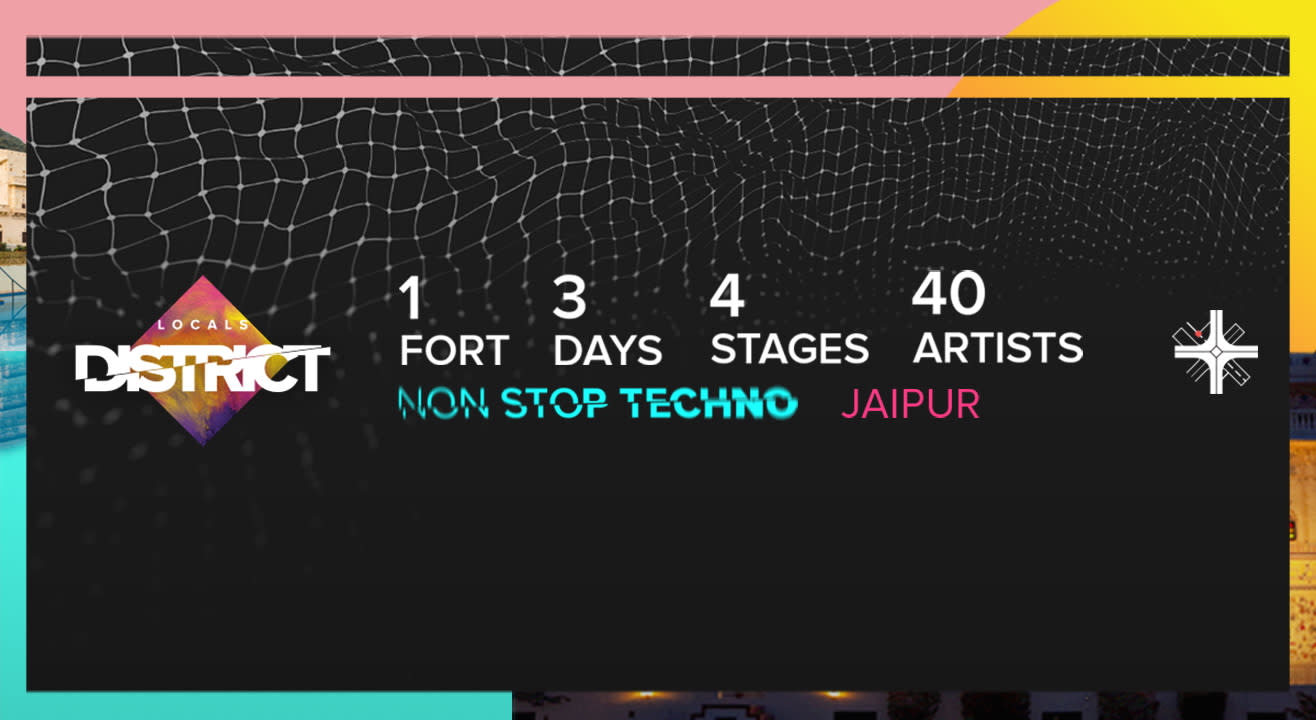 Step out and enjoy this event
Invite your friends
and enjoy a shared experience
Invite your friends
and enjoy a shared experience
About the Event
District, India's first, none of its kind Techno music festival is marked to celebrate the 1st year completion of the music community "Locals." This festival shall witness unmatched sound, in control of some of the biggest artists in Techno music today; needless to mention that every individual is invited here to immerse in a committed Techno experience.


Pick up the tide at the Caribbean coast of Aruba and surf your way to party central Checkpoint Charlie.

Intoxicated by music, end your night in the wicked streets of De Wallen and dance into the sunrise at the magnificent Diamond Fuji.

72 hours at District and you wouldn't ever want to leave. Everyone's invited to join in on this unforgettable journey.
How to reach the festival?
You can reach the festival either by car, train or by flight. Following below are details on all the mentioned modes of transport:
Car/carpool/ taxi/rent a car – search for Castle Kalwar on Google Maps and enjoy the journey. It is strongly recommend taking the Ajmer Bypass if you don't have a planned stopover in the pink city.
Flight – from New Delhi, it's a 45 minute flight to Jaipur, and from there it's another 40-minute drive.

Is there a charge for parking?
Yes, there is a nominal parking charge.

Are there charging points in the tents for mobiles and other electrical devices?
All tents will be provided with an extension board for you to charge your respective mobile devices.

Can I bring beverages to the festival?
Alcoholic/non-alcoholic beverages will not be permitted into the venue.

Can I bring my own tent to pitch?
Why of course, you can pitch your own tent, there is an allocated space for the people who would prefer that. However, space is subject to availability.

Can an additional person join me in the tent or in the fort room?
Extra beds can be arranged for both – fort rooms and tents, however, that person should hold a valid festival pass. The extra bed can be booked at the time of your ticket purchase on the website.

Are there any movement restrictions in the festival?
There are certain areas which are only for the crew and artists, the rest of the venue you may access provided you have a valid festival band on you at all times.

What happens if I lose my wristband whilst at the event?
It is strongly advised that you do not to lose your wristband; any broken/lost will be replaceable at full price.

Are there any lockers?
Yes, lockers will be available.

What kind of food will be available on site?
A wide variety of vegetarian and omnivorous friendly food will be available at the venue and stay area.

Can I bring my children?
It is requested to not to travel with your children; they would not be permitted into the festival venue.

When does the festival begin?
The music commences from Friday 2nd March 2018 at 10:00 AM onwards till Sunday night 4th March 2018.

Are food and beverages included with the pass?
No, food and beverages are not included with the pass.

Is the ticket refundable or transferable?
Tickets are non-refundable and non–transferable; for further details, please refer to the ticket policy.

I have bought a pass/package online, do I need a printed copy?
An e-copy would work fine although IDs are mandatory. Expats must carry their valid passports.

Are there any 1 day passes?
No, there are no 1-day passes.

Can I buy tickets without accommodation?
You can buy just the festival pass and decide to stay elsewhere, but it is strongly recommended that you to stay on site so you do not miss out on the festivities.

Who do I get in touch with about press related questions?
Please get in touch on info@localsdistrict.com for any press related inquiries.

Castle Kalwar
Village and Post Office Kalwar, Jaipur, Rajasthan 303706
GET DIRECTIONS