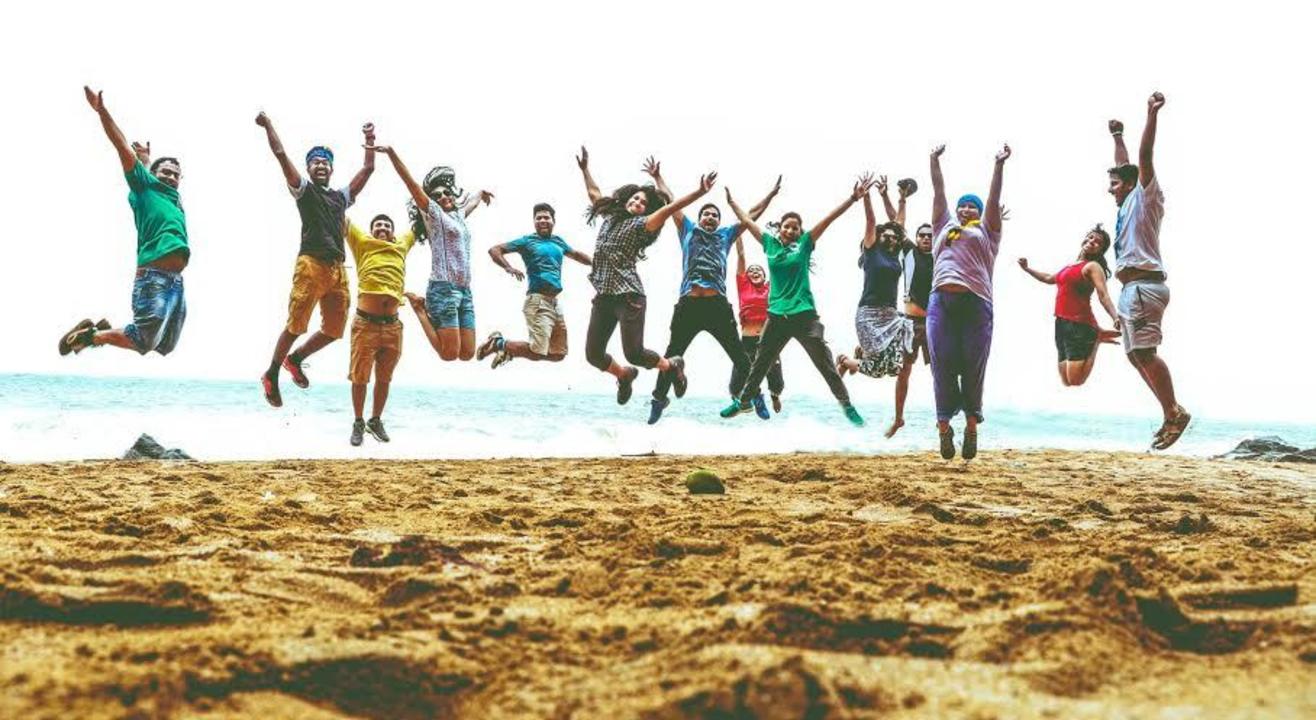 Trek
Long weekend Special: Gokarna beach trek, Vibhooti waterfalls, Dandeli Adventures | Muddie Trails
September | October | 10PM
About
The Sun-Kissed Beaches are back this long weekend!
One usually parties at the beaches, right? But @Gokarna we can party with them ;-)
Along with Gokarna, we will also visit the land of adventures & watersports - Dandeli..!!
What more? We are gonna camp in Dandeli forest resort.!!

We will also visit beautiful Mirzan fort of Kumta, and visit magnificent Vibhooti falls!!

Come, join Muddie Trails in the fun and #getmuddie!
About the destination(s):
Gokarna: Situated on the West coast of India, Gokarna is "The Land of palm trees, blue seas and golden sands". The beaches are meant for a slow, relaxed holiday and everything on the beach goes at the same relaxed pace. Palm clad beaches are dotted with foreign tourists in a majority and very few Indians are seen across. Full of coconut and palm trees, the ocean and clean sands, Gokarna is a 'one of its kind place' in the country.

Dandeli: Dandeli is an ideal vacation destination in north Karnataka for those who love nature & water activities. The town is surrounded by thick forests and wildlife where rare animals and birds roam in deep valleys and hilly terrain. On the banks of the Kali river, Dandeli is truly a fascinating mix of wildlife, scenic beauty and adventure sports.

---
Slots
Upto

20

Food

3 Breakfasts

Stay
- 1D/1N shared accommodation at our lovely home-stay near Gokarna! - 1D/1N camping at our Dandeli jungle resort close to river
Travel

A mini-bus or tempo depending on numbers

Pick up spots

Tin Factory, Indiranagar 100 ft Road, Koramangala Sony World signal, Goraguntepalya Metro station

Activities

Beach trek, Mirzan Fort, Vibhooti Waterfalls,

Campfire in Gokarna & Dandeli, Lot of Entertainment
---
Friday: Start from BLR around 9 PM, overnight journey!
Saturday: Drive and head out for the awesome trek between the beaches separated by hills & forest (Om beach, Half-moon beach, Devils hell beach, Paradise beach), take a dip on which ever beach you love, take a lot of selfies, try some bouldering at half-moon beach, return to camp, freshen-up, campfire, social gathering till late night ;-)
Sunday: Check out of home-stay, visit the beautiful Mirzan fort, head out for a dip under magnificent Vibhooti waterfalls, drive towards Dandeli & reach by night.
Monday: Start the day with breakfast buffet, indulge in optional adventure activities, take a dip in Kali river & water activities, visit the beautiful Dam of Dandeli, take lot

of selfies, explore the place, & start back to BLR at night.

Tuesday: Reach BLR early in the morning.
---
Travel,

1D/1N shared accommodation at our lovely homestay at Gokarna!

1D/1N camping at our Dandeli jungle resort close to the river

3 Breakfasts

Campfire in Gokarna & Dandeli

Beach trek, Mirzan fort visit, Vibhooti waterfalls

Dandeli trekking

One/two organizer(s) from MT to look after all the activities and a hell lot of entertainment!!!
Lunch & dinner on all days, water bottles and any other miscellaneous expenses that are not mentioned in inclusions above.
Travelers are expected to sign a Liability/Waiver form given by the organizers before starting the trek/event
Everyone must get their photo ID cards - like Aadhar or Driving License!
This is an offbeat meetup at an offbeat place. The facilities would be basic but the experience would be amazing with our group.
Muddie Trails is NOT a tour operator. Muddie Trails is an offbeat travel experience provider. Our schedule is flexible. Organizer may choose to switch/re-arrange parts of schedule based on need. Please co-operate with organizer & other travelers.
The "Offbeat" theme of Muddie Trails
Muddie Trails provides real offbeat tours for the travelers like trekking, adventure activities, camping in tents, bonfire, barbecue, visiting exploring and experiencing the unknown but awesome destinations that are not crowded with tourists. We do NOT take travelers to a tourist place unless it is required as a "filler" in the itinerary between two offbeat places.
Travelers are requested to refrain from asking our organizers to take them to ABC temple or XYZ church. The itinerary is already decided and posted based on our offbeat theme. The organizer will only change the itinerary if any place cannot be done because of unpredictable reasons. If you have a wish list of tourist places to tick off in your mind, then probably Muddie Trails is not for you and we request you – please do not register.
Nobody shall deviate from Trek path led by Organizers/Guide.
During the meetup Muddie Trails is not responsible in case of any injuries or animal attacks or reptile bites.
Expect the unexpected in case of wild forests like the sudden closing of trek path by govt/forest department(because of wild animal sighting/landslide/some crime), in which case we may have to cancel the trek (This is very rare – never happened till now). In this case, the Organizer will plan for alternate trek/trip. If this is not possible then Muddie Trails will refund the remaining amount after removing the travel cost.
Travelers are expected to respect each other and help each other.
Avoid discussing sensitive matters like SEX, POLITICS and RELIGION/RACE.
Using foul or abusive language or arguing with fellow travelers/ organizer will not be acceptable and will stand a chance of being deserted by the travel group.
Do not advice organizer on the schedule or activities.
Cancellation and Refund Policies
10% convenience charges will be deducted in any kind of refund done online- 90% refund if you make a request before 3 days of the meetup start date.
50% refund within 3 days and before 24 hours from meetup start time.
No refund within 24 hours from meetup start time
No refund during/after the meetup.
Registration fee is non-refundable.