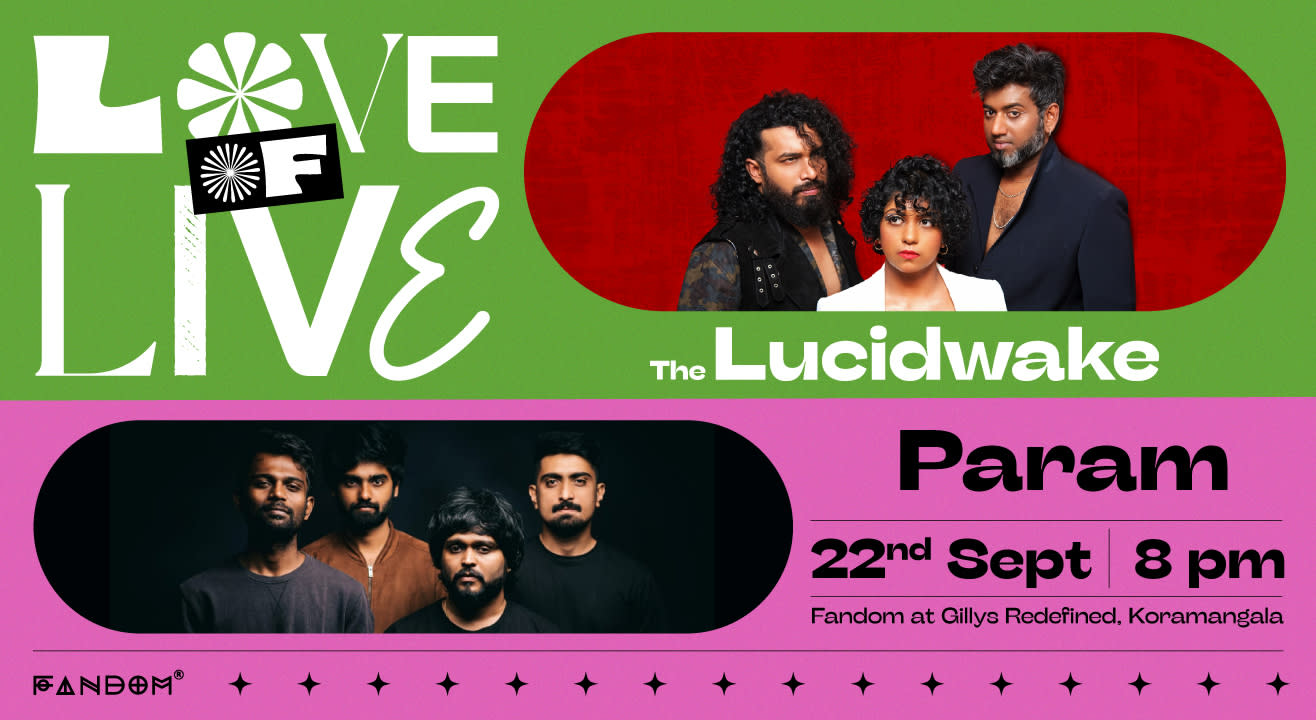 Love of live Ft. PARAM + THE LUCIDWAKE
September 22 | Gates Open at 8PM | Event Starts at 9PM
Fandom at Gilly's Redefined, Bengaluru
Event Guide
Live Performance
Enjoy a unique experience
Invite your friends
and enjoy a shared experience
Love of live Ft. PARAM + THE LUCIDWAKE
September 22 | Gates Open at 8PM | Event Starts at 9PM
Fandom at Gilly's Redefined, Bengaluru
Event Guide
Live Performance
Enjoy a unique experience
Invite your friends
and enjoy a shared experience
Event Guide
Live Performance
Enjoy a unique experience
Invite your friends
and enjoy a shared experience
Param: 'UPASANA' Album Launch
Lucidwake: 'WHITEOUT' Debut EP launch
Param:
Param is a Hindustani Progressive Rock Act based in Bangalore. The band is known for its seamless amalgamation of the traditional Rock sound with Hindustani Music. Param has garnered a reputation for their resounding stage presence that engages the crowd through a combination of high energy and unique musicality.
​The band's sound is a harmony between different influences of the artists. While the lead vocal is inspired by Hindustani Classical Music, the other musicians bring in a flavor of Progressive Rock and Blues. The result is a finely crafted style that picks up the essence of different genres in just the right amount to give the listener a very distinctive experience.
The Lucidwake:
THE LUCIDWAKE is a rock band from Bangalore, formed in 2018, influenced by psychedelic rock, progressive rock, and blues rock. In the crowded landscape of music, THE LUCIDWAKE plays unassuming rock & roll, fusing hard rock with psychedelic-ambient elements, that blend with the existence of a lucid state that deliberately unveils and explodes into a massive surge of intensity, combining impressive melodies, riffs, hooks, thought-gripping lyrics that perfectly cohere with the authentic instrumentation.
As a listener, you are transported into a captivating aural tour and will stay immersed experiencing a "lucidness" that "awakens" your sensibilities. This forms the "sound" and the name of the band 'THE LUCIDWAKE'
Don't Stop (Preview) by The Lucidwake
Fandom at Gilly's Redefined
1st floor of Gillys redefined,# 413, 100 Feet Road,, 4th Block, Koramangala, KHB Block Koramangala, Koramangala 4-B Block, 5th Block, Koramangala, Bengaluru, Karnataka 560034, India
GET DIRECTIONS
Love of live Ft. PARAM + THE LUCIDWAKE
September 22 | Gates Open at 8PM | Event Starts at 9PM
Fandom at Gilly's Redefined, Bengaluru
Event Guide
Live Performance
Enjoy a unique experience
Invite your friends
and enjoy a shared experience