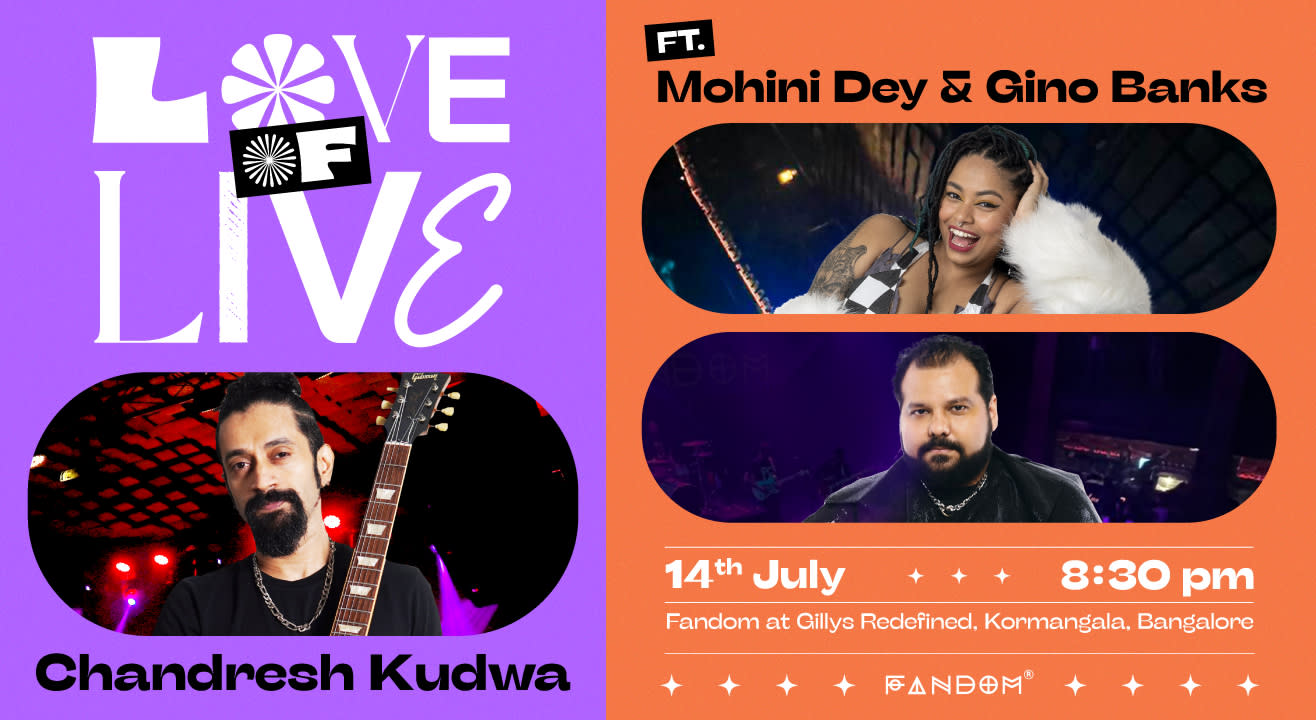 Love of Live : Chandresh Kudwa feat Mohini Dey & Gino Banks
July 14 | Gates Open at 8:30PM | Event Starts at 9:30PM
Fandom at Gilly's Redefined, Bengaluru
Event Guide
Live Performance
Enjoy a unique experience
Invite your friends
and enjoy a shared experience
Love of Live : Chandresh Kudwa feat Mohini Dey & Gino Banks
July 14 | Gates Open at 8:30PM | Event Starts at 9:30PM
Fandom at Gilly's Redefined, Bengaluru
Event Guide
Live Performance
Enjoy a unique experience
Invite your friends
and enjoy a shared experience
Event Guide
Live Performance
Enjoy a unique experience
Invite your friends
and enjoy a shared experience
Get ready to experience an unforgettable rock extravaganza as the electrifying guitar player, Chandresh Kudwa, takes the stage alongside the phenomenal bass player, Mohini Dey, and the powerhouse drummer, Gino Banks. This dynamic trio is set to ignite the atmosphere with their explosive performances, showcasing the best tracks from Chandresh Kudwa's critically acclaimed album, "FreeSpirit."
From the moment the first chord is struck, the energy in the air will become palpable as these virtuosos effortlessly blend their talents, creating an electrifying fusion of rock, jazz, and funk. Chandresh Kudwa's masterful guitar skills will leave you spellbound, his fingers dancing across the strings with unparalleled dexterity and passion.
But it doesn't stop there. Mohini Dey, the phenomenal bass player, will mesmerize you with her groovy basslines and incredible technique. Her ability to effortlessly switch between complex rhythms and melodic solos is a sight to behold, making her a force to be reckoned with.
Backing them up with impeccable precision and a thunderous presence is the powerhouse drummer, Gino Banks. His thunderous beats and lightning-fast fills will drive the crowd into a frenzy, keeping the adrenaline pumping throughout the entire show.
Prepare to be taken on a sonic journey like no other as Chandresh Kudwa, Mohini Dey, and Gino Banks unleash their creativity and perform their own unique interpretations of popular tracks. With their exceptional musicality and infectious stage presence, they will make every song their own, infusing it with their signature style while keeping the audience engaged and interactive.
The live rock show featuring Chandresh Kudwa, Mohini Dey, and Gino Banks promises to be a night to remember. With their unparalleled talent, captivating performances, and boundless energy, they will create an electrifying atmosphere that will leave the crowd breathless and yearning for more. Get ready to rock out and be a part of an unforgettable experience that will redefine your perception of live music.
Fandom at Gilly's Redefined
1st floor of Gillys redefined,# 413, 100 Feet Road,, 4th Block, Koramangala, KHB Block Koramangala, Koramangala 4-B Block, 5th Block, Koramangala, Bengaluru, Karnataka 560034, India
GET DIRECTIONS
Love of Live : Chandresh Kudwa feat Mohini Dey & Gino Banks
July 14 | Gates Open at 8:30PM | Event Starts at 9:30PM
Fandom at Gilly's Redefined, Bengaluru
Event Guide
Live Performance
Enjoy a unique experience
Invite your friends
and enjoy a shared experience