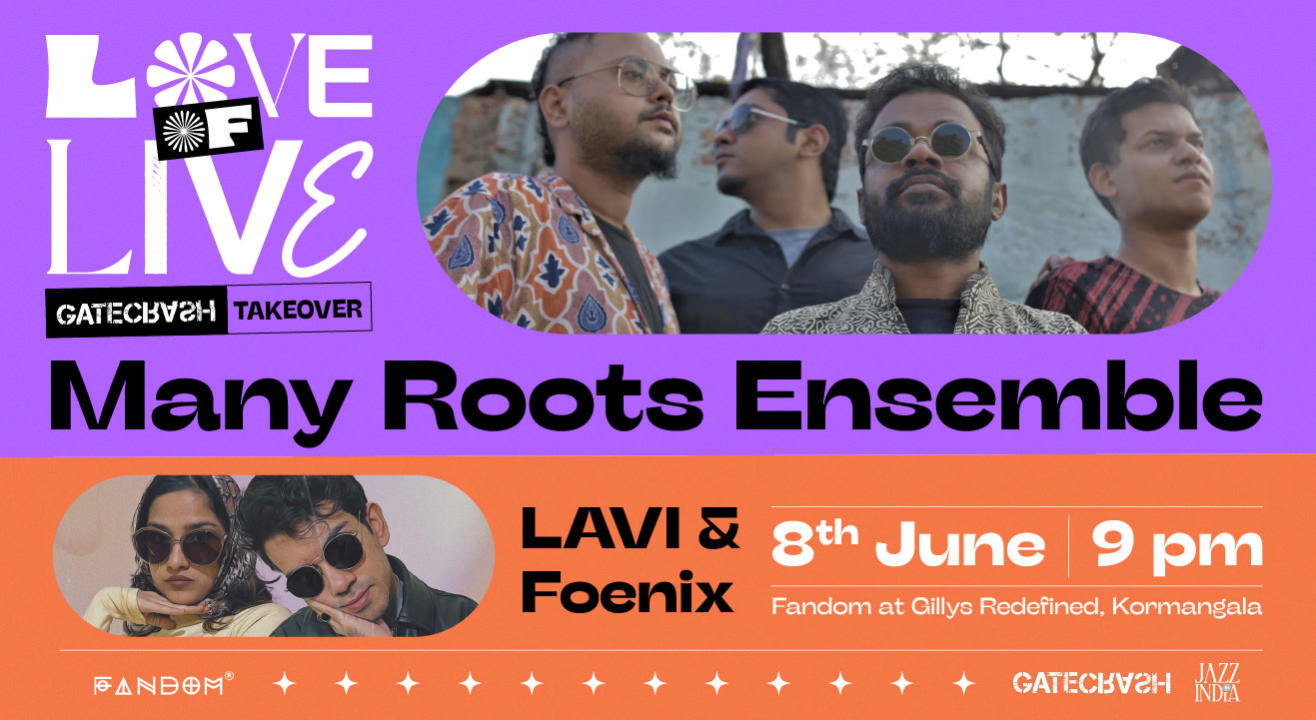 Love Of Live (Gatecrash Takeover) | World Music Week 2023
Fandom at Gilly's Redefined, Bengaluru
Event Guide
Live Performance
Enjoy a unique experience
Invite your friends
and enjoy a shared experience
Love Of Live (Gatecrash Takeover) | World Music Week 2023
Fandom at Gilly's Redefined, Bengaluru
Event Guide
Live Performance
Enjoy a unique experience
Invite your friends
and enjoy a shared experience
Event Guide
Live Performance
Enjoy a unique experience
Invite your friends
and enjoy a shared experience
Our 2nd edition of Love of Live in collaboration with Gatecrash & Jazz in India brings to you a night of music that encompasses a kaleidoscope of music influences under its umbrella. The night features Many Roots Ensemble and Lavi & Feonix.
Many Roots Ensemble is an ever evolving entity that creates and delivers original music along with renditions of tunes the members of the band really vibe with. The sound of the band is derived from a multitude of genres and methods of arrangement ranging from Afro, Funk, Disco, Latin, Hip- Hop, R&B,Jazz, Classical etc. When it comes to the pure substance that is music which can be acceptably used and used some more- the ensemble sees no ethnicity, stereotype or genre and that keeps the pursuance and reasons to do music pure.
Opening the night are Lavi & Feonix.
Fandom at Gilly's Redefined
1st floor of Gillys redefined,# 413, 100 Feet Road,, 4th Block, Koramangala, KHB Block Koramangala, Koramangala 4-B Block, 5th Block, Koramangala, Bengaluru, Karnataka 560034, India
GET DIRECTIONS
Love Of Live (Gatecrash Takeover) | World Music Week 2023
Fandom at Gilly's Redefined, Bengaluru
Event Guide
Live Performance
Enjoy a unique experience
Invite your friends
and enjoy a shared experience