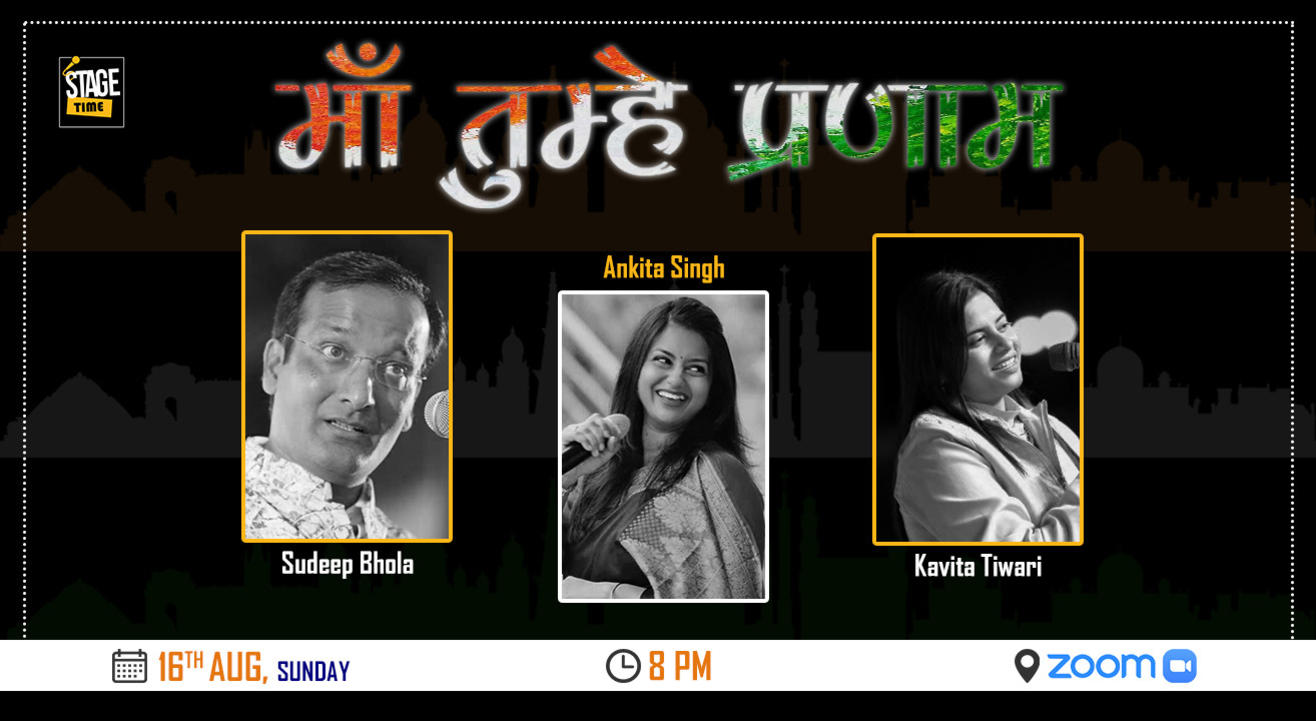 Event Guide
Digital Event
Watch on Zoom
For Age(s)
Family Friendly
Live Performance
Enjoy a unique experience
Invite your friends
and enjoy a shared experience
Event Guide
Digital Event
Watch on Zoom
For Age(s)
Family Friendly
Live Performance
Enjoy a unique experience
Invite your friends
and enjoy a shared experience
About the Event
Ho azaad ye neel gagan mera,
Na jaane kitni zamee ko,
Lahu se apne seench gaye.
Unn veergati ko prapt
Shaheedo ko salam,
Meri mitti, hasti hai jo meri
Maa tumhe pranaam!
Let's dedicate an evening and remember the struggles of yesterday for an Independent Today! An evening filled with poems and prose for the love of motherland with the best poets of our country.
About the artists-
Ankita Singh:
She's a poetess, an entrepreneur of a bakery startup (Done by Mum) and an engineer. She truly defines the agility of limitless capabilities.
She has been part of international and national level stages. Her beautiful poems have been part of columns of namely esteemed newspapers. Antarnaad Samman (BHU), Hindi Gaurav Samman are a few of many awards that she has received. She has also been a part of famous poetry shows on Aaj Tak, News 18, India TV and Zee News.
Kavi Sudeep Bhola:
A satirist, poet, parody maker are a few roles that he plays. He has been a part of more than 1800 kavi sammelans. Inspired and guided by his father, not only has he been a part of famous TV shows such as "Lapete mei neta ji", "kavi yuddh" , "wah wah kya baat hai", but he has also represented on Hindi Radios of America. He has been adorned with Aviral Sahitya Samman, Shree Brajesh Kishore Sahitya Puraskaar and has been prestigious member of Indian Embassies in Nairobi, Qatar, Oman and more. He has been an avid part of poetry fests organised by Dainik Jagaran, Hindustan, Amar Ujaala and lot more.
Kavita Tiwari:
She is a young poetess from UP, who dedicates the talent bestowed upon her to the nation, the martyrs and sons of the motherland. Inspired and trained by her father, Shree Ratan Tiwari, she has fervently shown her love for literature and motherland in her poems.
Book your tickets to listen to an evening filled with love towards our motherland and heart touching poems.
Please note the below mentioned terms and conditions carefully:
1. The clickable streaming link of live show will be mentioned in your e-ticket only.
2. Please use one email id to buy a single ticket only as your entry will be ensured by that unique email id.
3. This show is on Zoom. Please download the Zoom Web Meetings app and register. In case you are using Desktop/Laptop, the link on e-ticket will take you to Zoom.us, please register with your email address you used while buying the ticket.
4. Recording or uploading of this stream is strictly not permitted.
5. Please keep your video ON during the show. Wear headsets for better experience.
6. The show begins at around 8 PM. Please make sure you're ready by around 7.50 and join the zoom call. Also make sure you're in a good room with internet and silence around.
7. If your individual connection is not optimal we would not be responsible.
8. One ticket includes access given to only one screen to view the live stream.
9.Cheer up the artist and enjoy , you are a part of something special.
10. Most Importantly - Don't forget to wash your hands okay?