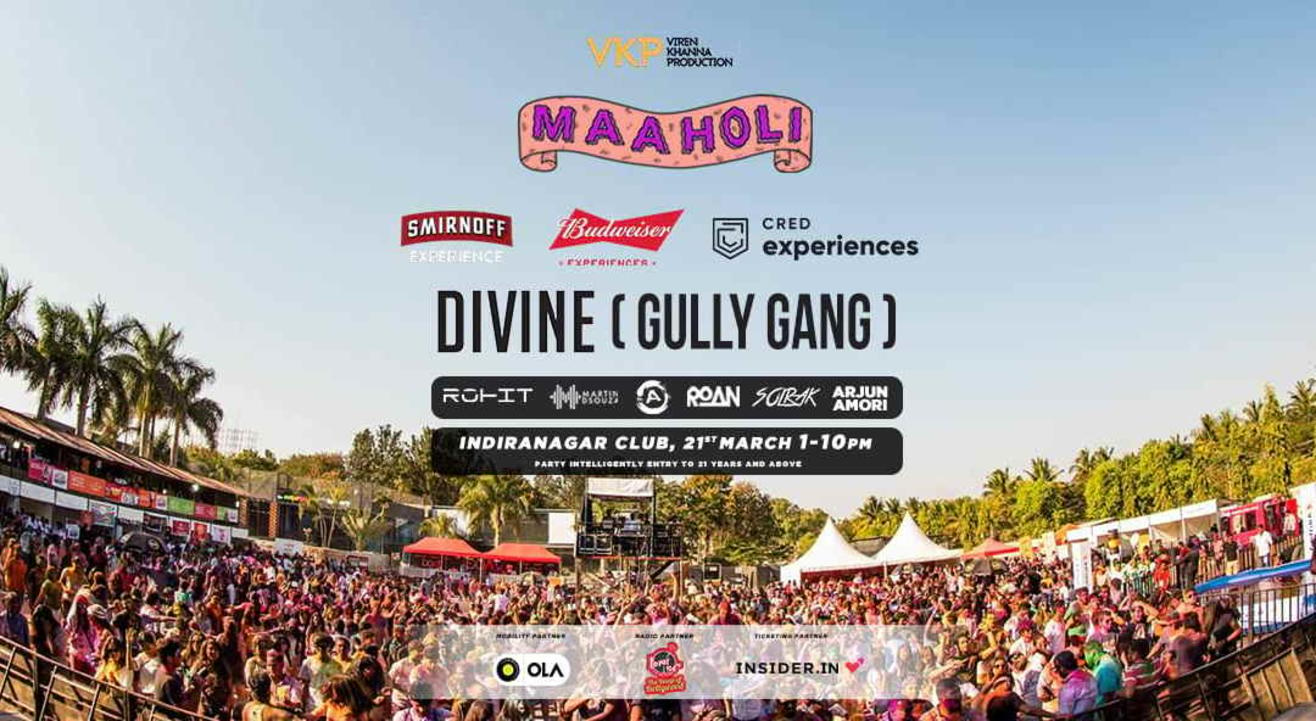 Indiranagar Club, Bengaluru
Invite your friends
and enjoy a shared experience
Indiranagar Club, Bengaluru
Invite your friends
and enjoy a shared experience
Invite your friends
and enjoy a shared experience
This Holi festival's got quite the lineup, with a headlining act like Divine (Gully Gang)! Featuring 5 artists across genres - Arjun Amori (acoustic guitarist and singer-songwriter), DJ Roan (house music and commercial hip-hop), DJ Rohit (electronic), DJ Dr. A (Bollywood), DJ Martin D'Souza and Divine himself, you'll have all the music you need this festival of colours.


Having had over 7000 people last year, there are a number of food and beverage stalls (+ two bar counters!) to take care of big appetites this year too, offering all things desi like chaat and thandai.


Note: Organic Holi colours will be up for sale at the venue.
Divine
Vivian Fernandes is a Mumbai-based rapper who goes by the name Divine. An intense MC whose rhymes smoothly switch between Hindi and English, his vantage point is the gullies where he was raised. Previously a member of the group "Mumbai's Finest", Fernandes broke through as a solo artist in 2013 with the single "Yeh Mera Bombay," in which he displayed pride for his community while illustrating the increasing wealth gap of its people. Signed on to Sony Music India, Fernandes scored another hit in 2015 with the booming "Mere Gully Mein," a track featuring Mumbaikar native Naezy. Rolling Stone India listed its video as among the Best Ten Music Videos of 2015, and BBC Asian Network identified the rapper as being among the Indian artists to watch out for. He released another fiery track "Jungli Sher" in 2016. In 2019, the movie 'Gully Boy' based on his and fellow rapper Naezy's lives was released which brought him to the forefront of the music scene.

DJ Martin D'Souza
Martin D'Souza pursued what he loves the most – music. Over the last few years, he's been DJ'ing and hosting karaoke across different venues in India such as Blue Frog, Opus, Loft 38, Love Shack, Indigo Live Music Bar, The Sugar Factory, Ice - Vivanta By Taj, Terra Maya - Assam, Cape Town Cafe - Goa, Cohiba - Goa, The Park - Chennai, Leela - Kovalam, Radisson Blue - Mysore, Fisherman's Cove - Mahabs, The Tamara - Coorg amongst others. Martin D'Souza has mixed for Karma Bar & Lounge and Hyatt Regency in Kathmandu (Nepal). He has been a part of the launch of various international brands such as H&M, Sephora, Adidas, and Aeropostale in the country. He has also done a gig in Zurich - Switzerland for a telecom-based company and for many other corporates in India. He was also featured by Titan XYLYS in their "Find Your 25th Hour" campaign. Additionally, he models, acts, and does freelance writing. He interweaves different styles of music to ensure an entertaining dance floor experience for the crowd. As an artist, he strives to deliver the best and keep the audience entertained with quality music.

DJ Dr. A
Dr. A is one of the biggest Indian DJs, his performances alongside some of the world's top DJs have been hugely appreciated and he has made a niche for himself in the short duration that he has been in the music circle. He is Viren Khanna's official DJ who is known for his sets at international parties in Bangalore. He started DJ'ing in January 2006, Dr.A's knowledge of house Bollywood and popular electro music and artists from the house and Bollywood genre enables him to set and change the mood of a crowd throughout an event. His mixing skills further enhance his reputation as one of the biggest upcoming DJs of India.

DJ Rohit
Our very own Bengaluru boy, and favourite of many who is known for his sets at Ladies' Nights. He's been playing around and outside the city for the last 13 years. His style of music could be called electronic-dutch.

DJ Roan
A Bangalore based artist creating a buzz in the music industry who is known for his signature house music sets and commercial hip hop sets. He has played at Cloudnyn, Happy Brew, Sherlock, Indigolive, Sugar Factory, Pebbles, Oakwood, Sphyre, Tilt, Republique, Loveshack, Sanctum, Cafemojo, Area78, Roadhouse, Salt, Communiti, Attic, and more. He's shared the stage stage with Lost Stories, Sandro Avila, Sartek, Jhosi, Julia Bliss and many more.
His production and remixes have been ranked from top 80 to 112 in Spinnin Talent Pool for Remixes.

DJ Solrak
Solrak is an upcoming DJ in the Indian dance music scene. Changing his music style to adapt to the need of the times has ensured a steady growth in his popularity. He was identified and inducted by various major events such as Sunburn Reload, Sunburn Pre-party, Time Out Pre-party, EDC Club Tour 2017, Sunrise Festival Goa 2016 and more. He has even shared stage alongside Robin Schulz, Malaa, Moksi, Moti, Zaeden, Shaan, Dualist Enquiry, Nina and Malika and more.

Arjun Amori
Arjun Amori is a professional vocalist, guitarist, songwriter and a self-taught musician from Himachal Pradesh. His musical journey started in 2012 when a friend recognized his potential and encouraged him.
He won the Kishore Kumar singing competition held in Solan, and left Himachal for Goa where he played gigs in bars and cafes and thus refined his art.
Q. Is re-entry allowed?
No

Q. Is alcohol and food available at the venue?
All cuisines and alcoholic beverages are available a-la-carte.

Q. Can we carry colours inside?
No, colours are available inside at a nominal rate.

Q. Will I get lockers or storage units inside to store my belongings?
No lockers nor storage is available. Zip lock bags are available for purchase to protect your belongings.

Q. Can I carry cigarettes inside?
No but cigarettes stalls are available inside.

Q. Is parking available?
Dedicated parking is not provided by the venue or organizer.
"Maaholi" Official Aftermovie 2018 ft. Nucleya
Use code HOLIHAI to get a 25% OFF on all purchases up to INR 250 per transaction on purchase of 3 or more tickets only on Insider.in app
Indiranagar Club
9th Main, 4th Cross, HAL II Stage, Bengaluru, Karnataka 560008
GET DIRECTIONS
Indiranagar Club, Bengaluru
Invite your friends
and enjoy a shared experience