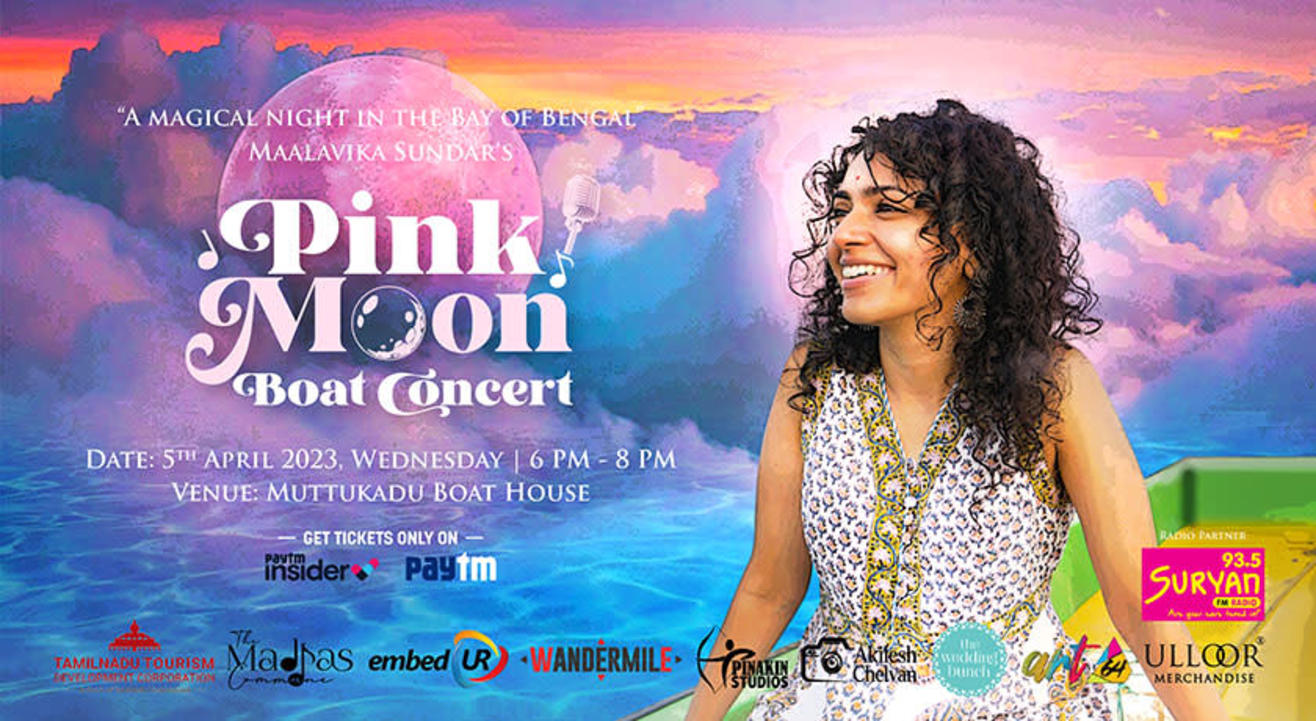 Maalavika Sundar's- Pink Moon Boat Concert
Muttukadu Boat House, Chennai
Step out and enjoy this event
Event Guide
For Age(s)
Family Friendly
Invite your friends
and enjoy a shared experience
Maalavika Sundar's- Pink Moon Boat Concert
Muttukadu Boat House, Chennai
Step out and enjoy this event
Event Guide
For Age(s)
Family Friendly
Invite your friends
and enjoy a shared experience
Event Guide
For Age(s)
Family Friendly
Invite your friends
and enjoy a shared experience
Dear Music Lover,
We invite you to Malavika Sundar's Pink Moon Boat Concert, where you can experience the rare phenomenon of the pink moon while listening to her live music from your own boat in the Bay of Bengal sea. Get ready to be mesmerized by her soulful singing and take advantage of the exclusive ticket offer, now open for purchases!
Come join us to be a part of this unique and limited experience with only 125 seats. After the concert, light snacks (sandwich veg/non-veg, fries, and rose milk) will be brought to you in row boats to be had on your boats in the Sea NILA SOORU.
Hurry and grab your tickets now
We look forward to seeing you at the Pink Moon Boat Concert!
Sincerely,
THE MADRAS COMMUNE
We understand that attending a concert in the sea can be an exciting experience, but safety is our number one priority. For that reason, we do not allow anyone under the age of 18 to attend the concert. Furthermore, everyone over the age of 18 must have a ticket in order to enter the concert.
Instructions
Each ticket grants entry to one person a seat on the boat for Maalavika Sundar's Pink Moon Boat Concert, along with food and beverage delivered at your boat.
There is a limit of 125 tickets to ensure that the boats are not over crowded
All ticket holders are require to wear life jackets at all times while on the boat
Lifeguards will be present to ensure safety at all times
All ticket holders must stay on their boats at all times
All ticket holders should be seated and refrain from any abrupt movements while on the boat.
The boat will be constantly monitored by a team of experienced crew members
All ticket holders must follow instructions provided by the crew members and organizer's at all times
No swimming or diving will be allowed.
Arms and ammunition, eatables, beverages and alcohol are not allowed inside the venue.
Consumption and sale of illegal substances are strictly prohibited.
Persons suspected of carrying items that may be used in an offensive or dangerous manner, or carrying out illegal activities within the venue may be searched.
Any person found misbehaving or creating a ruckus in the venue will be escorted out of the venue and no re-entry will be granted for the same
The sponsors/bands/organizers/management are not responsible for, including but not limited to, any injury or damage that may occur during or at the even.
Organizer/venue reserves the right to deny entry at any time as a precautionary measure to uphold the highest level of health and safety for everyone.
Temperature checks might be taken by any of the venue/restaurant representatives prior, during, and after, in the venue. The event organizer/venue will make a decision on access to the restaurant/venue based on your health conditions.
Do not buy tickets from anyone except online on insider.in
Please remember to carry a valid government-issued photo ID proof (Driver's License/Aadhar Card/PAN Card/Voter Card/Passport). You may not be permitted to enter in the absence of one.
The venue and schedule are subject to change.
No refund/replacement on a purchased ticket. Tickets you purchase are for personal use. You must not transfer (or seek to transfer) the tickets in breach of the applicable terms. A breach of this condition will entitle us to cancel the tickets without prior notification, refund, compensation or liability.
The sponsors/bands/organizers/management are not responsible for, including but not limited to, any injury or damage that may occur during or at the event.
No liability or claims that may arise due to the consumption or intake of any food or drink or any other consumption will be entertained by the management.
The holder of this ticket grants organizers the right to use, in perpetuity, all or any part of the recording of any video or still footage made of the holder's appearance on any channel or magazine for broadcast in any and all media globally and for advertising, publicity and promotions relating hereto without any further approval of theirs.
The management reserves the exclusive right without refund or other recourse, to refuse admission to anyone who is found to be in breach of these terms and conditions including, if necessary, ejecting the holder/s of the ticket from the venue after they have entered the premises.
Muttukadu Boat House
East Coast Road, R64R+7VR, Muthukadu, Tamil Nadu 603103, India
GET DIRECTIONS
Maalavika Sundar's- Pink Moon Boat Concert
Muttukadu Boat House, Chennai
Step out and enjoy this event
Event Guide
For Age(s)
Family Friendly
Invite your friends
and enjoy a shared experience