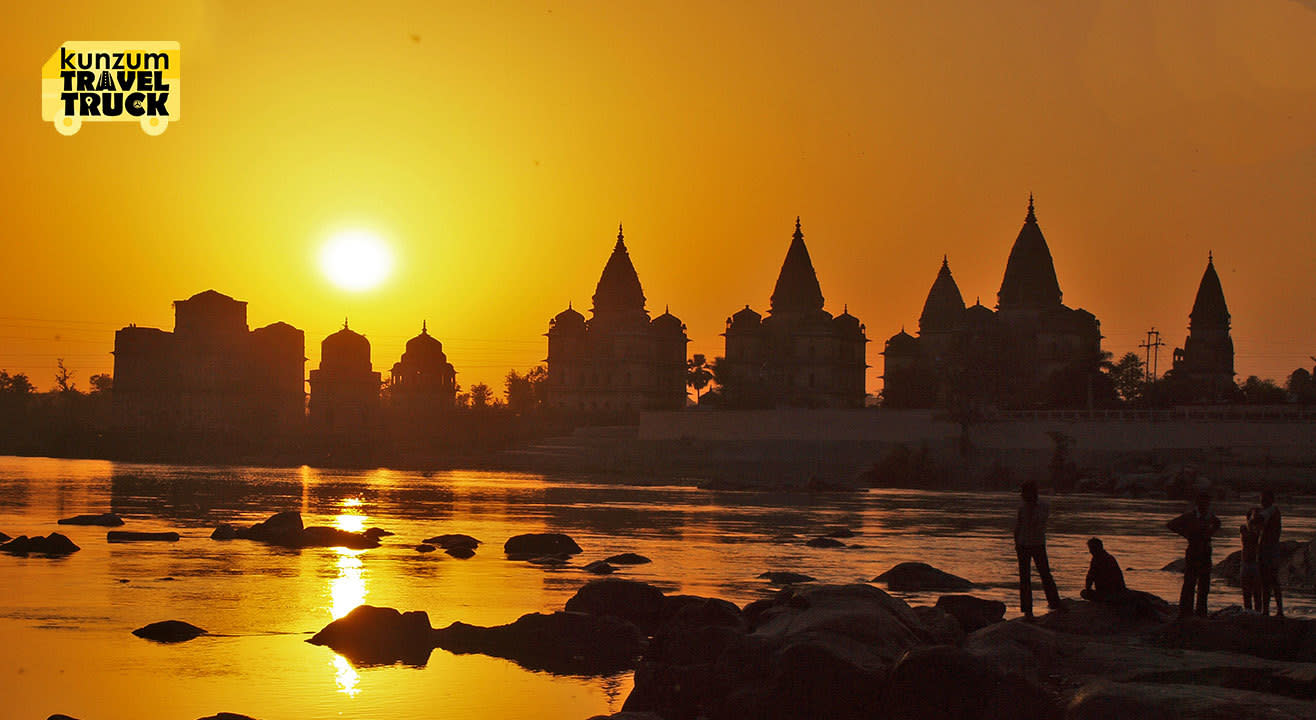 Adventure
Madhya Pradesh - Gwalior and Orchha
About
Kunzum Travel Truck
The Kunzum Travel Café opened its doors to the world on June 12, 2010 – it has since become synonymous with the idea of a traveller community.
As Brand Kunzum, established earlier in 2007, completes a decade, we have introduced an idea that promises to be another game changer – we call it the Kunzum Travel Truck. Very simply, it is recreating the café on wheels. People would no longer just talk travel, but head out together too.
On journeys curated by experts. In vans that make travel fun and engaging – comfortable push back seats, unlimited bar, WiFi on board, funky interiors, LED screens, music systems and more. Trips have been scheduled every week taking you to places you may not have considered on your own. With service standards that will delight you.
In other words, the Kunzum Travel Truck would be the destination in itself. Where you will make new friends too. Hop aboard – book a journey at http://kunzum.com.
Want to book a truck for your family, friends, alumni and office colleagues?
We all like to head out with our private groups – why not do it in style in a Kunzum Travel Truck? We can suggest itineraries and you can express your preferences. Leave the rest to us – we will handle all research, curation, bookings and organisation of the trip.
A bit of history, a bit of adventure and a bit of luxury – all put together can make for a great weekend. In Gwalior and Orchha in Madhya Pradesh.
Check into the Deo Bagh, literally a living heritage amongst hotels in India. Explore the impressive – and historically important – Gwalior Fort and other palaces and monuments of the city. This is followed by a drive to Orchha, the temple town on the pristine Betwa River. It's exquisite temples from stunning silhouettes at sunset with the river in the foreground. And we all go rafting on the Betwa.
Hop aboard the Kunzum Travel Truck on the Independence Day long weekend for a memorable journey. Book fast as everything sells out very fast or prices go up rapidly on such dates.
Dates: August 12 – 15, 2017.
We leave New Delhi at 6:00 a.m. on day one and return around 10:00 p.m. on the last day. [These dates don't suit you? Call us to organize a private tour on a date of your choosing.]

Accommodation:
At the high quality heritage property Deo Bagh by Neemrana Hotels in Gwalior. We stay at Amar Mahal in Orchha; the town has modest but clean accommodation at best.

Travel: In the Kunzum Travel Truck, a 12-seater luxury van.

Drive/ Ride along in your own car or bike:
Want to be a part of the trip but prefer to come in your own vehicle? Sure, no problem. Ask for rates for the same.
DAY 1:
Leave for Gwalior at 6:00 a.m. from New Delhi. Check in at Deo Bagh in time for lunch followed by a siesta. Tour of Gwalior Fort and other attractions late afternoon. Dinner at Deo Bagh.

DAY 2:
Spend more time exploring Gwalior before and / or after breakfast. Head to Orchha late morning – find lunch in dhabas (roadside eateries) on the way. Check into hotel followed by guided tour of Orchha. Enjoy sunset views of the temples. Dinner in hotel.

DAY 3:
Head out rafting on the Betwa River (subject to water levels being high enough). Free time in the day to explore on your own. Options include visit to Jer Village to get a glimpse of rural life in the region and cycling / walking in the surrounding forests. Sound and Light Show in the evening. Dinner at hotel.

DAY 4:
Leisurely breakfast at hotel and free time. Leave for Delhi to reach late evening.
Refund of 50% to be given if cancelled at least 30 days before departure date. No refunds will be possible otherwise but you are free to transfer your booking to anyone else.