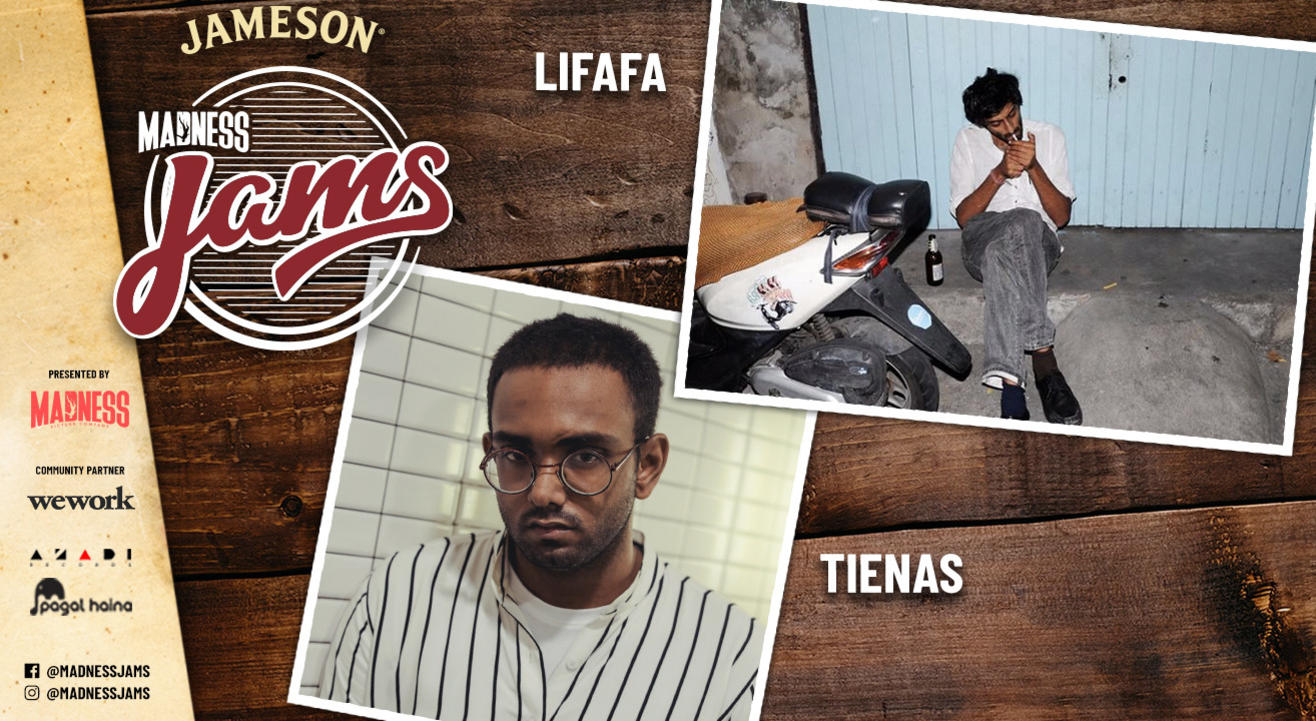 Madness JAMS: Lifafa & Tienas
Step out and enjoy this event
Invite your friends
and enjoy a shared experience
Madness JAMS: Lifafa & Tienas
Step out and enjoy this event
Invite your friends
and enjoy a shared experience
Invite your friends
and enjoy a shared experience
Madness JAMS is back this 13th of July to give you a heady mix of music. Start your Saturday evening on a perfect note with an intimate music session and some delectable cocktails by Jameson.
Madness JAMS
Madness JAMS connects independent artists, music lovers, brands and influencers, through intimate sessions across the country. The Sessions are presented in partnership with Jameson and WeWork.
We curate and create international standard audio visual representations of independent music talent in India. Madness JAMS is presented by Madness, a digital entertainment company specialising in creative content solutions.
Lifafa
Contemporary electronic music production has served to score the memories of a generation here in India, but with one element strangely absent - voice and vernacular. As Lifafa, Suryakant Sawhney has spent five years exploring uncharted terrain in this part of the world: electronic music that not only speaks in sonics, but also of words and meaning. The audience for this music is unknown. Via an ongoing exploration of Hindi and Urdu, a constant refinement of his own production techniques, and his instinctive take on melody and cadence, this music - spiritual and sensual, familiar and alien - has caught the attention of audiences not just in urban, Anglicised India, but in less obvious corners of this country, and beyond. Undefined and yet familiar, it presents a compelling insight into what the future of music from this region could be.
Tienas
The Mumbai-based MC Tanmay Saxena, known popularly as Tienas or Bobby Boucher, is a breath of fresh air in the city's hip-hop community – bringing to the forefront a Nujabes-inspired sonic aesthetic that hasn't been seen before in a region dominated by 'gully rap'. The name 'Tienas' is a wordplay on his initials "T n' S," much inspired by his idol and inspiration, Eminem who also used his initials "M n' M" which stand for Marshall Mathers.
WeWork BKC
C - 20, G Block, Bandra Kurla Complex, Mumbai, Maharashtra 400051
GET DIRECTIONS
Madness JAMS: Lifafa & Tienas
Step out and enjoy this event
Invite your friends
and enjoy a shared experience