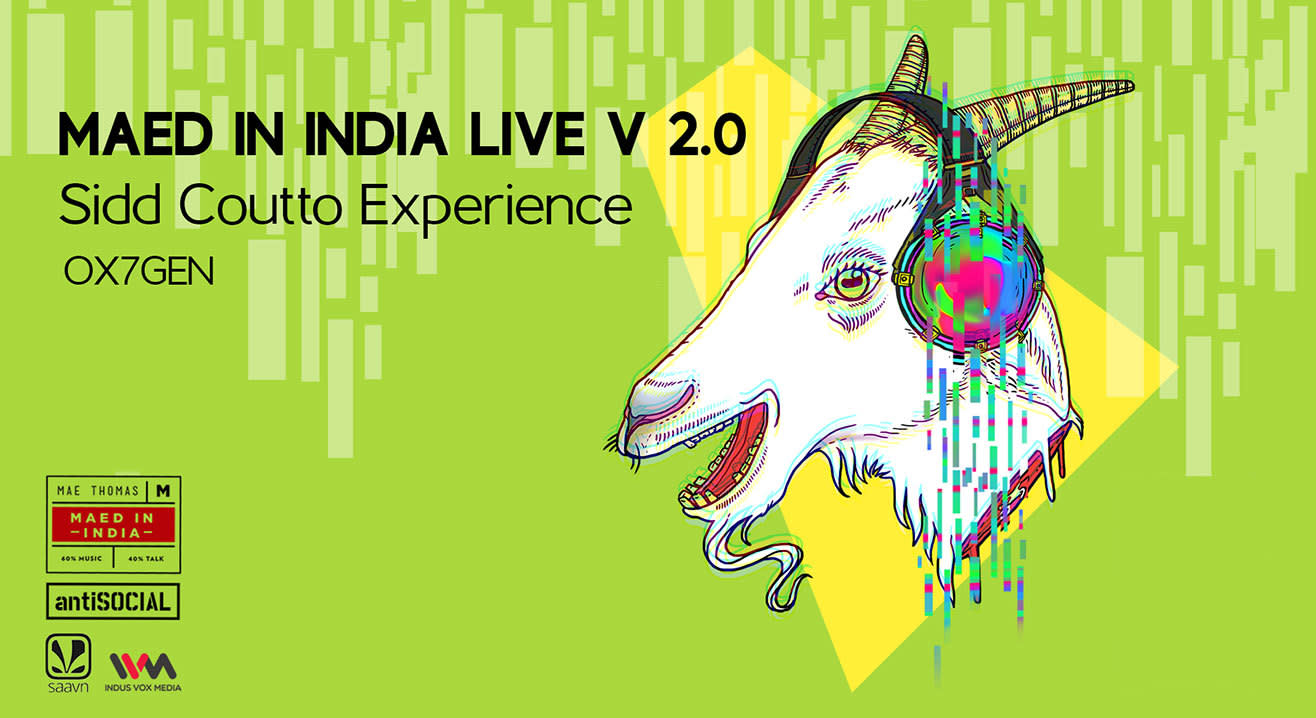 Maed In India Live 2.0 feat. Sidd Coutto Experience + OX7GEN
Step out and enjoy this event
Invite your friends
and enjoy a shared experience
Maed In India Live 2.0 feat. Sidd Coutto Experience + OX7GEN
Step out and enjoy this event
Invite your friends
and enjoy a shared experience
Invite your friends
and enjoy a shared experience
We have 3 words for you…. 1. Party 2. Party 3. PARTY!
After an epic first edition of Maed in India Live, we have decided to take it up a notch and bring you a Friday night that is gonna blow your socks off.
The festivities will kick off with some ridiculous banter between host Mae, and none other than drummer, vocalist, eccentric & the wholly unnatural musings of indie scene mainstay, Sidd Coutto. This will keep you bouncing off the walls till... joining him on stage for music and other shenanigans will be Johan Pais on bass, Aditya Ashok on drums, Nathan Thomas on guitar who will make up the Sidd Coutto Experience.
The set will not only include some classics from the Coutto repertoire, but he's got some new material up his proverbial sleeve.
Oh no no no, we won't let you go that easy, the party rages on as, OX7GEN (Aditya Ashok) takes the reigns on decks to carry you straight up and up and away till the wee hours of the morning.
Need we say more?
Maed in India is India's first indie music podcast, hosted by Mae Thomas who interviews some of the best independent musicians from across the country. Maed in India LIVE, takes the podcast from the studio to the outside world.
About Sidd Coutto Experience
Sidd Coutto is a singer-songwriter and multi-instrumentalist most famously known as drummer of alternative rock act Zero and frontman of Helga's Fun Castle as well as Tough on Tobacco. He also performs with the likes of Ankur and the Ghalat Family, Vir Das' Alien Chutney, Ankur & Sidd, and ViceVersa.
As a solo artist, his live sets saw him use a looping station, multiple instruments and perform improvised songs on the fly with topics sourced from the audience. Sidd is also a music director - he composes and produces music for advertising, television and Bollywood.
Currently, along band members Johan Pais (Tough on Tobacco, Ankur & The Ghalat Family) on bass, Aditya Ashok (Shaa'ir + Func, The Colour Compound) on drums, and Nathan Thomas (Madfingers), they are Sidd Coutto Experience.
OX7GEN is alter ego of drummer Aditya Ashok. Along with his love for drum & bass, Ashok brings a myriad of influences to OX7GEN's sound. He has earned himself slots at nearly every major festival in and around India. Right from the beaches of Goa's SUNBURN festival to the hills of north India's Escape Festival, as well as closing the Bacardi NH7 Weekender's Electronic stage for 3 years in a row, along with BASS Camp festival and many more. During this journey, he's performed as the supporting act to big names in the international electronic music scene including London Elektricity, Netsky, Royalston, KOAN Sound, Alix Perez, Concord Dawn, Dub Phizix & Nymfo.
OX7GEN has released 3 EPs with the most recent being Recess. Being a producer-DJ and a live drummer, his layers of versatility create a one-of-a-kind dance floor experience.
antiSOCIAL khar
Rohan Plaza, 5th Rd, Ram Krishna Nagar, Khar West, Mumbai, Maharashtra 400052
GET DIRECTIONS
Maed In India Live 2.0 feat. Sidd Coutto Experience + OX7GEN
Step out and enjoy this event
Invite your friends
and enjoy a shared experience