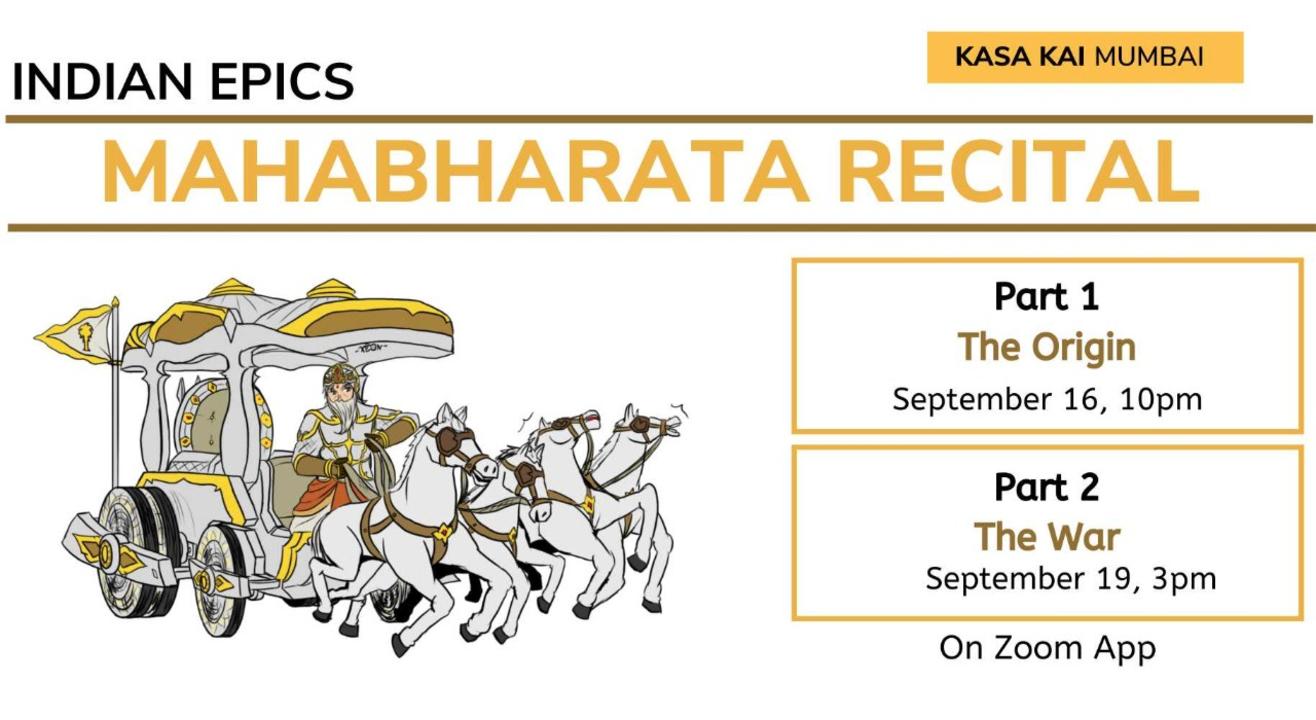 Mahabharata Recital : The Origin - The War At Zoom App
September 16 | 10 PM - September 19 | 3 PM
Invite your friends
and enjoy a shared experience
Invite your friends
and enjoy a shared experience
About the Event
The epic where the prince dared to humiliate the empress; in which one woman, the daughter of Agni, spin the threads of the great war leading to a great blood bath; where one can't distinguish between the innocent and sly. Join us for this amusing session Which would cover the following aspects of the epic : - Pre − Bharat - Bharat, Shantanu & Bhishma - Dhritarashtra, Pandu Vidhur - Pandavas' & Kauravas': Join us for this amusing session. This session would cover the following aspects of the epic : - Dice − Game - Exile & Hiding - War - Post − War Early Lives Guidelines for the Recital - Please ensure good internet connection so as to not hamper with your experience. - Leave all other work and be there for the whole session for a wholesome experience. - The virtual sessions will take place on Google Meet. - No use of cuss words please. - No sexist, ethnocentric, Xenophobic comments will be allowed. - Please be ready atleast 10-15 mins prior to the time mentioned so that you don't miss the beginning! Hope you have a fun filled time!
Q: What is the age limit?
A: 16+

Q: Do I need to have prior knowledge of the Mahabharata?
A: No, not at all. Everyone is welcome.

Q: How long will the event be?
A: 1.5 hours.

Q: What are the things that will take place at the event?
A: The group will engage in discussions on topics posted by the moderators.

Q: Any books to be referred to?
A: No, you do not need to refer to any books.

Q: Do I compulsorily have to engage in conversations?
A: No, but feel comfortable in being part of the conversation and asking related questions.