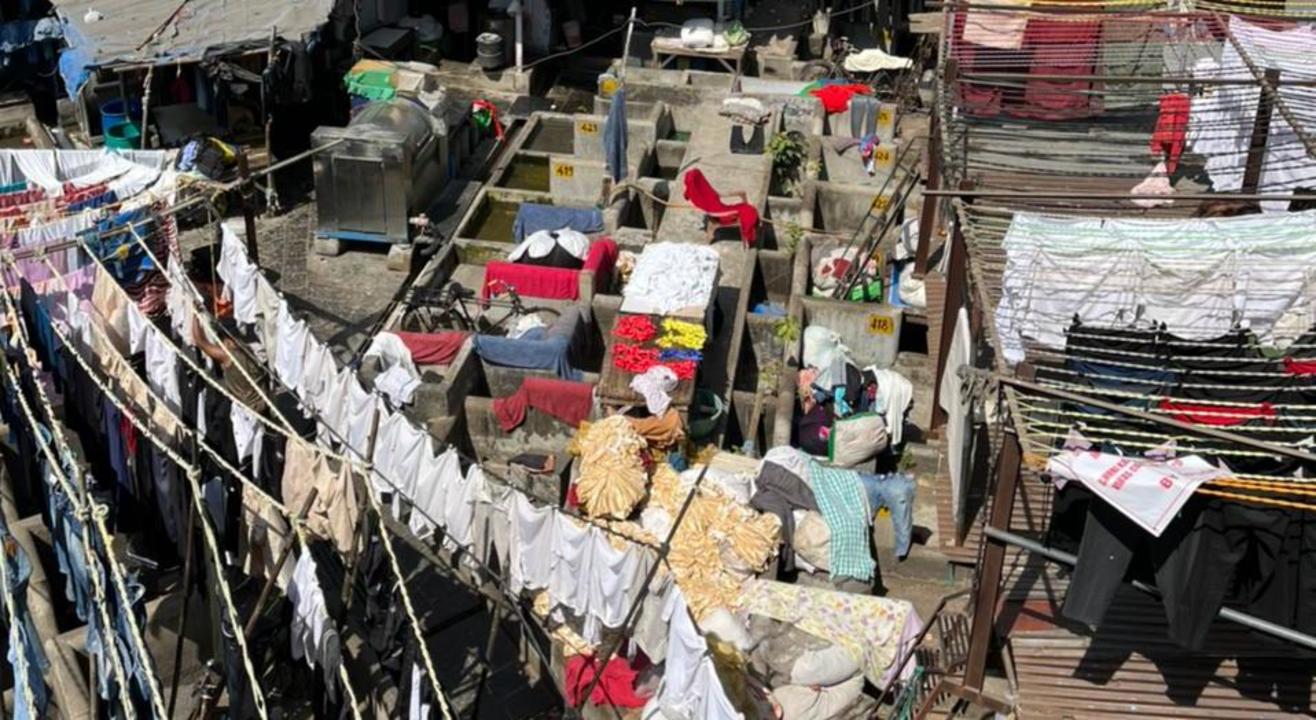 Mahalaxmi Dhobi Ghat Guided walking Tour with TripAdvisor Tour
January 5 | 8:08PM - December 31 | 8:08PM
Mahalaxmi Station, Mumbai
Event Guide
For Age(s)
Family Friendly
Getaways
Enjoy the outdoors
Invite your friends
and enjoy a shared experience
Mahalaxmi Dhobi Ghat Guided walking Tour with TripAdvisor Tour
January 5 | 8:08PM - December 31 | 8:08PM
Mahalaxmi Station, Mumbai
Event Guide
For Age(s)
Family Friendly
Getaways
Enjoy the outdoors
Invite your friends
and enjoy a shared experience
Event Guide
For Age(s)
Family Friendly
Getaways
Enjoy the outdoors
Covid 19 Safety Measures
This event adheres to the following

Health & safety measures
Invite your friends
and enjoy a shared experience
Covid 19 Safety Measures
This event adheres to the following

Health & safety measures
Mahalaxmi Dhobi Ghat Mumbai is the world's largest open-air laundry. People bring dirty clothes from all over Mumbai. And hundreds of washermen and women – dhobis, work their shifts through the day to get the clothes back to their fresh, crisp and spotless state.
While some dhobi families take help from machines too, much of the activities at this Dhobi Ghat of Mumbai is taken care of by hands. Every family member takes care of their part. One person flogs the clothes in the washing trough, while others hang them out to dry. Then someone will mint the clothes using bulky charcoal irons.
Things to do at Mumbai Dhobi Ghat
1. Watching the organised chaos at the laundry – Dhobi Ghat laundry Mumbai is one of the top tourist destinations of the city. It buzzes with washers and the smell of washing soda and other chemicals all day long. You can watch the well-managed manual laundry system here. While one dhobi sorts the clothes as per their colours and types, another one will beat the stains out of clothes; and yet another member of the family hangs them on the lines to dry.
Mumbai Dhobi Ghat also has separate sections to boil water and wash infected clothes from hospitals. And while the washed clothes are being ironed before delivery, more porters come in with fresh piles of dirty clothes.
2. Knowing about the life of washermen and women – This Dhobi Ghat in Mumbai is managed by the people who work there, and they're more than eager to share their stories with the travellers. Learn about the entire process, hear about their daily struggles at work and play a game or two of marbles with the kids there. You might also grab some helpful washing tips to take back home.
3. Clicking colourful photographs of clotheslines – Dhobi Ghat Mumbai sightseeing is also popular among the photographers. Rows of colourful clothes drying in the sun, streamlined display of monochrome linens from hospitals and hotels, and happy faces behind the water splashes are all different frames you can capture. The patient photographers can also click piles of clothes loaded on porters' backs, their cycles and handcarts wheeled in and out.
Time: Morning 10am
Meeting point: Mahalaxmi Railway Station near ticket window.
How to Reach Dhobi Ghat Mumbai?
Dhobi Ghat is in proximity to many other tourist spots in Mumbai. To reach Dhobi Ghat, Mahalaxmi Mumbai station is the nearest local railway station. You will find regular trains from all over Mumbai. You can also board a public bus to get to the place.
You can also avail cab service from top car rental companies in Mumbai to take you to this world record holder laundry. And here are the various ways to reach Mumbai –
By Road – Mumbai has regular buses to various parts of India. Whether you want to get a bus from the nearby towns Pune and Nagpur or distant tourist destinations like Ahmedabad and Panaji, you'll find a suitable conveyance. The Mumbai Central bus stop is only about 2 km away from Dhobi Ghat.
By Rail – Railways are the lifeline of Mumbai, and regular trains connect it to different corners of India. While Chhatrapati Shivaji Maharaj Terminus is 6 km away from Dhobi Ghat, Mumbai Central is at a distance of 3 km. Suburban railway stations like Bandra Terminus, Lokmanya Tilak Terminus and others also have many trains coming from different towns.
Mahalaxmi Station
Mahalakshmi Railway Station, Mahalakshmi Railway Station, Keshavrao Khadye Marg, Mahalakshmi, Mumbai, Maharashtra 400018, India
GET DIRECTIONS
Mahalaxmi Dhobi Ghat Guided walking Tour with TripAdvisor Tour
January 5 | 8:08PM - December 31 | 8:08PM
Mahalaxmi Station, Mumbai
Event Guide
For Age(s)
Family Friendly
Getaways
Enjoy the outdoors
Invite your friends
and enjoy a shared experience