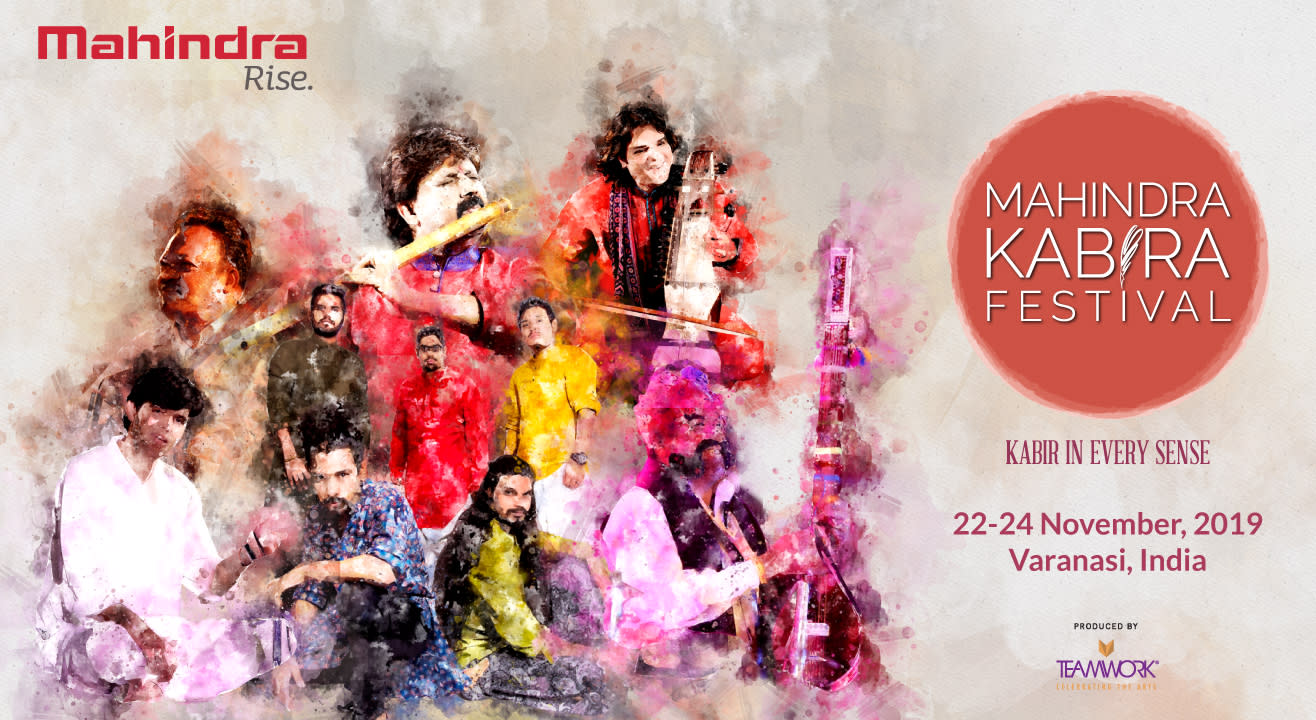 Mahindra Kabira Festival, 2019
Invite your friends
and enjoy a shared experience
Invite your friends
and enjoy a shared experience
About the Event
Like every year, Mahindra Kabira 2019 will celebrate Kabir's philosophy and bring to music-lovers an unforgettable experience of listening to leading exponents of the Benares gharana, folk traditions, Sufi, dadra, thumri, khayal, ghazal, pakhawaj and the tabla in a programme which captures the pulse of India's cultural matrix. Sessions on art and literature, specially curated walks with famous local residents playing gracious hosts, and delectable local cuisine are all integral parts of the Mahindra Kabira experience.
Mahindra Kabira 2019 awaits you, with a song in its heart and a spring in its step as the timeless Ganga readies herself with an experience memorable, special and enchanting.
About the Artists
Neeraj Mishra
Neeraj Mishra, a renowned sitar-player with a rich musical lineage, belongs to the Benares Gharana. He started training at a very young age under the tutelage of his father, Pt. Amar Nath Mishra. He has accompanied various distinguished classical dancers such as Pt. Birju Maharaj and has performed across countries such as Italy, France, Spain and Switzerland.
Ujwal Nagar
Ujwal Nagar is a Hindustani classical vocalist based in Delhi. He received his initial training in classical music from his mother, Guru Urmila Nagar, a renowned Kathak and Hindustani music exponent. Ujwal is a recipient of the Sahitya Kala Parishad and Central Government Scholarships endowed by the Ministry of Culture for his relentless pursuit of Hindustani classical music. His collaborative work with the group 'Advaita' as a lead classical singer has been greatly appreciated by classical music connoisseurs as well as world music-lovers.
Flute Symphony
By Pt. Ajay Shankar Prasanna
Conceptualised by Pt. Ajay Shankar Prasanna, 'Flute Symphony' is a cross-genre flute medley which experiments with the sounds of the wind. The symphony takes inspiration from nature, has an old world aura, and is a combination of the flute and various percussive instruments along with elements of vocal music. The symphony traverses genres ranging from Indian classical to Western contemporary, from world music to world folk.
Pt. Ajay Shankar Prasanna, a doyen of the Benares Gharana, is a three-time Grammy nominee and has worked with musicians from around the world. His collaborations with Sting, Alicia Keys, Pt. Ravi Shankar, his daughter Anoushka Shankar, Ustad Zakir Hussain, Ustad Sultan Khan, and Karsh Kale etc. have been recognised the world over.
Shabnam Virmani
Shabnam Virmani is a filmmaker, singer and artiste. In 2003 she started the Kabir Project – a journey of travelling with folk singers in Malwa, Rajasthan and also in Pakistan in a quest for the spiritual and socio-political resonances of the 15th century mystic poet Kabir in our contemporary world. Shabnam took up playing the five-stringed tambura and now sings a wide repertoire of folk songs of Kabir and other mystic poets.
Ustad Kamal Sabri
Ustad Kamal Sabri represents the seventh generation of a 400-year-old illustrious family of sarangi exponents – the Sainia Gharana of Moradabad. Ustad Sabri has been reinventing the art of sarangi-playing for many years while maintaining the rich legacy of his gharana. Ustad Sabri has worked with veterans like Ustad Fateh Ali Khan, Ustad Zakir Hussain, Hossam Ramzy (Egypt), Ricky Niles (Barbados, West Indies), Jukka Tolonen (Finland), and Jan Garbarek (Norway). He has recorded music with popular rock bands like Massive Attack and One Giant Leap and composed music for several Hollywood and Bollywood films. He is also an accomplished vocalist. A much-awarded top grade artiste of All India Radio, Sabri has been invited to perform by the BBC, Radio France, Radio Switzerland, Radio Italy, Radio Barbados, and the Finnish Broadcasting Company.
Neeraj Arya's Kabir Cafe & Mooralala Marwada
Kabir Café a neo-folk fusion band, rated amongst India's top indie music groups, is led by the talented musician Neeraj Arya, and plays the poetry of the 15th -century mystic, Kabir, through Indian folk headily mixed with rock, reggae, pop and Carnatic music. The band has performed at 700+ shows and toured 8 countries including Thailand, Singapore, Dubai, Nepal, Israel, USA, Zimbabwe, Egypt, Russia and Australia. Their song 'Fakiri' featured in the movie Hindi Medium and their song 'Hoshiyar Rehna', the theme song of the film Badshao, clocked 6 million hits on YouTube. The group has been featured on BBC World Service's 'The Arts Hour'.
Mooralala Marwada, a Sufi folk singer from the Janana village of Kutch in Gujarat, belongs to a lineage of gifted Meghwal singers. He sings the poetry of Kabir, Mirabai, Ravidas and others in the 'Kaafi' genre of music that has evolved and been adopted by the Hindu singers of Shah Abdul Latif Bhittai. He has also been featured on the Kabir Project.
At Mahindra Kabira 2019, Kabir Café and Mooralala will perform in a spectacular and electrifying collaboration