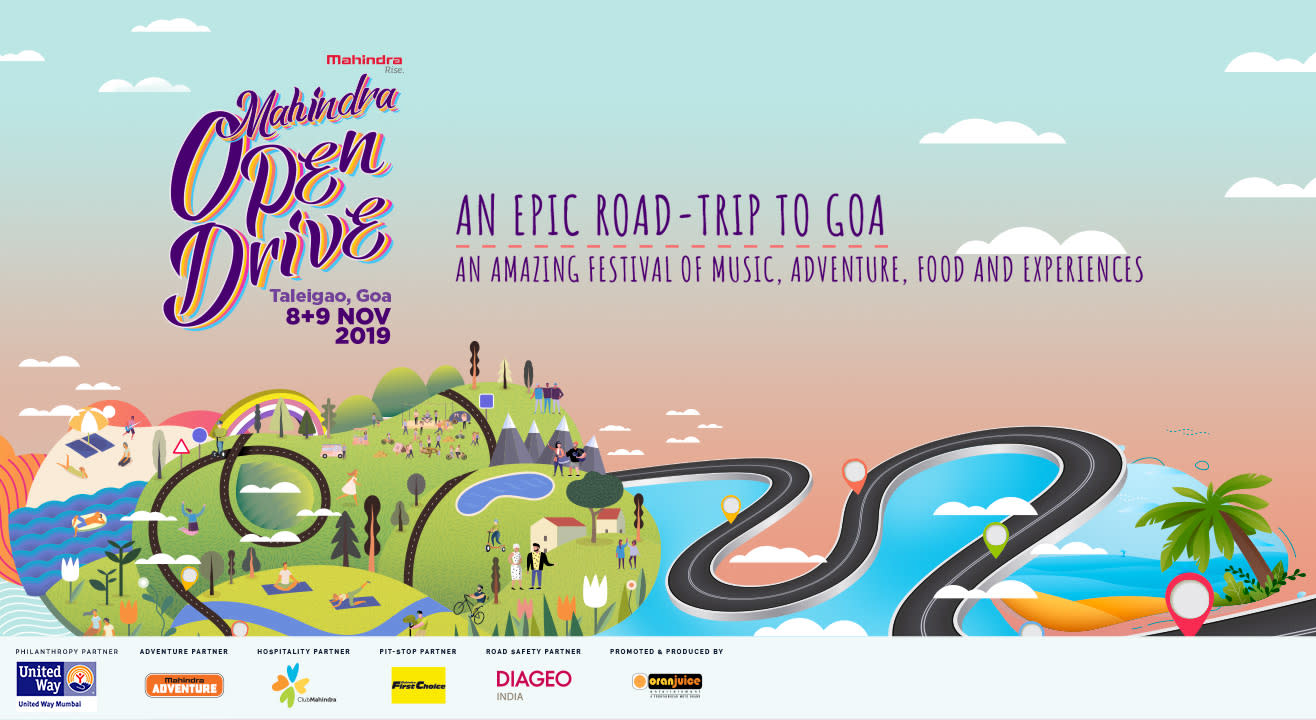 Dr. Shyama Prasad Mukherjee Indoor Stadium - Head Office SAG
Step out and enjoy this event
Invite your friends
and enjoy a shared experience
Dr. Shyama Prasad Mukherjee Indoor Stadium - Head Office SAG
Step out and enjoy this event
Invite your friends
and enjoy a shared experience
Invite your friends
and enjoy a shared experience
Freedom is the feeling of just you and the open road. The drive liberates, it romances serendipity. 6 am sunrises and 6 pm sunsets. With music in your ears and wind in your hair, cruise down the unending roads, take an occasional glance in the rear-view, smile and leave behind a beautiful memory. The sound of your engine changing to a roar every time you step on the gas and the feeling of finally getting to where you want to be. Welcome to the Mahindra Open Drive, a 2-day festival of people from across the country on November 8 & 9 at Dr. Shyama Prasad Mukherjee Indoor Stadium - Head Office SAG
Experience an amazing line-up of international and local musicians, adventure, specially curated food & flea and guess what? You can also join the rising tribe and do a little, give a little and smile a lot.
Collect your favorite people and plan your road trip to Goa with Mahindra Open Drive. It is one of India's most iconic journeys – not as much for the drive itself as what that act is representative of: a sense of camaraderie and togetherness. Be warned. There is no big reward or no prize money, but the drive packs in ten hours of close time with friends and family, and that's the spirit Mahindra Open Drive celebrates and stands for. So buckle up to drive down for the sense of community, the solidarity that you envision for the world around you. Show support for - and celebrate - the good in society. Not your average spin around the corner, is it?
Road-trip Cities:
Mumbai
Hyderabad
Bangalore
Pune
Sign-up for the drive and get more details on the pit-stops, the routes and all other necessary information.
The Mahindra Open Drive doctrine embraces the 'do a little, give a little, smile a lot' ideology. Put simply, the festival encourages attendees to find happiness in recognizing and celebrating the good deeds done by people and contributing to individuals and institutions that make them happen. In line with this, the prime intent for the fundraising for the festival has six underpinning causes:
Education
Healthcare
Safety
Livelihood
Environment
Rights & inclusion
Through fundraising initiatives, festival goers - or the Tribe - are able to pledge monetary aid to a cause they believe in, put the spotlight on NGOs and partner organizations actively involved in making change happen, and rope in friends and family to drum up vocal (and social media) support.
Rise through the tribe rankings and unlock a list of incentives for the festival in November!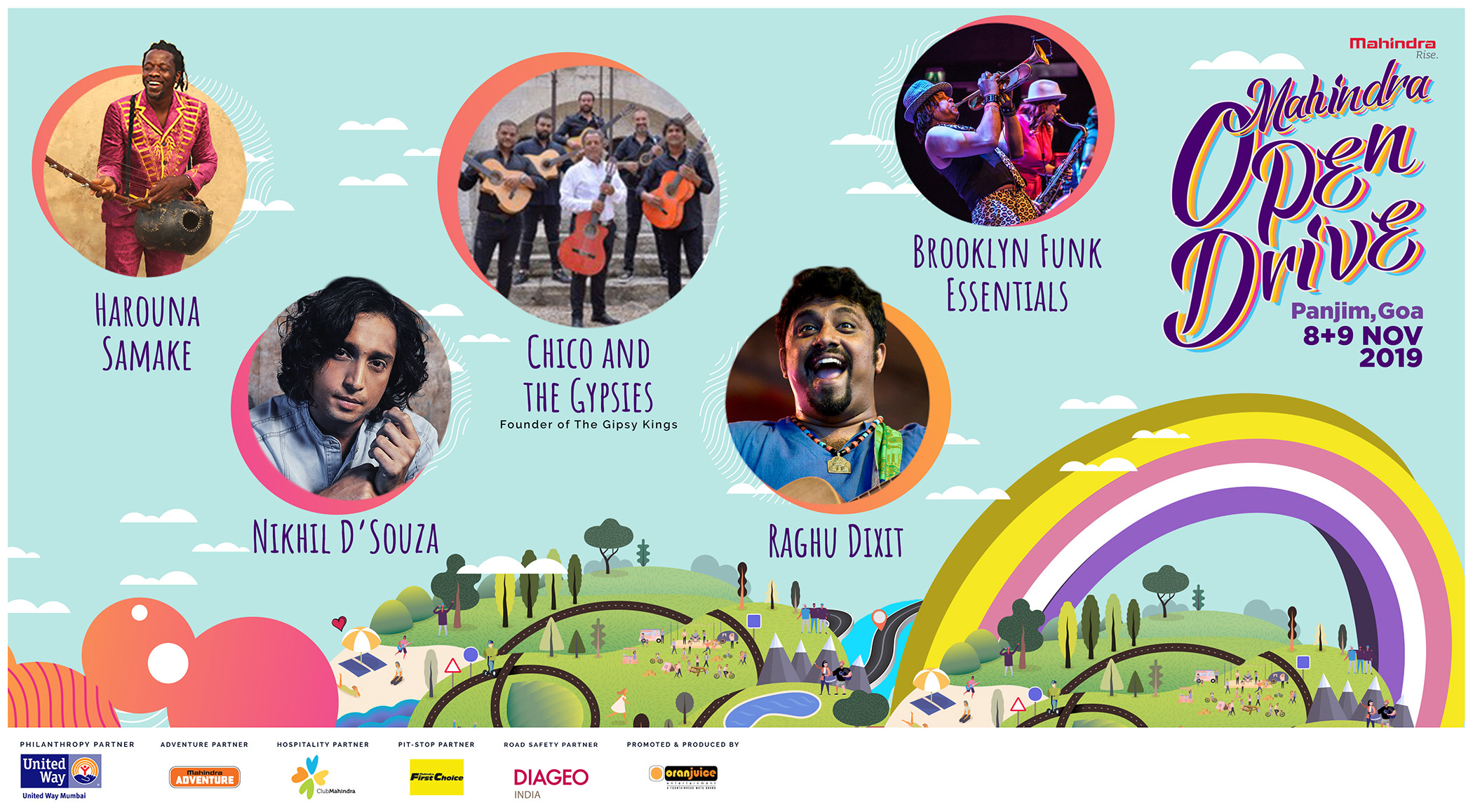 Attending the Festival
How do I get an invite to Mahindra Open Drive?
There are two ways to get an invite for the festival -
1) Pledge by Fundraising: The same can be achieved by opening up a fundraising account to raise funds for a NGO and a cause of your choice - via our incentive program, fundraisers will be eligible to a certain number of invites depending on the funds raised
2) Support and Attend: A direct entry to the festival can also be earned by donating a fixed amount to an NGO and the Cause of your liking
To know more on the above, log onto www.mahindraopendrive.com

Why is it an invite and not a ticket?
Your purchase(s) from our ticketing partner, Insider, is directly going to our NGO partners and hence has not been labelled as a ticket!

Are there any VIP passes to the festival?
There is no VIP access to the festival

What are the different kinds of invite packages?
There are three types of invites:
1. Day 1 Pass (8th November)
2. Day 2 Pass (9th November)
3. Season Pass (Both Days)

What are the modes of payment?
Cash, Credit & Debit Cards and Select Wallet Payments

Why do I need to share my address and PAN number? Do I need to bring copies of the same to enter?
With every invite you purchase, you are directly donating money into an NGO of your choice. With every donation, you are eligible to a tax deduction (by means of an 80G receipt). Your PAN number and address will be used to create the official 80G receipt. You do not need to bring copies of the same to enter.

I don't want to share my PAN card details. How can I get my invite?
You can still donate to an NGO and a cause of your liking and get your invite to the festival. But without your PAN card details, we won't be able to issue an 80G certificate

I am not an Indian National. Can I get an invite to the festival?
Yes, but you will not be eligible for an 80G receipt. Your donation will be processed to the NGO you have chosen.

How many invites can I purchase in one transaction?
You can purchase up to 6 invites per transaction.

Can I cancel my invite once booked?
Invites cannot be cancelled once purchased on Insider.

Is there an age restriction to the festival?
Mahindra Open Drive is open for all. The purchase and consumption of alcohol products will be strictly controlled at all times and will only be served to consumers over the age of 25. We will require government photo ID proof (ANY). This will be checked on entry to the festival, as well as at any other time on venue grounds.

Can I transfer my ticket to a friend?
All invites purchased are strictly non-transferable

Wrist Band Policies
1. Wristbands must always be worn for entry into the festival and during the festival (including the times between days).
2. If you have purchased a Season Pass, the wrist band must be worn on both days. No new wrist band will be issued.
3. Please do not remove, stretch or tamper with your wristband in any way or you will not be allowed entry.
4. Only wristbands distributed through us or our official ticketing partner, Insider, are valid. If you have purchased a wristband from an unauthorized source and/or the ticket is counterfeit, you will not be allowed entry.
5. Wristbands must be worn securely on your wrist and cannot be slipped on and off.
7. If your wristband is removed by festival security/event staff for any reason, it will not be replaced.
8. All wristband holders must pass through security and are subject to a security inspection. Prohibited items will be confiscated by event staff.
9. Wristbands are non-transferable, non-exchangeable and non-replaceable.

Can I re-enter into the festival area?
Re-entry to the festival is allowed provided you are wearing the correct festival wristband.

Is there a parking/valet facility at the festival?
Yes, parking will be available at the venue. Please follow the directions to find your spot.

Will invites be available at the gate?
Invites will be available at the gates. On purchasing an invite, you will be allowed to donate to any NGO of your choice.

General
How do I get to the venue?
There is an ample amount of parking space at the venue, but we suggest you either carpool or use local transport.

What are the festival timings? When should I arrive?
The festival gates will open at 3pm on both days and go on till 10pm.

Where can I find the festival schedule?
You can log onto www.mahindraopendrive.com for all schedule and line-up information

What are the safety protocols at the festival?
We will have adequate safety measures at the festival area. This will include fire extinguishers and fire trucks. We will also have paramedics on site should you need them. The venue will also be mapped with emergency exits and other safety measures.

What is the accepted mode of payment for F&B (and other items) at the festival?
Every area of the festival will be equipped with coupon counters wherein coupons can be bought using cash or credit cards or debit cards.

Is there any refund on F&B Coupons?
There are NO refunds on F&B Coupons.

Is the festival sustainable/environment friendly?
Mahindra Open Drive, in association with Skrap, aim at making this a Zero Waste festival.

Are there fixed seats to the venue?
A: No, the venue is a standing festival with no designated seats.

Prohibited Items
What am I not allowed to bring to the festival?
The organizers reserve the right to refuse admission to the event site at any time. The following items are prohibited and will not be allowed into the venue:
i. Weapons, explosives, firearms, glass bottles, aluminium cans, hazardous and breakable materials
ii. Fireworks, lasers, flashlights and anything else that can interfere with the artists
iii. Professional DSLR, recording devices, video equipment that have not been pre-approved
iv. At the artists' request, all unauthorized recording will be prohibited. (Illegal filming and/or recording will result in legal actions).
v. Illegal items will be confiscated at the door.
vi. Alcohol, food, bottles, cans, glass, animals and sound systems may NOT be brought onto the festival site.
vii. No camping gear of any kind will be allowed into the venue.
viii. Flags that are used to identify your group may be brought in, but discretion is advised when constructing or designing these items, as they may sometimes be considered dangerous.
ix. No Helmets will be allowed inside the festival.

Is there a storage facility at the festival?
No, there is no storage facility available at the festival.

Travel and Accommodation
Are there any special accommodation rates provided to Festival Goers?
There is no special accommodation facility for the festival goers. It is recommended that reservations for accommodation are made well in advance.

How far is the venue from the nearest Airport and the Railway Station?
Goa International Airport: 30 kilometres
Madgaon Junction: 42 kilometres

Fundraising
What is Fundraising?
Fundraising involves collecting donations for your supported NGO by tapping into your network of friends, family and colleagues. You can also post your appeal on various social media platforms to further raise awareness and funds for your chosen cause and NGO. Fundraising gives you the opportunity to advocate for the cause that you feel passionate about and to make a difference in the lives of the underprivileged.

Where can I start my fundraising account?
You can log onto www.unitedwaymumbai.org/fundraiser_registration.php

Can I fundraise for an NGO of my choice?
Yes, after selecting one of our 6 causes, you can go through our list of partner NGOs and fundraise for any 1 NGO. If the NGO of your choice is not on the list, please contact mod@unitedwaymumbai.org

What is the role of United Way at the Mahindra Open Drive 2019?
As the official philanthropy partner of the event, United Way Mumbai (UWM) enables the participating charities to raise funds for the efforts made towards 6 critical action points such as Education, Healthcare, Livelihood, Safety, Environment and Rights & Inclusions. All funds raised through the Mahindra Open Drive 2019 are channelized through UWM, which is responsible for accounting and providing tax exemption receipts to all donors.

How do I choose an NGO?
United Way Mumbai has partnered with the NGOs representing the 6 critical action points such as Education, Healthcare, Livelihood, Safety, Environment and Rights & Inclusions. All the registered NGOs can be viewed at www.unitedwaymumbai.org/mahindraopendrive

Will the donors be getting receipts for all the donations?
All donations above INR 100 are eligible for an 80G receipt. PAN number of the donor for donation of INR 2,000 and above is mandatory. For foreign donations, mentioning passport number is mandatory. PAN / Passport number will be kept confidential with UWM and will only be shared with authorized bank personnel / auditors (if needed).

What is the last date of fundraising through Mahindra Open Drive?
The last day for Fundraising is the 14th of November 2019. The last date to lock all your incentives is the 3rd of November.

What happens after I have completed raising funds for Mahindra Open Drive 2019?
The money is accounted for at United Way Mumbai and then disbursed to the NGO you have chosen to fundraise for. Is there an incentive program to the fundraising campaign? Yes, you can get a detailed understanding of our incentives, fundraising levels and how to redeem them on www.unitedwaymumbai.org/mahindraopendrive

What percentage of the funds raised through my fundraising page will go to my supported NGO?
United Way Mumbai will retain 10% of funds raised through the fundraising pages to defray payment gateway charges and administrative expenses. The rest gets directly disbursed to the NGO For any further queries - MOD@unitedwaymumbai.org

The Drive
Where can I sign-up for the Drive? What is entry cost?
You can RSVP for the drive at zero cost on Insider - www.insider.in/mahindraopendrive

I have bought a festival invite, do I still need to sign-up for the drive?
Yes, you will have to RSVP for the drive even if you have bought the festival invites. This will enable us to give you all the necessary information and tools for the drive.

I am a registered fundraiser for Mahindra Open Drive, do I still need to sign-up for the drive?
Yes, you will have to RSVP for the drive even if you are a registered fundraiser. This will enable us to give you all the necessary information and tools for the drive.

Is there an official flag off for the Drive? Do I have to leave for Goa at a specific time?
No, there is no specific time at which the drive begins. All our pit-stops and activities en route the festival will be active from the 7th of November to the 10th of November.

Do I need to own a Mahindra car for the Drive?
Your journey. Your car! You can get any car for the road-trip.

Is there an accommodation facility/package on the route?
No, all participants are requested to look out for their accommodation facilities, if required.

Are there any amenities provided by the organiser?
Yes, for each route (from Mumbai, Pune, Hyderabad and Bangalore), participants will have access to the exclusive Mahindra Open Drive pit-stops. Each pit-stop will have services for your car, F&B which can be availed at a nominal cost. Washroom and other amenities will also be available.

What if my car breaks down or there is an emergency on route to Goa?
Please download our Drive Newsletter for all emergency related information - www.mahindraopendrive.com/thedrive

Is there a contest or a race as a part of the road trip?
No, it's not a race or a time trial. This road-trip is held on public roads and is governed by the local laws. The route is planned in such a way that there is no need to exceed speed limits.

Will there be anything additional for the people who sign-up for the drive?
Of Course! For every car, we will be sending a Mahindra Open Drive care package that includes fun (and the serious) essentials for your road-trip.

Press and Media
Who can I get in touch with for Press Inquiries?
You can get in touch with us at press@mahindraopendrive.com
Dr. Shyama Prasad Mukherjee Indoor Stadium - Head Office SAG
Goa University, Taleigao, Goa 403206
GET DIRECTIONS