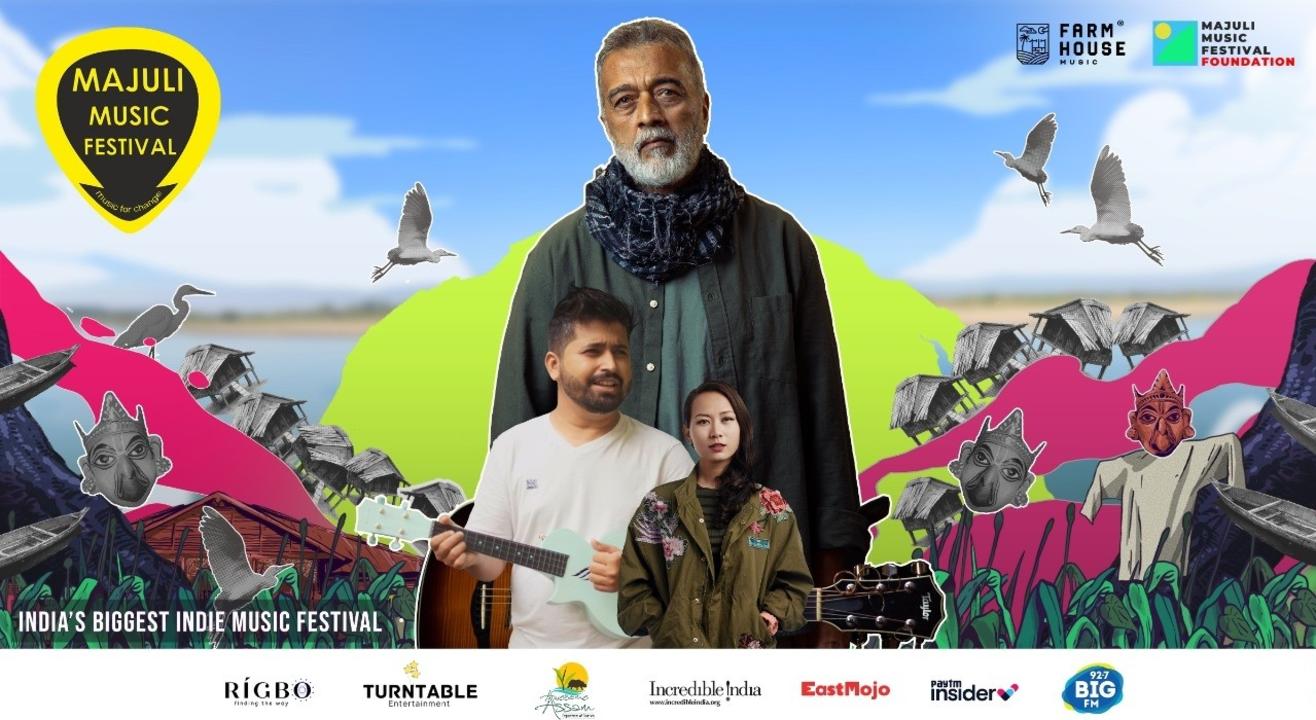 Majuli Music Festival 2022
Nov 25 - Nov 27 I 2 PM onwards
Event Guide
For Age(s)
Family Friendly
Live Performance
Enjoy a unique experience
Invite your friends
and enjoy a shared experience
Majuli Music Festival 2022
Nov 25 - Nov 27 I 2 PM onwards
Event Guide
For Age(s)
Family Friendly
Live Performance
Enjoy a unique experience
Invite your friends
and enjoy a shared experience
Event Guide
For Age(s)
Family Friendly
Live Performance
Enjoy a unique experience
Invite your friends
and enjoy a shared experience
Majuli Music Festival is an annual music festival held in the month of November in the beautiful naturescape of Majuli by the bank of river Brahmaputra and its tributaries. The event comprises live music performance by 30+ independent artists from different parts of India.
With a vision to promote rural tourism, uplift the local community and make Majuli self sufficient, Majuli Music Festival is here to provide enthusiasts a plethora of experiences through music, art, culture, food and the traditional Rice Wine, of course.
It is the biggest Indie Music Festival of India for you to let loose and unwind the experience of living on an island, the local style while exchanging cultures and making new friends from across India and the globe. Everything amidst the stunning natural beauty of the island around refreshing greenery, by the side of river Brahmaputra and its tributaries Kherkotia under an open sky!
Come let's join with Lucky Ali & others on this 3 days extravaganza.
We are Music For Change!
How do I get to Majuli?
Route Via Air / Land Water
From Guwahati -
Option 1 - Guwahati to Jorhat to Nimati Ghat to (by ferry) Jengraimukh, Majuli
Option 2 - Guwahati to Jakhalabandha to Tezpur to North Lakhimpur to Jengraimukh, Majuli (via Road)
From Dibrugarh -
Route - Dibrugarh to Dhemaji (by crossing Asia's second largest rail cum road bridge) to Dhakuakhana to Jengraimukh, Majuli
From Itanagar -
Route - Itanagar to Bandardewa to North Lakhimpur to Gogamukh to Jengraimukh, Majuli
From Shillong -
Route - Shillong to Guwahati to Jorhat to Nimati Ghat to (by ferry) Jengraimukh, Majuli
From Kohima -
Route - Dimapur to Numaligarh to Jorhat to Nimati Ghat to (by ferry) Jengraimukh, Majuli
Nearest Airport -
Jorhat
Dibrugarh
Lakhimpur
Nearest Railway Station -
Gogamukh
Jorhat
Majuli Music Festival Aftermovie 2019 edition
Majuli Music Festival 2022
Nov 25 - Nov 27 I 2 PM onwards
Event Guide
For Age(s)
Family Friendly
Live Performance
Enjoy a unique experience
Invite your friends
and enjoy a shared experience