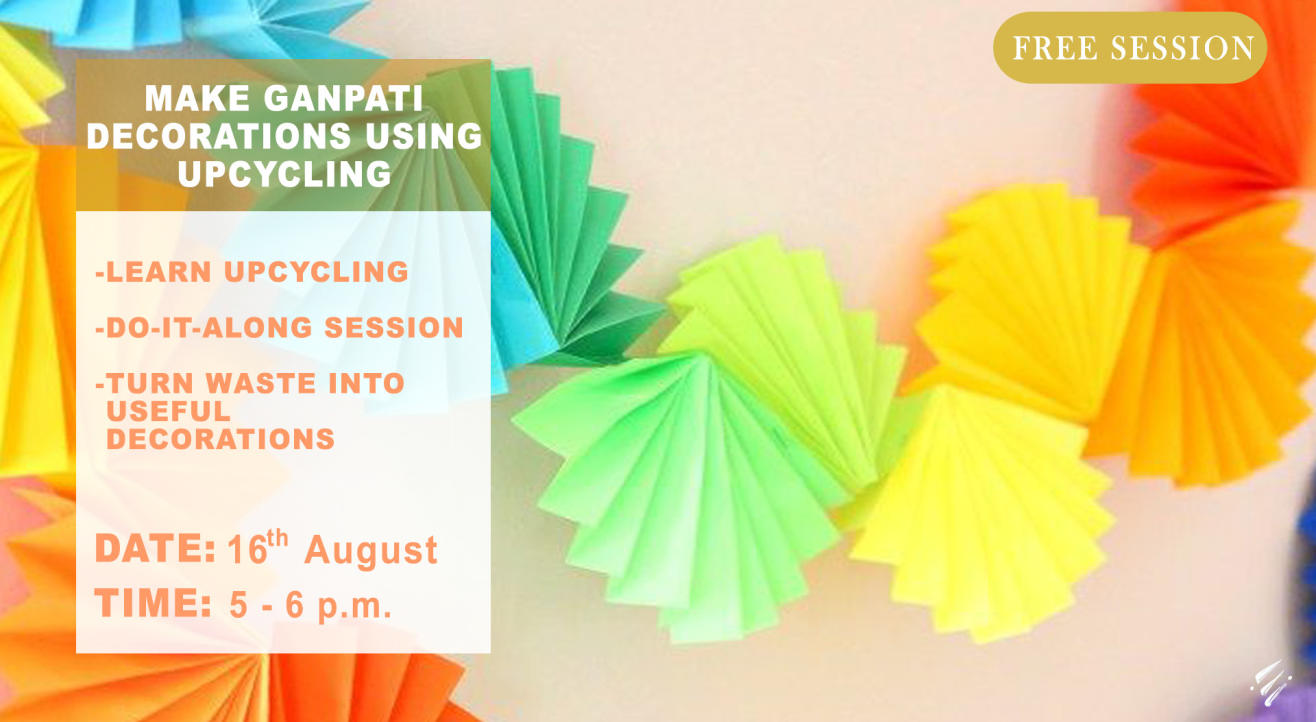 Make Ganpati Decorations using Upcycling
Enjoy this event from your home
Invite your friends
and enjoy a shared experience
Invite your friends
and enjoy a shared experience
About the Event
About the Session
With Ganpati right around the corner, we've put together an exciting do-it-along upcycling session with our knowledge contributor Meenakshi Sharma. Through this session, she will help us create some beautiful Ganpati decorations from materials lying at home. At the end of the session, not only will you understand how easy it is to upcycle, but also have your Ganpati decorations ready.
Let's get to know Meenakshi
Meenakshi Sharma is the founder of Use Me Works – which believes that 'Nothing should go to waste'​. She has been a Professional upcycler since 9 years – turning waste into objects of daily utility, but has been following the practice of upcycling and handcrafting even before she hit her teens. She is deeply motivated by the potential of changing waste into something extremely useful. Her dream would be to have an eco-friendly house in the middle of a forest someday. Check out some of her work here.
What you'll need for the session
1 hour of your time
A working internet connection
Optional (if you would like to do-it-along with us)
Printed/coloured paper sheet/magazine paper/colourful pamphlets/newspaper/any colorful chart paper (as many as you can bring)
Needle
Thread
Fevicol/Glue
Pencil/pen/Marker
Scissors
Waste fabrics from any old rags or old discarded garments
Paint and Paint brush
Cardboard from any shopping carton
Beads, shells, pom poms, buttons (anything decorative that is available at home)
What you won't need for the session
No credit card details
No prior experience in Upcycling


About Enlightened Sapiens
We are a Social Enterprise, focused on inspiring each one of us to share our Experiences and Knowledge with one another and foster an open environment of Growth and Mindfulness. We aim to help you discover and pursue your interests and hobbies through interactive videos and try-at-home activities. Know more through our website: www.enlightenedsapiens.com
Are you ready to be part of the Art Community?