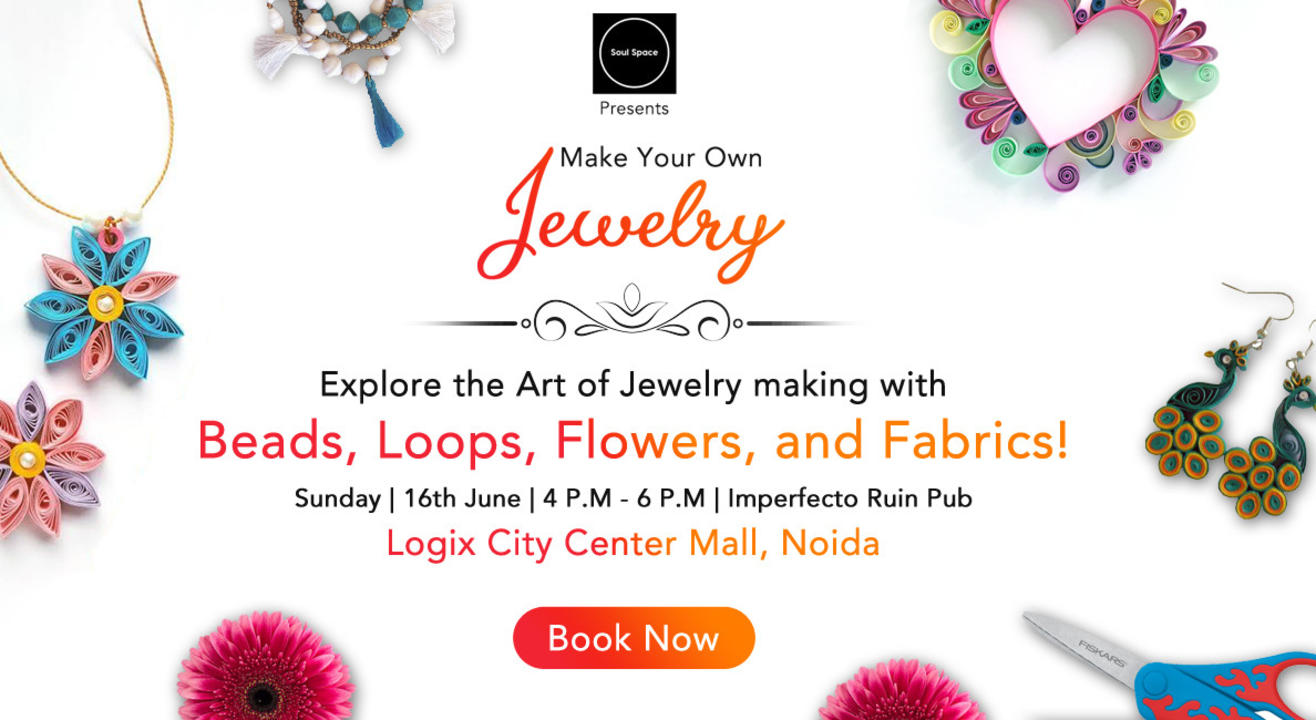 DIY
Make Your Own Jewelry Workshop!
Imperfecto Ruin Pub - Noida
About
Soul Space invites you to explore the Art Of Making Handmade Jewelry with us.Create Handmade Jewelry and Wear With Confidence!
For Adults (14+) only.
Whether you're an absolute beginner or have dabbled in a bit of jewelry making before, this workshop will teach you from start to finish to create the jewelry using beads, loops and fabric that you and your friends will be dying to wear!The best part is you get to take home the jewelry you create!
Explore with us and learn new skills to design beautiful pieces of DIY Jewelry.Delve into the beauty of making jewelry with the help of beads, loops, flowers and fabrics. In collaboration with the very talented Simran Kaur.
About Artist- Simran Kaur
Fascinated by nature since her childhood, Simran Kaur has been painting and crafting since the childhood. As a child she meditated on the lines of trees, the colours of clouds and the play of light and shadow and wanted to draw what she had observed. it opened up a vast, wonderful world. The colorful life that she saw around her drew her to colors in their various combinations. Born and brought up in Delhi, Simran has a Bachelor degree in History Honors from Delhi University, and a Masters in Art History from Altantic University.
Are you ready to surprise everyone with your self made jewelry? Book this workshop now!
https://insider.in/make-your-own-jewelry-jun15-2019/event
Please arrive 15 minutes early at the venue!
Date - 16th JUNE ,SATURDAY
Time- 4PM- 6PM
Location- IMPERFECTO RUIN PUB, Logix City Center Mall, Noida
P.S. - Refreshments and material is on us!
For more details, please contact-
Shilpi Agarwal
+91 9958509612