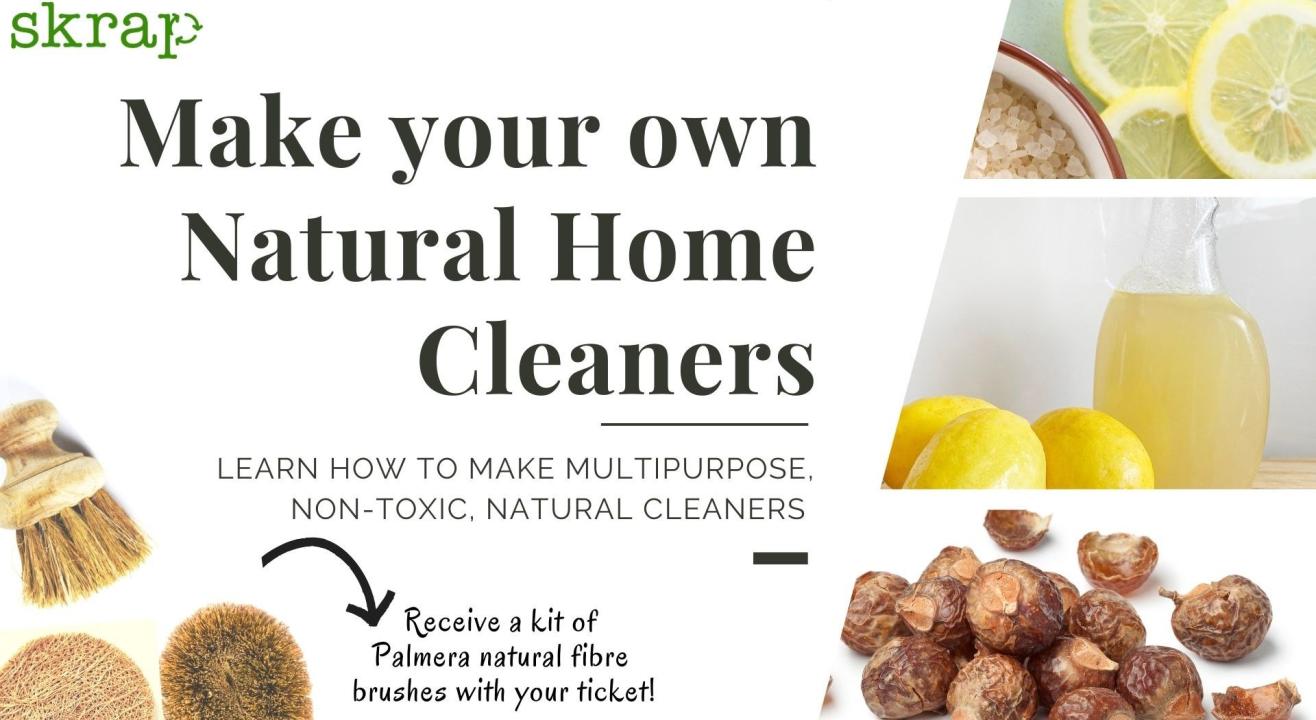 Make your own Natural Cleaners
Enjoy this event from your home
Event Guide
For Age(s)
Family Friendly
Masterclass
Learn from an expert
Invite your friends
and enjoy a shared experience
Event Guide
For Age(s)
Family Friendly
Masterclass
Learn from an expert
Invite your friends
and enjoy a shared experience
About the Event
Curious about how you can use simple ingredients to make your own natural cleaners that are safe for human health and the environment?
Come join us for this workshop where we'll walk you through how to make your own Natural cleaners from Bioenzymes and Soapnuts.
Bioenzymes are multi-purpose, eco-friendly, natural cleaners that are good for people, planet and our pocket! They are made by fermenting fruit peels, jaggery/ brown sugar and water over a period of 30 to 90 days. Bioenzymes can be used to clean your floors, kitchen counters, dishes, laundry and has many more uses.
Soapnuts are natural berries native to India and Nepal. They contain saponin which is a natural, non-toxic detergent and have been used traditionally in body care and home cleaning routines. In this workshop we also explore combining the best properties of soapnuts and bioenzymes to create a powerful all-purpose cleaning solution.
We're collaborating with the good folks at Palmera to give away one complimentary kit of Palmera natural scrubbers worth over Rs 500 with each ticket! Palmera natural scrubbers are made of materials such as coir fibres and are plastic-free. Natural scrubbers do not shed micro plastics and are safer for our planet and for our health.
Here's what the free kit includes
1) Palmera Dish Wash Scrub (Pack of 6)
2) Palmera Bottle Cleaning Coir Brush (1 Piece)
3) Palmera Kitchen Pan Cleaning Brush (1 Piece)
4) Palmera Vegetable Cleaning Tawashi Brush (1 Piece)
Please note: The natural scrubbers kit will be delivered within India only. The kit will be shipped within 2 weeks of the workshop date. There may be slight delay in deliveries due to Covid-19.
Materials needed
For this online workshop, it's BYO Ingredients! You'll require the following items for the workshop:
Citrus fruit peels: Lemon/ orange/ sweet lime, or even pineapple peels
Brown sugar or Jaggery
Water
Yeast (optional)
Plastic container (such as a bottle or jar) with a screw cap
Once you sign up for the workshop, we'll email you a detailed note on the ingredients, quantities, and tips to keep in mind.
P.S.: The session is most fun when you make your natural cleaners during the workshop. You can also choose to attend the session to learn about the process and make later.
Workshop duration
The duration of the workshop is of 60 minutes from 11am to 12pm
Check out what participants had to say about our workshops:
"I really appreciated how the workshop was hands-on, informal and fun. All of our questions were also answered well by the very knowledgeable hosts" - Akshay Verma
"I would recommend this workshop to other folks. I found in useful to hear from people who make these regularly and being able to ask questions. I've seen tons of videos on this but wanted to ask many questions, which I could during the workshop" - Sonika Bhasin
"I found it useful to learn the many ways of using the bioenzyme. It's not just used for one aspect of housecleaning. It can replace almost all cleaning products. This is motivating. Makes it the effort worth it" - Nethra
About the workshop facilitator
Shipra Agarwal leads sustainability workshops at Skrap. She is a facilitator and programme executer with expertise in the fields of education, sustainability and sanitation. Shipra has facilitated over 450 hours of sustainability-themed sessions with over 2000 children and adults in the last four years. She leads a low waste lifestyle, discards less than a bagful of waste each year and loves looking at new ways to reduce her daily waste.
About Skrap
Skrap is a social enterprise that helps organisations, brands and individuals adopt zero waste practices and sustainability solutions. Our aim is to minimise the amount of waste that ends up in our local landfills, villages and oceans. And instead transform this waste into valuable resources by reusing, recycling and composting.
To know more find us on Website: www.skrap.in and Instagram: www.instagram.com/skrap.zerowaste/