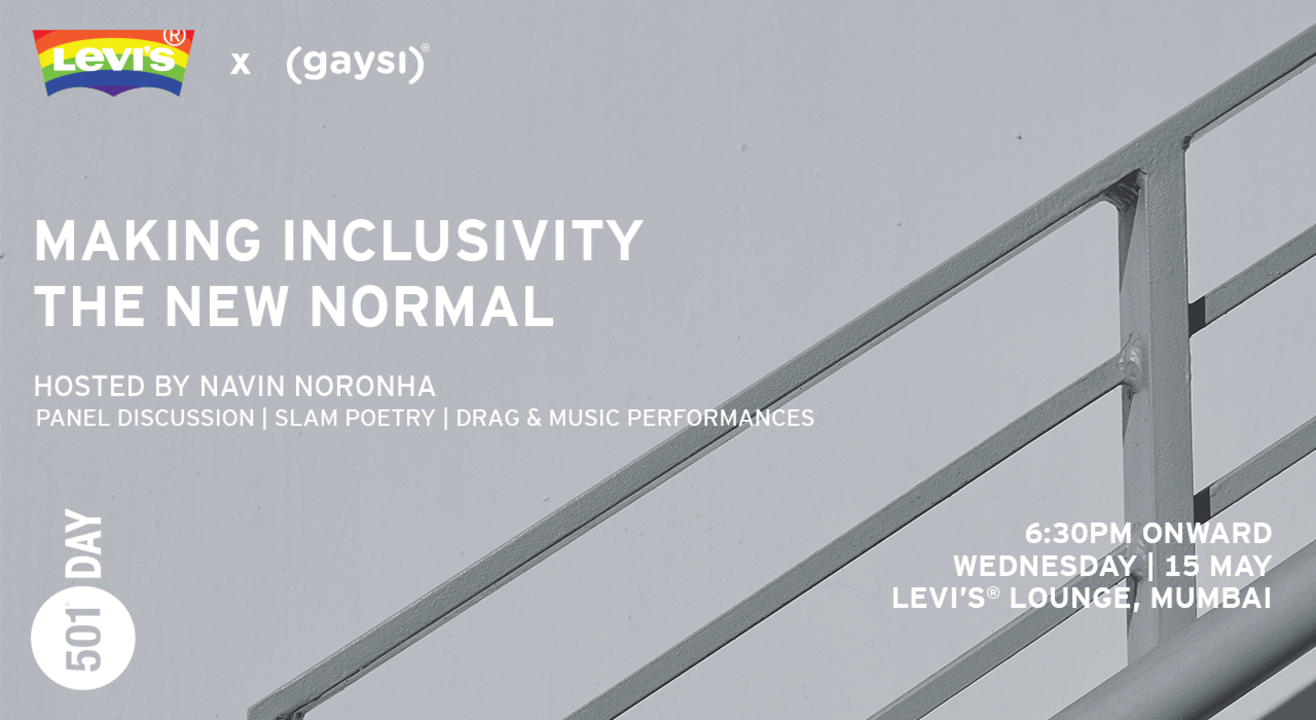 Making Inclusivity The New Normal
Levi's Lounge, Lower Parel, Mumbai
Invite your friends
and enjoy a shared experience
Making Inclusivity The New Normal
Levi's Lounge, Lower Parel, Mumbai
Invite your friends
and enjoy a shared experience
Invite your friends
and enjoy a shared experience
The Levi's(R) brand has been, and always will be, a vocal supporter of equality and non-discrimination. Join us for a conversation on Making inclusivity the new normal
Hosted By:
Navin Noronha: Navin Noronha is an amply likable guy who tries very hard to be a badass. To live by his motto of 'Live Fast, Die Poor', Navin has taken up writing as a profession. He also does stand-up because it fits so well into the underpaid artist routine. He is pretty good at it though, so if you find yourself cracking up, it may not be entirely incidental. Being a Bombay boy, Navin's material covers wide ground from liberalism and pigeons to evil bosses and Jesus. And did we mention that he is an engineer by qualification? Well, who isn't?
Panel Discussion Topic: Making inclusivity the new normal - Fostering a culture of proactive LGBT support groups. Participants -
Jo (Moderator), Sonal Giani (LBT Support Group Umang), Dhiraj Gohi (Trans Support Group Gaurav), Priya Sharma (LGBTQI Support Group Saathi, IIT Mumbai)
Slam Poetry:
Dhruv N - Dhruv is a 22 year old gay poet. You can find him, lovelorn, hunting for inspiration at literature & film festivals, in obscure archaic bookstores, or just casually strolling on busy streets, marvelling at pagan architecture.
Priyanka Paul - Priyanka Paul is a 20 year old illustrator and poet. Her work mainly revolves around themes of social justice and self exploration. Her work has been featured in galleries and publications around the world.
Shruti B - Shruti is a writer and designer who has a hard time writing about herself. She is passionate about feminism, mental health, body positivity, art, literature, and puppies.
When she's not trapped in a YouTube blackhole, she can be found painting and writing till the sun comes up or endlessly window shopping for books she can't afford.
Sumit Pawar - Sumit Pawar the founder of The QKnit, an LGBTQIA+ collaborative that seeks to mobilize India's queer community. Also he love to write in regional language like Hindi, Gujarati and Marathi in his free time.
Smita Vanniyar - Smita is a queer feminist based in Bombay, India. They hold a Master's degree in Media and Cultural Studies from Tata Institute of Social Sciences, Mumbai. Their areas of interest include gender, queer studies, internet, technology, popular culture, films and TV shows, fandoms etc. Smita is currently working at Point of View, India, on gender, sexuality and technology. She can be generally found wandering the cyberspace, or hunting for good coffee.
Jo - Jo is an aspiring social scientist and activist. They love beginning and hopefully seeing through social research projects. Currently, they co run two projects with their partner and are a part of many, many more.
Drag Performance:
Rani Ko -He-Nur: Sushant is justifiably described as an Activist. He stands for what he believes in and has demonstrated this through his work and support with the LGBTQ community not only Nationally but on a Global scale as well. He holds the title of Mr. Gay World India 2014 and is also the Director South West Asia at Mr. Gay World. His bold spirit and body of work in this arena has paved the way for people at large creating the space for acceptance and openness to Diversity in our Society.
Music Performance:
Shama Anwar: Shama Anwar, British born-Bangladeshi 26 year old DJ. Growing up listening to everything from grime to Bollywood, her sets naturally take the same course. Mixed genres have always been an influence within her life through her culture as well as her personal preference which is now reflected in her work."
Curated by Gaysi
Levi's Lounge, Lower Parel
Unit 2, New Mahalaxmi Silk Mills, Mathurdas Mills Compound, NM Joshi Marg, Mumbai - 400013
GET DIRECTIONS
Making Inclusivity The New Normal
Levi's Lounge, Lower Parel, Mumbai
Invite your friends
and enjoy a shared experience