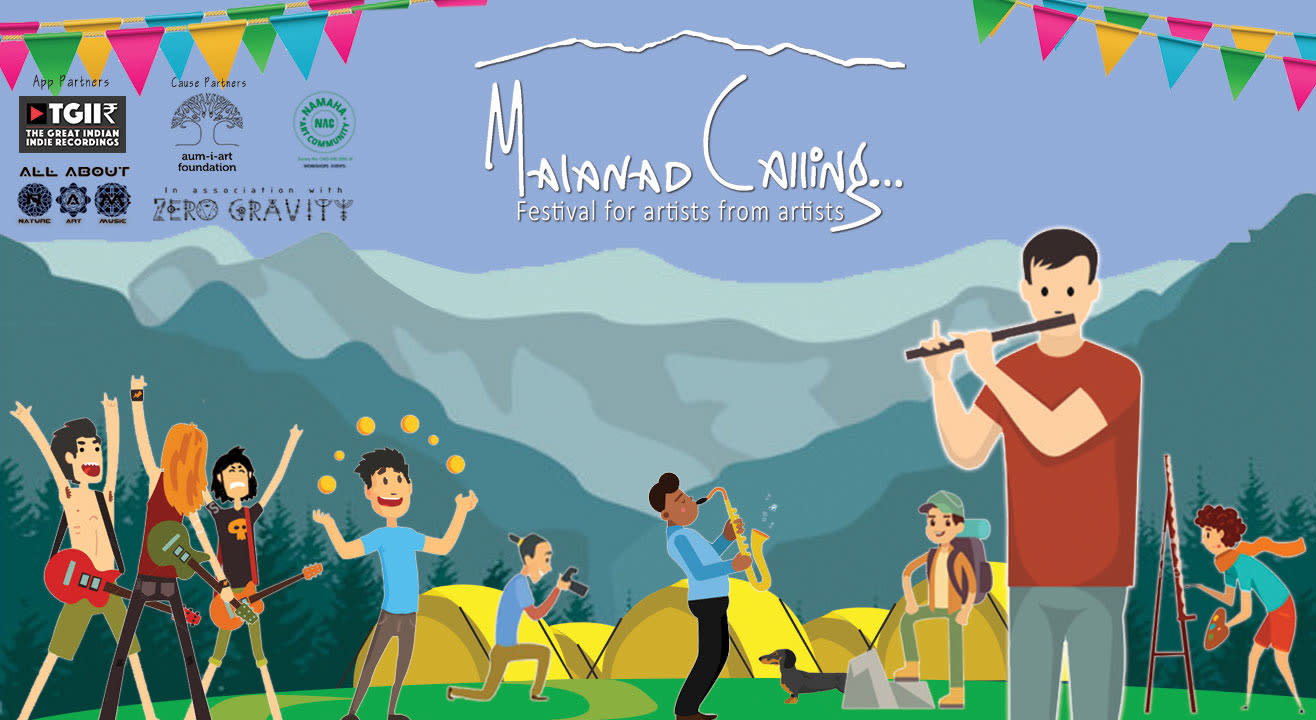 Music
About
Malanad Calling Is an initiative by Namaha Art Community, a non-profit art and music community focusing on providing a platform for artists, art enthusiasts and nature explorers to come together and experience the glory of nature, art and music.
Malanad Calling 2018 will unfold again this monsoon. The venue, Sakleshpura, is a hill station town in the Malanad region of the biodiversity hotspot, theWestern Ghats. You can expect a temperate climate and surroundings of lofty green hills full of coffee, cardamom, pepper and areca plantations.
As always the festival will focus on Nature, Art and Music in particular with carefully curated workshops and performances. A detailed itinerary with artist lineup will be announced soon.
This Malanad Calling Namaha Art Community is collaborating with Zero Gravity Festivals in various dimensions and possibilities to create a mind-altering experience for the participants.
Zero Gravity is an initiative to create experiences of collective consciousness traversing multiple dimensions of adventure, art, music, and well being.
Past Events
Initially conceptualized by founder Mr. Naveen Gokhale, Malanad Calling over the years has been driven by the selfless contributions of various artists and art enthusiasts and has been growing with each edition. Malanad Calling 2018 is the 8 th Edition of the festival. We thank all the people who have worked till today to make Malanad Calling happen every year and we expect continued support from all so we can reach more individuals and provide them with the experiences of a lifetime.
The event pass includes entry to all the activities, workshops and performances.
Camping under the stars with tents, sleeping bags with Matts.
Be There (Day 0): 16 AUG 2018
You may check in at leisure, relax and connect with the community, you can try your hands in helping the festival team in installations and setup. End the day with Bonfire and acoustic music jam.

Get Off the Grid (Day 1): 17 AUG 2018
Start your day with breakfast followed by nature walk to experience magnificent panoramas crisscrossing lush green forests and grasslands of Malanad Region. Come back for some mouthwatering Malanad dishes and join us in art workshops and talks. Groove to some of the best multi-genre live and electronic music.

Get in the Groove (Day 2): 18 AUG 2018
Start the day early with yoga and sound healing session followed by breakfast. Participate in art/music workshops till lunch and get ready for the blast with some of the best multi-genre music till midnight.

Head Back Home (Day 3): 19 AUG 2018
Wake up at leisure and head back home with a lot of blissful memories and rejuvenated mind, body and soul.
What is Malanad Calling…?
It's a Nature, Art and Music Festival which happens in Malanad Region.

Is it a concert or a festival?
Festival of Happiness, Freedom, Expression and Art-awareness it is. Just come there enjoy the monsoon surrounded by multiple artists, performing arts, listening to live music and munching and walking in the midst of mists falling in your own desire.(was is too cheesy? :P)

What will I get to see there?
A carefully curated Nature, Art and Music Experience. Filled with talks, workshops and Performances.

Do I need to carry cash? How far is the nearest ATM?
Of course! Carry some cash to purchase various food and beverages from various stalls or to purchase any artworks from stalls. The nearest ATM is in town, which is approx 30-40 minutes far from the festival venue.

What about transport?
We will have the transport package also opening up soon. Please watch out for the announcements.

What about food and accommodation?
Food is not part of the package and will have to be purchased at various stalls in the festival. We will be issuing festival currencies/coupons for easy handling.

What kind of clothes we should take?
It's monsoon, so get some good raincoats, umbrellas, cotton clothes. It's gonna be cold as well, so choose something from your winter wardrobe.

How can I buy tickets?
You can buy online or offline as well. Links are on our ticket page

Is food non-veg or veg?
Both! so that you can choose as you like.

Any mobile network available?
Just unplug yourself. There will be no\weak towers depending on place to place, as it hilly area.
Malanad Calling 2018 is organized by Namaha Art Community in association with Zero Gravity Festival ; which promises every artist, to provide him\her a platform to showcase their skills to people. This community is run by artists only. If you're willing to volunteer or donate, please reach out to us at contactmalanadcalling@gmail.com
Cut a Vibe - Vibe Music
Olam - Instrumental
Kalarava - Classical Fusion
Dark Light - Psychedelic / Progressive Rock
Naar - UK Dubstep / Drum n Bass
Mitoch & Fluro - Psybient / Trip Hop / Liquid DnB

Iyers Filter Coffee - Garage Rock
Anireekshita - Classical Fusion
Mind Map - Experimental Psybient
Space is All we have - Space Rock / Ambient Rock
Suraj Mani & The Tattva Trip - Rock Poetry
Lional - Minimal Techno
Granular Live - Cinematic Electronica
The rainbow chronicles - Dream catcher and DIY art workshop
Poi Boi - Poi spinning workshop
Patrik bosen - Slackline workshop
Smriti Singh - Hoola Hoop workshop
Psy Didge - Didgeridoo Playing workshop
Spanda - Vibrational relaxation session
Poi Boi - Poi and staff spinning
Smriti Singh - Hoola Hoop
Patrick Bosen - Poi spinning