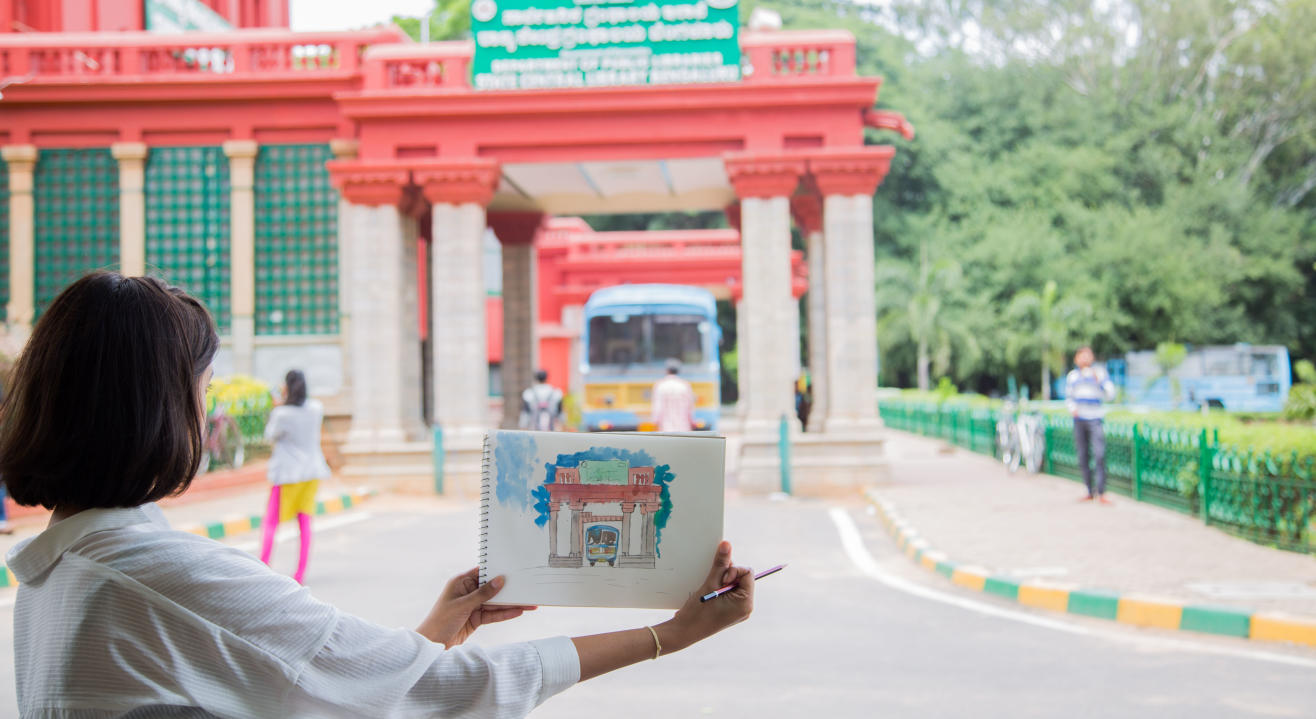 Art
Malleshwaram Heritage Art Walk - Plan The Unplanned
About
Bengaluru was not always this bustling city it is now, till a few years back it was the pensioner's paradise, a calm and quiet garden city, full of culturally rich hot spots, parks, old temples, food streets and avenues of trees. Maybe the city has grown drastically, there are a few old Bangalore places that still retain the charm. A lovely place to start exploring this is Malleshwaram. It is one of the most amazing parts old Bangalore with markets, temples and a long-standing history and some authentic food places.
This heritage art walk is a great way to explore old Bangalore not with the lens but with the brush, you will learn to sketch the streets of Malleshwaram and learn the history of the place. You will visit a well-known temple and sketch its structure. Stop for some much needed South Indian snacks and filter coffee, discuss the heritage and the sketching.
This art walk is the Kickstarter to all those who think they can't draw or even the ones who have been drawing for a while and want to explore and learn further all the while exploring and learning about Bengaluru's history.
Here we learn how to compose, draw natural surroundings, buildings and other landmarks of Bengaluru city with ease. You will learn how to create free-flowing sketches, use pen and watercolor and keep a journal.
We will start by a short introduction to sketching, the value of sketching and how it can help in our fast-paced day to day lives and how it can be used for documenting our travels, thoughts and more.
You will be walking around main Malleshwaram area and doing watercolor sketching. You will learn the basic techniques in observing and eliminating extra details and concentrating on the subject, you will learn basic drawing and watercolor techniques. Then your work will be reviewed and you will be given feedback and constructive help all while having fun, talking discussing the about the place and stopping for filter kaapi.
Come join us for this Heritage Art Walk and see Bengaluru from a whole different perspective !!!
Meeting Point: Sri Kadu Malleshwara Temple Gate
DAY PLAN(8:00 AM-11:00 AM):
- Meet at Kadu Malleshwara Temple Gate
- Go to Temple and Sketch
- Step Out and Have breakfast and discuss
- Learn about the history of Bengaluru while Sketching the streets
- Draw the Colourful Markets
- Wrap up the Heritage walk with Q&A and Filter Coffee

Parinitha Konanur is an artist, illustrator, and designer. She has a degree in fine arts from Karnataka Chitrakala Parishath and worked as a photographer before becoming a full-time illustrator and designer. She has been exploring the many facets of sketching and illustrations since she fell in love with watercolors, exploring new ways of sketching along with urban sketching and travel sketching. She is a nature lover and is obsessed with natural history illustrations and live sketching in nature. She loves to travel to explore and understand the world around her, with a keen eye and thirst for finding new cultures, colors, themes to bring about in her conceptual drawings and watercolor illustrations.

She strongly believes that the world is fast-paced and we tend to not observe our surroundings and that sketching is the best way to do so, that through sketching you can slow down, learn, observe, create and document your daily life, travels and more.
Link to Parinitha's work: http://www.parinithakonanur.com/
Pencil-Pen
Water Color – Sketch Book
Breakfast


Any kind of insurance
Personal Expense:( snacks, mineral water etc)
Anything not included in the inclusions above.