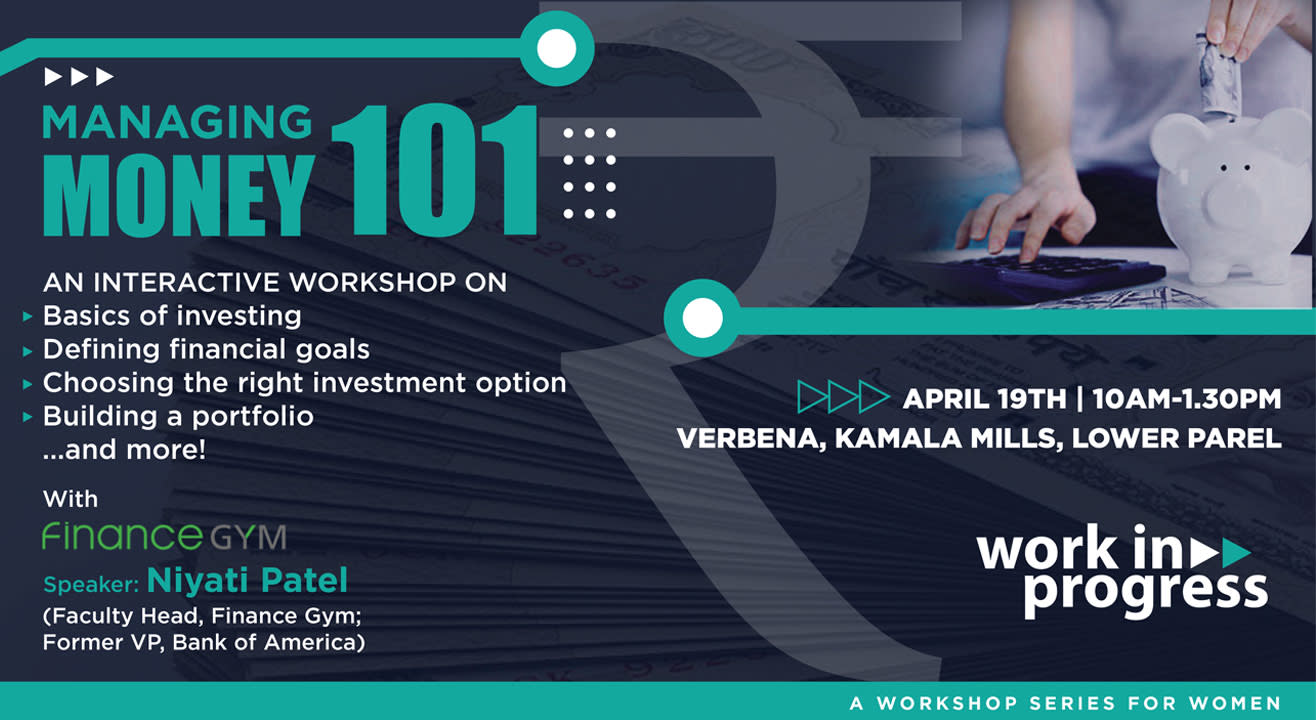 Learn
Managing Money 101
Verbena Brewpub & Skygarden, Lower Parel
About
This workshop gives you an understanding of the basics of managing money, choosing the right investment options, defining your financial goals, building a portfolio, and much more!
Come meet a group of like-minded women, and get all your financial queries answered in a high-energy, interactive session with Financial Expert Niyati Patel.

Workshop Content:
The importance of Investing vs. Saving
When to start investing
Defining your financial goals
Understanding basic financial concepts
The financial tools for investing: Mutual Funds, Fixed Deposits, Insurance; pros and cons, how they work, what to expect etc.
A simplified look at Mutual Funds (how to invest, what to choose)
Gold as an investment
The role of a Financial Advisor
Understanding Insurance basics
Building a balanced, overall portfolio that meets your goals
Who will be teaching?
Finance GYM conducts fun, interactive sessions on investing and money management. Having trained over 3,500 people across 5 cities till date, they are leading the way in Finance Education.
Niyati Patel, Financial Expert & Head of Faculty at Finance Gym, will be leading the session. She was earlier Vice President at Bank of America, where she handled treasury services for both multinational and large Indian corporates. She has trained over 1,000 people till date and is passionate about empowering women in the area of personal finance.

What to expect?
A highly informative, high- energy session on the basics of managing money, helping you invest wisely to make your money work for you!

Why should you go?
Practical, well curated information on all you need to know about managing your money.
Get all your big or small money/ investing-related queries answered by an Expert.
Learn how to select the best investment options that suit your purpose
Meet a group of amazing like-minded women!
Venue
Verbena Brewpub & Skygarden, Lower Parel
4th Floor, Trade View Building, Beside Smaaash, Kamala Mills Compound, Lower Parel, Mumbai, Maharashtra 400013