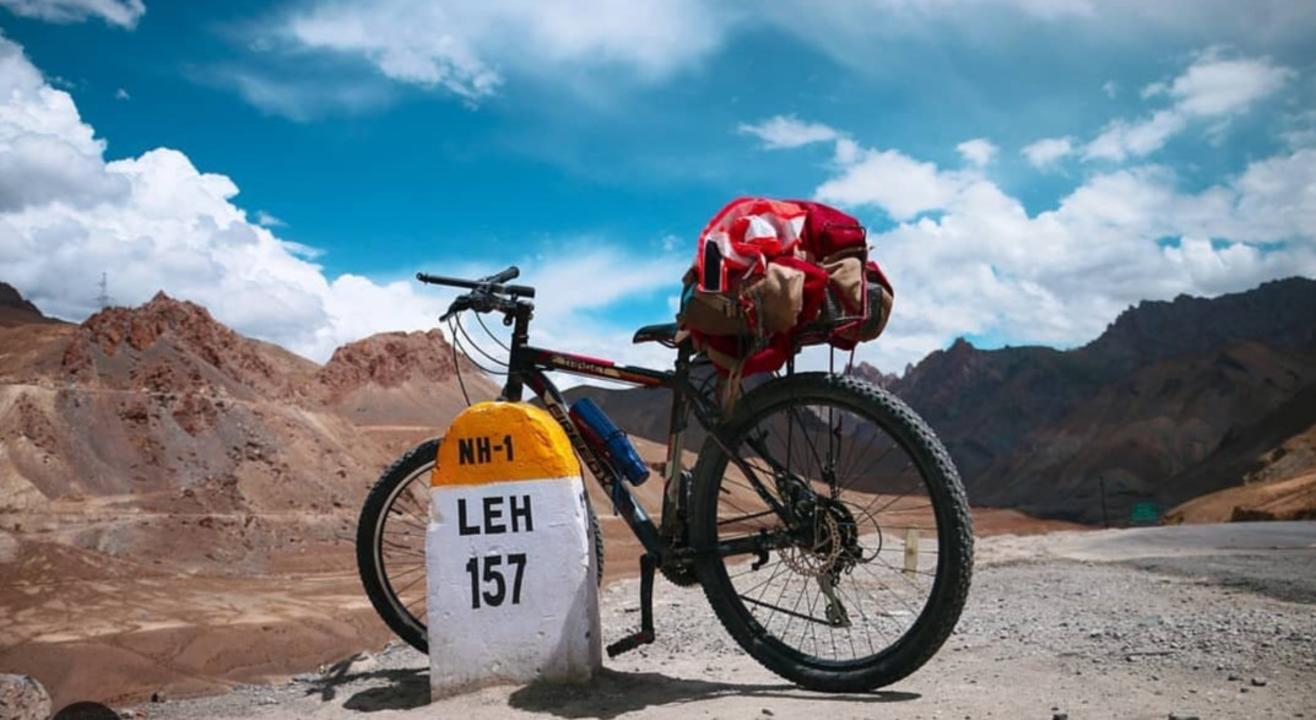 Cycling
Mountain Cycling Expedition | Manali – Leh – Khardungla 2019
About
The purpose of the expedition is to cycle through world's most hazardous and difficult terrain on mountain bikes. They will cover the distance in 13days climbing 4 high passes . Also after swimming this is the second best non-impact exercise in the world. Also we aim to inspire the spirit of National integration with the fun of Adventure sport.
Duration- 15 Days/14 Nights
Reporting at 15 Miles Base Camp Dist- Kullu (H.P.)
HOW TO REACH THE BASE CAMP:
Our base camp is at 15 Miles, near end of Span Resort. Get down at Ballu's Cafe - Baba Deluxe Dhaba on the Delhi- Kullu Manali National Highway. Regular bus services are available from Delhi, Chandigarh, Punjab to Kullu Manali. Nearest railheads are Ambala and Chandigarh. Nearest Airport is Bhuntar.
NOTE: There is no prepaid mobile service availability at Leh- Laddakh region, only postpaid (BSNL, Airtel) services are functional.
Inclusions:
Inclusive of High calorie Vegiterian Food at all camps, boarding, lodging, equipment, group insurance and forest entry
Itinerary:
#Day 1: Reporting at 15 Miles Base Camp.
#Day 2: Equipment distribution.
#Dar 3: Acclimatization and Test Ride.
#Day 4: 15 Miles to Marhi (56km).
#Day 5: Marhi- Sishu (3100 mt) (45 km) CROSS ROHTANG PASS (3978 mt).
#Day 6: Sishu-Jispa (3142 mt.) (59km).
#Day 7: Jispa-Zing Zing bar (4150 mt.) (38 Km).
#Day 8: Zing Zing bar- Sarchu Plain (4253 mt.) (54 km) CROSS BARALACHA LA (4892 mt)
#Day 9: Sarchu Plain-Whisky Nala (4700 mt.) (45 km)
#Day 10: Whisky Nala- Pang (4240 mt.) (29 km) CROSS LACHULUNG LA (5019 mt)
#Day 11: Pang – Debring (4572 mt.) (50 km) CROSS MORE PLAINS
#Day 12: Debring- Rumtse (48 km) CROSS TANGLANG LA (5329 mt)
#Day 13: Rumtse – Leh 76 K.M. (3500 mt.)
#Day 14: Participants will go to Khardungla from Leh by their bicycles OR by bus and same day will be returned to Leh
#Day 15: Check out after Breakfast
Note : Route and Schedule of the programme may change without prior notice based on the local condition.
Very important instructions to the participants
This program is only for experienced cyclists those:
1. Who have experience of multiple days cycling program
2. Who have knowledge of geared cycles.
3. Who have good balance on mtb cycles on rough terrain
4. Can do average cycling of 30-40 kms per day with continuous uphill and downhill terrain.
5. Minimum 3 months of rigorous cycling practice.
There will be a test ride and only those found fit and fulfilling the above criteria will be allowed to participate in the expedition. YHAI decision will be final and all participants have to abide by it. No refund is admissible in case of not passing the test ride or any medical reasons.
All participants are required to bring their original Photo ID proof as it will be required at various check posts during the program.
*YHAI will provide
1. tenting on sharing basis.
2. Simple vegetarian food.
3. Fully Equipped Medical team with Ambulance.
4. Oxygen cylinder at every camp.
5. Jeep.
6. Group Insurance.
While every care has been taken to ensure safety, the Youth Hostels Association of India cannot be held responsible for any accident, illness and such other unforeseen eventualities.
*Notice for Participants
1. Smoking, use of alcohol and narcotics of any description is strictly prohibited during the course of the program.
2. Deviation from the set route of the program is not permitted. If participants may wish to join any other activity, they may do so at their own responsibility and risk only after finishing the program and checking out.
3. Stay other than YHAI Camp is not allowed for the entire duration of the camp.
4. This is an environment friendly trek. Do no litter any wrappers or spoil the trial in any way. In case you find any wrapper, plastic bag or anything left by trekkers on the way, please carry the same with you and deposit at the base camp.
5. Burning of wood during camp fire is strictly prohibited. Import of any bio Non- degradable Material in J & K is an offence.
*Risk factor
This is a High risk Adventure programme involving cycling uphill/downhill on Himalayan Mountain passes with following risk factors:
1. High Altitude sickness
2. Fall during cycling leading to major/minor injuries.
3. Unforeseen events like Landslides, cloudbursts, storms.
YHAI will provide adequate assistance in above circumstances but cannot be held responsible for any risk mentioned or not mentioned above
*Additional notes
Cycle safety & discipline
The cycles given are to be kept safe. Any damage/theft of cycles due to negligence of participant, the cost will be borne by the participant.
Behavior during camp
Participants are expected to behave cordially with each other and staff. Any misbehaviour/harassment will be a cause for check-out from camp and also being blacklisted from further YHAI camps.
Certificates: Participants, who successfully complete the trek and abide by the discipline of the program, will be awarded certificates.