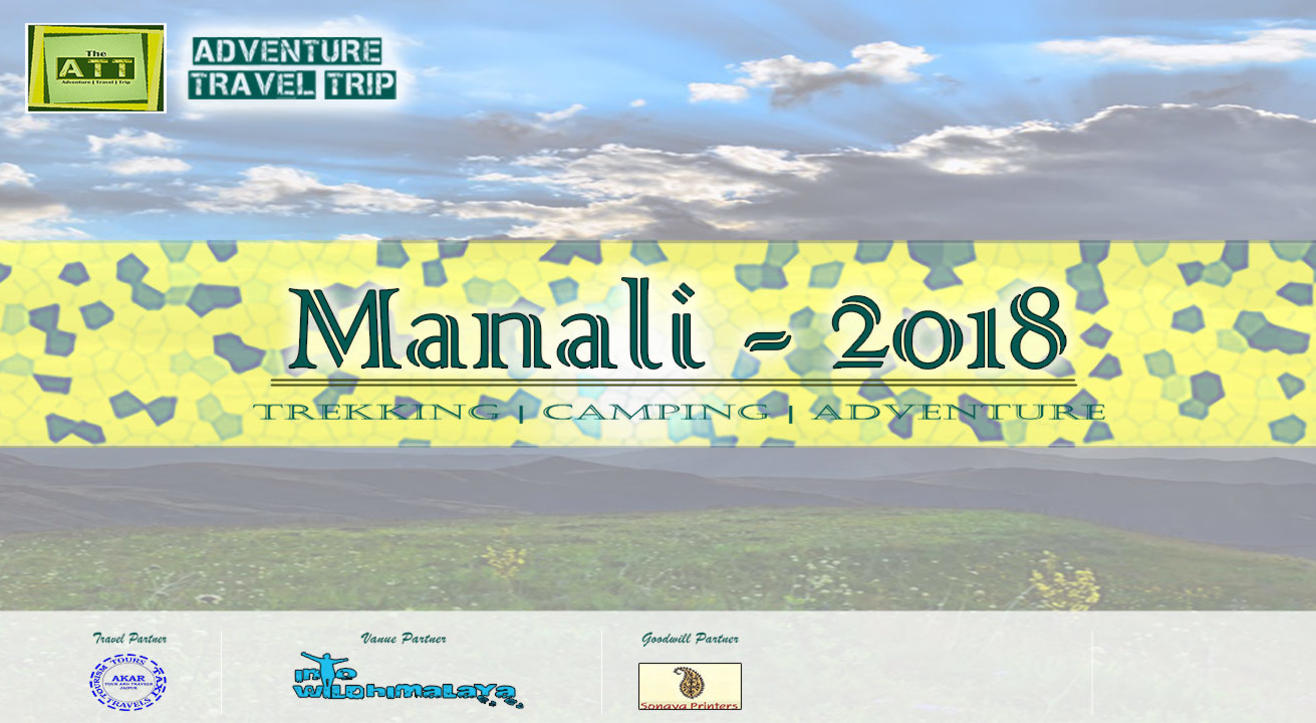 Trek
Manali – Trekking and Adventure Trip
Into Wild Himalayas Resort, Manali
About
Trekking and Camping event at Manali's most famous destinations.
Day 1: Arrival in Manali Kalath Base Camp.
Arrival in Manali, All the participants will be checked in to Basecamp at Kalath (Manali). Introduction with the leaders. The first day will be focused on about teaching the participants to pitch a tent, backpacking. Overnight will be in the Camp.
Day 2: Trek from Base camp to Tilgan
After having the breakfast we will start our trek through the apple orchard and will walk to Jagatsukh to Tilgan (2430 m) 5 to 6-hour trek.
We begin from Jagatsukh, which is one of the biggest villages in the Kullu Valley. From here it goes very steep up through the village until we achieve a wooden sanctuary in the woods. From here it still goes constantly up, however now through the shadows of pine trees. Later we will have fantastic perspectives of Manali. Our Campsite is arranged in a green zone encompassed by enormous rocks and some water streams. Overnight will be in the camp.
Day 3: Tilgan to Sarotu (3380 m) 5 hours trek
Today's trek is slower. We need to cross a waterway. Later we trek through timberland. The most recent hour of the trek goes up once more. We will pass a brief settlement of agriculturists, who are staying here amid the late spring period with their cows. Our camping area of this day guarantees stunning perspectives of the encompassing Himalayan Mountains. What's more is the most astounding purpose of this trek.
Day 4: Sarotu to Chikka (3300 m) 3 hours trek
Today climb is somewhat shorter, so we have enough time to recoup from the two earlier days and can find the mountain world without anyone else. It goes down first. Here we have two crosses a waterway two times. While the first occasion when it is on a legitimate scaffold, the second time is somewhat more leaving. The scene is smooth with vivid blooms all around. Our campground is arranged toward the end of the valley beside a stream. From here the Trek to the Hamta Passes persistent.
Day 5: Chikka to Manali 5 hours trek
After yesterday a trek was short we have a more drawn out climb today. For one hour we stroll back a piece of yesterdays trek through the Valley. Group members will cross a water dam. At that point, it goes ceaselessly down till we came to the village Vashisht inverse from Old Manali. This Village offers us a hot sulfur spring and the likelihood of washing up after our four days trek.
Day 6: Departure to Onwards Destination
Today morning after having breakfast we will be leaving on the Bus to onward destination.

Food & Drinks (on specified timing)
Trekking and Camping Activity
DJ Night
Food
Trekking Cost
Transportation Ex-Delhi & Manali
Complimentary Drinks
Camping and Accommodation Cost
Trekking Cost
Celebration Night
Bonfire
Photography by Pros.
Traveler's Insurance

Venue
Into Wild Himalayas Resort, Manali
Into Wild Himalaya Camps Manali, Jagatsukh Bihal, Opposite- Kalath, Post office- Jagatsukh, District- Kullu, Manali, Himachal Pradesh 175143