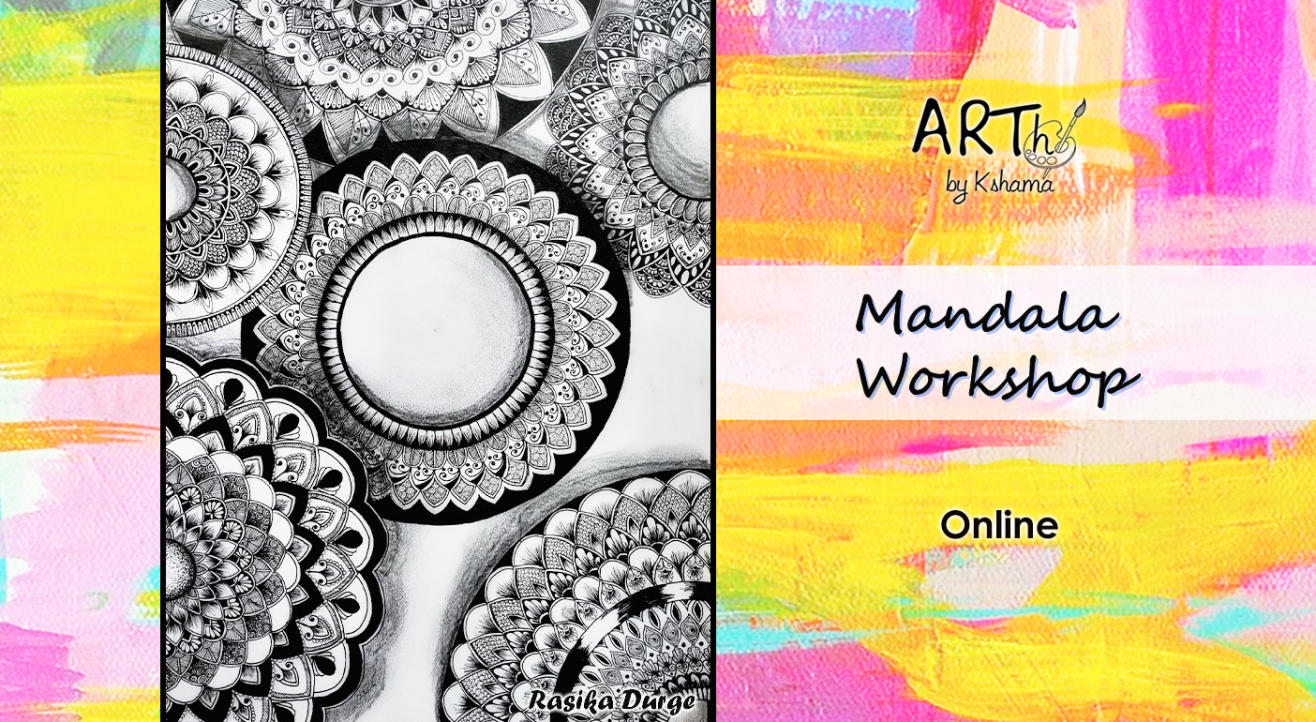 August 15 & 16 | 3PM - 5PM
Invite your friends
and enjoy a shared experience
Invite your friends
and enjoy a shared experience
About the Event
Hi everyone,
In the new times we wish to keep our focus on providing online art experience through our beginner friendly art workshops.
A mandala (Sanskrit word for circle) is a spiritual and ritual symbol in Hinduism and Buddhism, representing the universe. A mandala is not just an art form but also a handy tool to express yourself and a great stress buster.
Presenting the 3D Mandala Workshop.
In this workshop we shall be learning the art of creating some beautiful mandalas and the technique of making 3D mandala. We will take you through the basics and then to the advanced technique.
We will be covering:
1. What are mandalas, their benefits and types
2. Basic shapes used
3. How to make your own basic shapes
4. How to create a framework/ structure
5. How to make your own unique mandala
6. How to give 3D effects to your mandala
(post the session you will be getting mandala patterns sheet for future use)
A step by step guided art workshop. Participants with no prior experience will also find themselves create with ease. So take an art break with us and have a little fun time.
Materials required:
1. Two A4 drawing sheets
2. Pencil, eraser, sharpener
3. Pens (micron pens, black gel pens preferred) (if not available then any other pens)
4. Rounder (Compass)
5. Protractor (optional)
6. Charcoal pencil (optional) + tissue paper/earbud/ smudging pencil (any one)
7. Scale
(Incase you do not have the materials get in touch with us on the below no. and we can help you out with the same.)
Online Zoom session.
(Link will be shared on registration)
Date:
15th Aug, 20- Basics (3 pm to 4 pm)
16th Aug, 20- 3D Mandala (3 pm to 5 pm).
Ticket: 700/- for both days.
400/- for Day 2 only.
(Please note ticket price is per participant)
For 14+ age group.
Limited seats only.
We host private and corporate online events as well. Kindly get in touch for the same.
Artist: Rasika Durge is a mandala artist and has been making beautiful mandalas in different forms. She expresses her own thoughts and emotions through each of her art pieces. She also does channeled artwork. Rasika has been making mandalas since 2018 and she promotes mandalas as a therapeutic tool for self discovery. When not making art Rasika works as a strategy consultant for nonprofits.
Word from the Artist & Founder Kshama Thakkar- I am a Chartered Accountant by qualification and a self taught artist. Painting allows me to break the norms and explore various mediums in art, meet people with different ideologies and moreover discover myself in the process. Conducting different art workshops, exhibiting my work and unconditional support from family and friends has given me motivation pursue my passion. It brings me immense joy to share this experience with all of you.