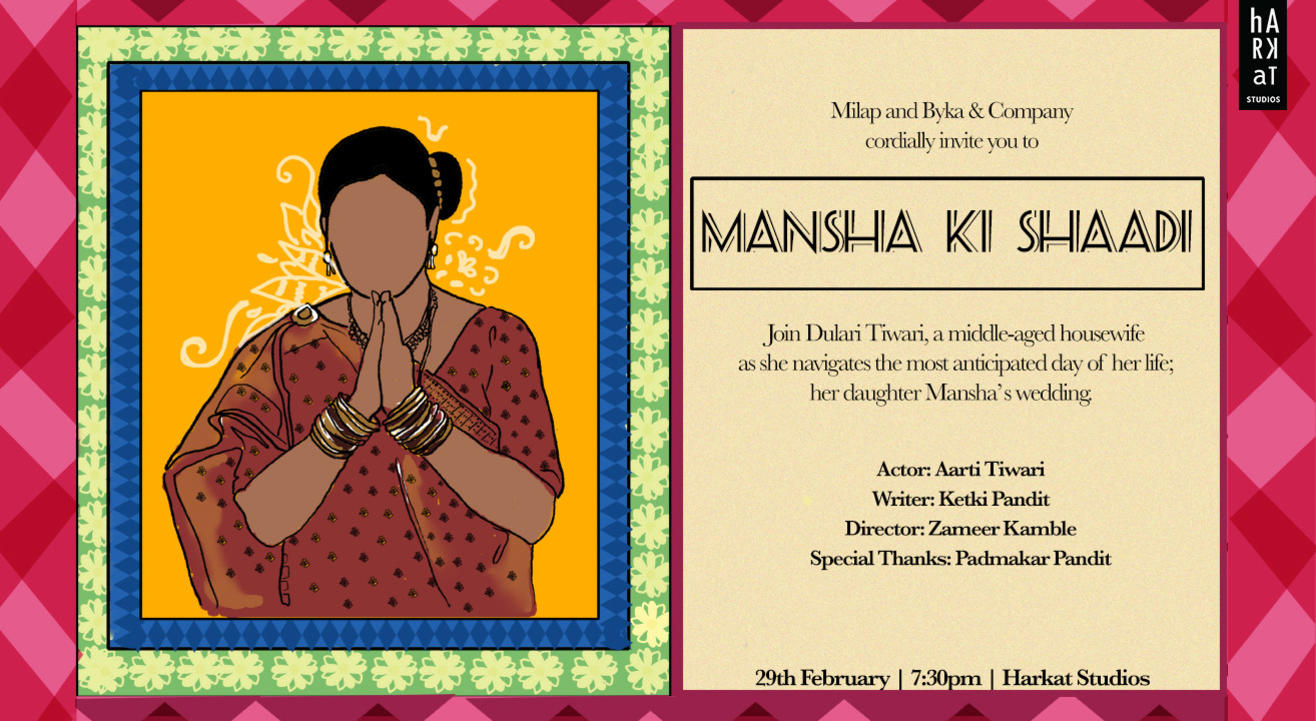 Drama
Mansha ki Shaadi
Harkat Studios, Versova, Mumbai
About
About:
A riot of laughter and wit, Mansha ki Shaadi unfolds the delicate drama of mother-daughter relationship. For while Dulari is determined to see Mansha settled in a wedlock, Mansha has other plans. Dulari's is the story of every other household in modern India. And as she comes to terms with the reality, a ray of hope shimmers through her tears. Using a basic set and traditional wedding music, the play creates the ambience of a middle-class Indian wedding home. And before we know, we become baratis "the guests" at the wedding.
Duration: 55 minutes
Date & Time:
29th February, 7.30 pm
****
Writer:
Ketki Pandit is currently teaching at Film and Television Institute of India (FTII) as Associate Professor of Screenplay writing. An alumnus of FTII's Screenplay Writing dept, she also holds an MFA in Film-making from New York University's Tisch School of the Arts. She has worked on more than 40 short films in various capacities, while also making several of her own.
Ketki is passionate about stories of human dilemmas and follies. Her writing is intimate & poetic, yet laced with a spontaneous humour. Manshaa Ki Shaadi is her first Solo play.
Actress:
Aarti Tiwari is a computer Engineer with an undying passion for theatre and stories. Trained in acting and theatre at Pradeep Vaidya's Expression Labs, she also holds a distinction in LAMDA's exams such as speaking verse and prose, and acting. She is travelling the country with her first Solo performance Manshaa Ki Shaadi.
Directors:
Zameer Kamble
Zameer Kamble is a Pune based writer, actor and director with several acclaimed short films and plays under his belt. His most recent directing venture, Tutak, is the winner of Writer's Block 2016. It premiered in Prithvi theatre, Mumbai in April 2016. A Guest Director at Byka and Co., Zameer came on board during conception of Mansha Ki Shaadi, and was the first person to translate it to the stage.
Dr. Padmakar Pandit
Dr. Padmakar Pandit has written, directed and acted in numerous theatre pieces for last more than 30 years. From Pantomime to three act plays, he has explored several theatre forms, and won numerous accolades for the same.
Produced by: Byka & Company
Byka & Company is a Pune based art and culture initiative dedicated to bringing women's voices alive on page, stage and screen. Encouraging more and more women to write, direct and tell their stories, Byka & Company aims to bring to fore the unique perspective of women that is rare, or in case of theatre almost missing in our popular culture. Manshaa Ki Shaadi is their first production.
****
Date & Time:
29th Feb, 7.30 pm
Location:
Harkat Studios, Bungalow #94, First Floor, Aram Nagar 2 (just behind Mata Mandir), Versova, Andheri West.
KINDLY NOTE OUR NEW LOCATION IS ON THE 1ST FLOOR AND NOT WHEELCHAIR ACCESSIBLE!!! WE'RE WORKING ON FINDING A SOLUTION.
****
About Harkat:
Harkat is an international boutique arts studio with a passion for film, new media, community art spaces and contemporary art. Based in Mumbai & Berlin, Harkat takes many forms and identities across disciplines & related creative industries. As an alternative performance & arts space, we have hosted more than 150 shows in the past year in the mediums of theatre, film, music, community projects & contemporary art. We support the new, unheard, upcoming, exciting, cutting edge, the political, the forgotten, nostalgic, melancholic, soul stirring, the beautiful & more. And that's what Harkat is. Harkat.
Venue
Harkat Studios, Versova, Mumbai
HARKAT STUDIOS, BUNGALOW 94, FIRST FLOOR, ARAM NAGAR 2, VERSOVA, ANDHERI WEST, 400061-MUMBAI
GET DIRECTIONS