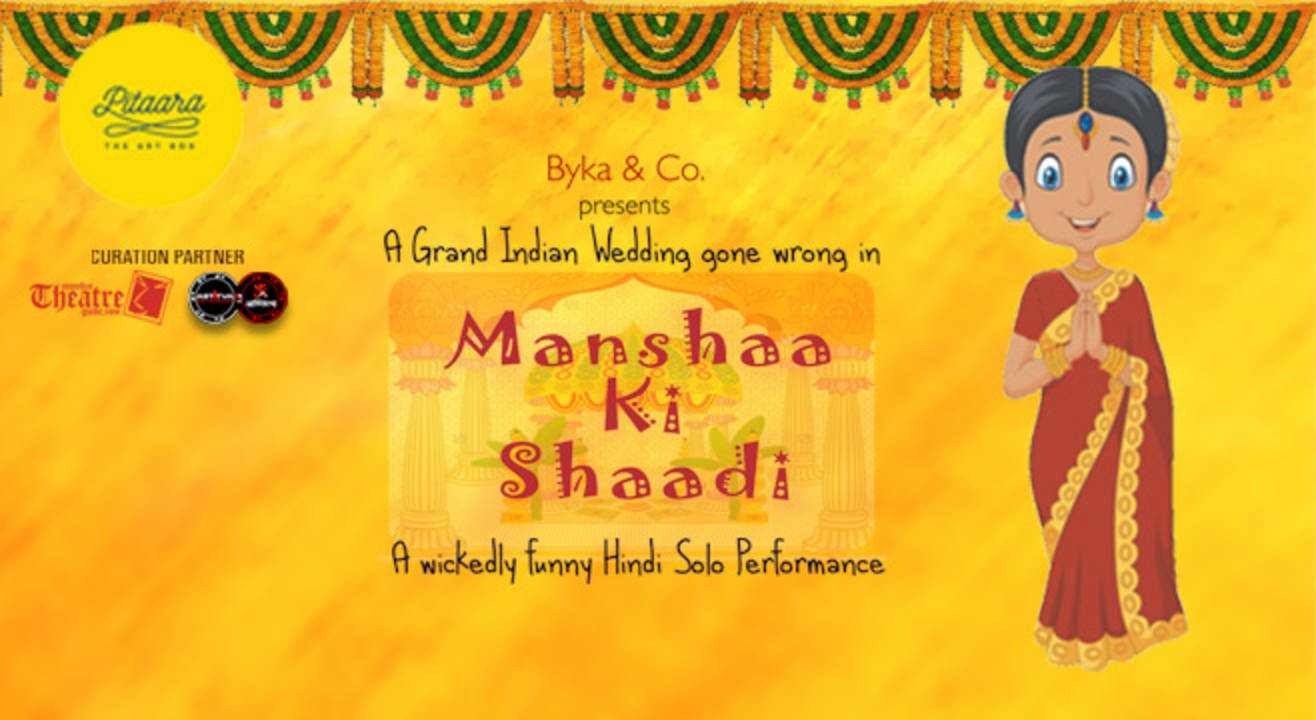 Mansha Ki Shadi (Hindi Play)
January 29 | 7PM
Pitaara - The Art Box, Mumbai
About
Mansha Ki Shaadi takes the funny route into the life of Dulari Tiwari, a middle-aged Indian housewife, whose daughter Mansha is about to get married. Years of prayers and fasts have finally borne fruit for Dulari and now the wedding is on the cards. A riot of laughter and wit, Mansha ki Shaadi unfolds the delicate drama of mother-daughter relationship where we all become the "baratis", the guests.
Writer-Ketki Pandit
Director-Zameer Kamble
Actress-Aarti Tiwari
Artists :
Aarti Tiwari-
Trained in acting and theatre at Pradeep Vaiddya's Expression Lab, she also holds a distinction in LAMDA's exams such as Speaking Verse and Prose, and acting. Her work includes plays like Kiss and Tell, Children of Hiroshima and Other Poetic Ensembles. In 2014, she organized Pukaar, the first ever English Theatre Festival in Pune. Manshaa Ki Shaadi is her first solo performance.
Ketki Pandit-
Ketki Pandit is currently teaching at Film and Television Institute of India (FTII) as Associate Professor of Screenplay writing. . An alumnus of FTII's Screenplay Writing dept, she also holds an MFA in Film-making from New York University's Tisch School of the Arts. She has worked on more than 40 short films in various capacities.
Zameer Kamble-
He is a Pune based actor, writer and director, with several acclaimed plays and short films under his belt.
MPhil in German language by education, Zameer runs a quirky web show called 'Begum's Welt'. His powerful performance in Akanksha Rangabhoomi's play Hijada won him Rajya Natya and Zee TV Awards. His most recent directing venture, Tutak, is the winner of Writer's Block 2016. It premiered in Prithvi theatre, Mumbai in April 2016.
Venue
Pitaara - The Art Box, Mumbai
Rd Number 2, Yashwant Nagar, Goregaon West, Mumbai, Maharashtra 400104
Terms & Conditions
Please carry a valid ID proof along with you.
Security procedures, including frisking remain the right of the management.
No dangerous or potentially hazardous objects including but not limited to weapons, knives, guns, fireworks, helmets, lazer devices, bottles, musical instruments will be allowed in the venue and may be ejected with or without the owner from the venue.
The sponsors/performers/organizers are not responsible for any injury or damage occurring due to the event. Any claims regarding the same would be settled in courts in Mumbai.
People in an inebriated state may not be allowed entry.
Venue rules apply.