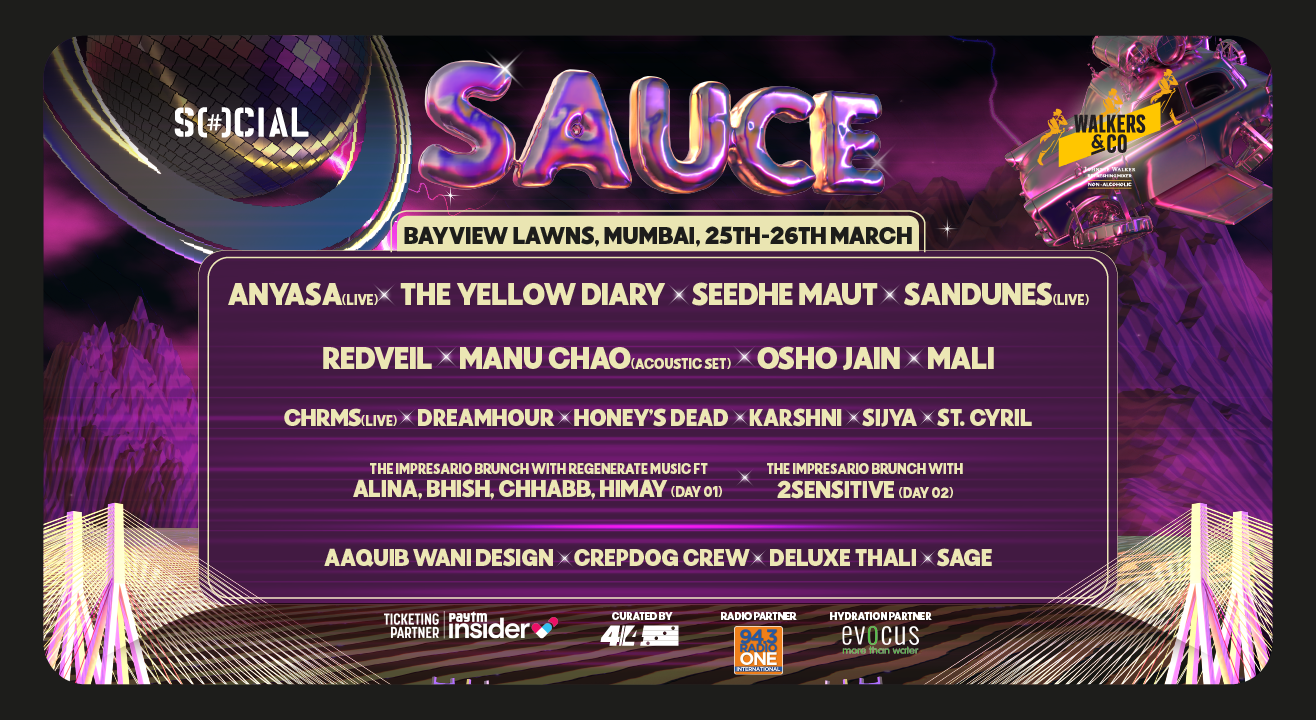 Manu Chao Live in Concert | Sauce Festival, Bayview Lawns / Mumbai
March 25 | 12 PM - March 26 | 10PM
Venue to be announced, Mumbai
Step out and enjoy this event
Invite your friends
and enjoy a shared experience
Manu Chao Live in Concert | Sauce Festival, Bayview Lawns / Mumbai
March 25 | 12 PM - March 26 | 10PM
Venue to be announced, Mumbai
Step out and enjoy this event
Invite your friends
and enjoy a shared experience
Invite your friends
and enjoy a shared experience
What is SAUCE?
SAUCE is the future of culture.
A collective of curators pushing the boundaries of what pop culture is and can be .
Breaking boundaries and waving tapestries with strands of music, tech, art , food, drink and contemporary fashion.
Whether you're a tech enthusiast, a foodie, an art lover, or simply curious about the future of culture. Get ready to immerse yourself in a world of innovation, creativity, and flavour!
The event takes place at Bayview Lawns which is arguably the most scenic venue the city has to offer. Watch these various disciplines unfold in Mumbai on the 25th and 26th of March, 2023.
Music Line Up Mumbai:
Redveil - Alternative rap from the next big thing in global hip hop
The Yellow Diary - Thought-provoking poetry infused with a unique, modern soundscape
Manu Chao (Acoustic Set) - The Latin pop legend - bringing about a revolution through music
Anyasa - Making the worlds of Folk and Electronic collide, Anish Sood is currently signed with English deep house label Anjunadeep and is also the first Indian artist signed to the label.
Seedhe Maut - The masters of rap trade, pushing the boundaries of DHH. They're relentless.
Osho Jain - Poetry in music, Osho knows how to mesmerise his audience through storytelling at its finest.
Mali - The emerging face of Indian independent music, she is versatile in her craft.
Along with a special Impresario Brunch with Regenerate Music feat Alina, Bhish, Chhabb, Himay and 2Sensitive
Marketplace by Deluxe Thali & CrepDog Crew | Art by Aaquib Wani Design | NFT Gallery
SOÑÉ OTRO MUNDO (Manu Chao)
Manu Chao Live in Concert | Sauce Festival, Bayview Lawns / Mumbai
March 25 | 12 PM - March 26 | 10PM
Venue to be announced, Mumbai
Step out and enjoy this event
Invite your friends
and enjoy a shared experience