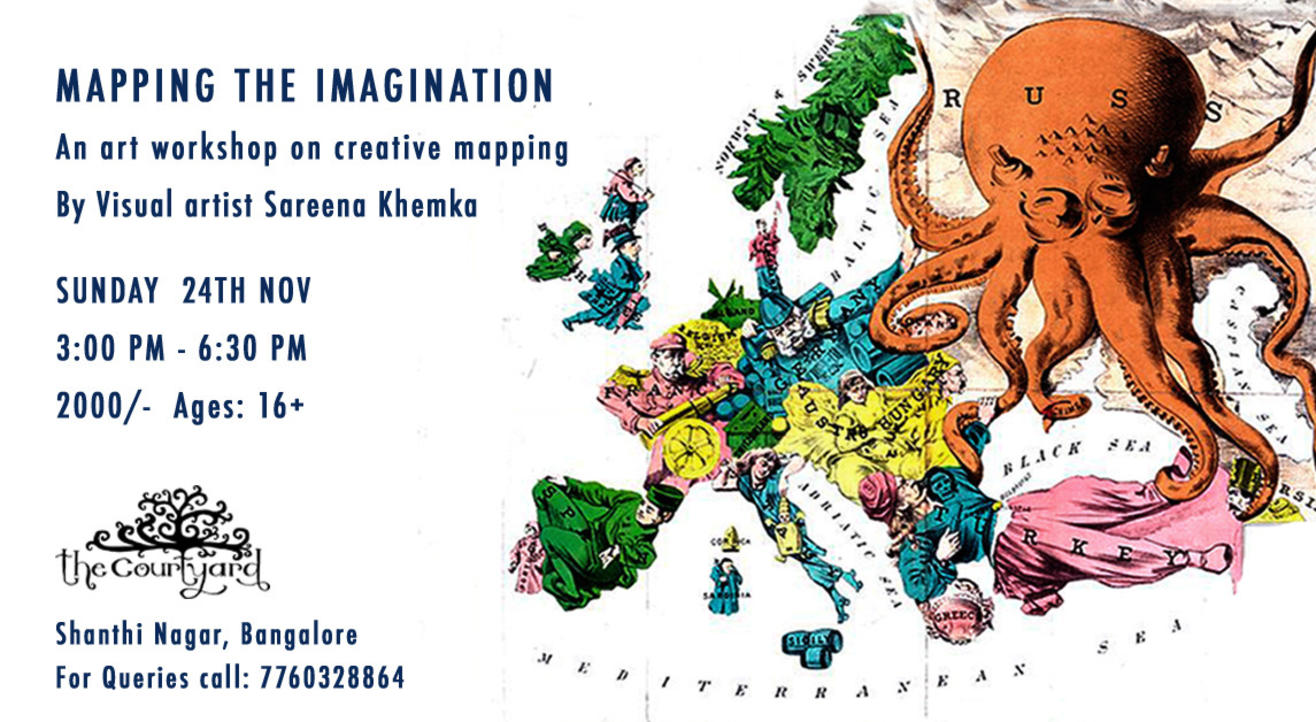 Art
Mapping the Imagination - Workshop
About
MAPPING THE IMAGINATION
A workshop on creative mapping
by visual artist Sareena Khemka
Ages: 16+
Minimum participants: 6
Maximum participants: 15
The map is the quintessential tool for charting human progress, collective knowledge, and personal experience. Maps establish boundaries and meanings. They are a source of discovery and use a specific language. They also provide windows into the unknown.
The artist map conveys personal territory, calling out to viewers, "I Am Here". Art maps can be used for exploration of the personal, the political, or as a tool to investigate the experimental. Mapping as Source focuses on the many ways artists use or create maps for personal expression.
In this workshop students will get an insight into a process of imaginative mapping that could range from a particular geographical location, a map of the mind or a fantasy one from their imagination, that may not be realistic but draws on imagery both actual and memory based to help them develop maps of their own. We will look at references from history and contemporary artists working with maps as visual aid to create these works that can be travel oriented, political, satirical or narrative. Students will be provided with images of maps and also encouraged to bring their own to deconstruct it and create original artwork.
The process will entail finding patterns and networks within maps through geometry, identifying various shapes and forms and colour to create, using associations within your personal memory bank along with elements of architecture and design.
MATERIALS PROVIDED
Paper
Scissors, cutters
Recycled material - newspaper, magazines etc
Drawing material - pencils, erasers,
Glue, Ink, paint, paint brushes.
WHAT SHOULD YOU GET
A small journal/sketchbook to take some notes if you like.
You will be provided with maps and imagery for inspiration, but your encouraged to get your own, that you may have personal association with.
EXPERIENCE LEVEL: Beginner - Intermediate : This workshop is for anyone with a love of map making and a basic understanding of drawing and painting materials wanting to explore and open up their imagination.
Ideal for designers, illustrators, art & design school students, and anyone with a basic knowledge of drawing and painting.
WORKSHOP BREAKDOWN
1/2 N HOUR audio visual presentation and talk on contemporary artists working with maps.
30 min sketching and research on the developing the idea for the map.
Remaining time creating your own original map.
About the artist -
Sareena is a visual artist working in mixed media drawing, painting and sculptural installations.She holds a B.F.A degree in painting from The School of the Art Institute of Chicago, Kala Bhavan, Santiniketan, India. Her works stem from the need to map the disorder and chaos of urbanised cities by connecting, flattening objects and spaces into intricate patterns and networks creating 2 dimensional and 3 dimensional immersive spaces.
Shows include 'Future Foundations', Walk-in Studio, Bangalore, 2019, 'Build & Grow', Bangalore Design Week, 2018,'Once upon a time in Black & White,' Art Centrix Space, New Delhi, 2017; 'Introspective Revelations,' Gallery Veda, Chennai, 2016; 'Scape & Scope', Tao Art Gallery, Mumbai, 2016; India art fair collateral show, Art Konsult, New Delhi, India; 'Mapping Detours,' Chitrakoot art gallery, Kolkata, 2014; 'Deep Skin: Skin Deep,' Art Chennai, 2014; 'United Art Fair,' New Delhi, , 'Allegories,' Art Konsult, New Delhi, 2012 amongst others.
Sareena has taught several workshops in art in Chicago and Mumbai, and been a resident artist at Space 118, Mumbai multiple times from 2010 to 2013.
Webpage : www.sareenak.com
Venue
The Courtyard
105, KH Road (Lalbagh Double Rd Opp. Corporation Bank, Raja Ram Mohanroy Extension, Shanti Nagar, Bengaluru, Karnataka 560027
GET DIRECTIONS