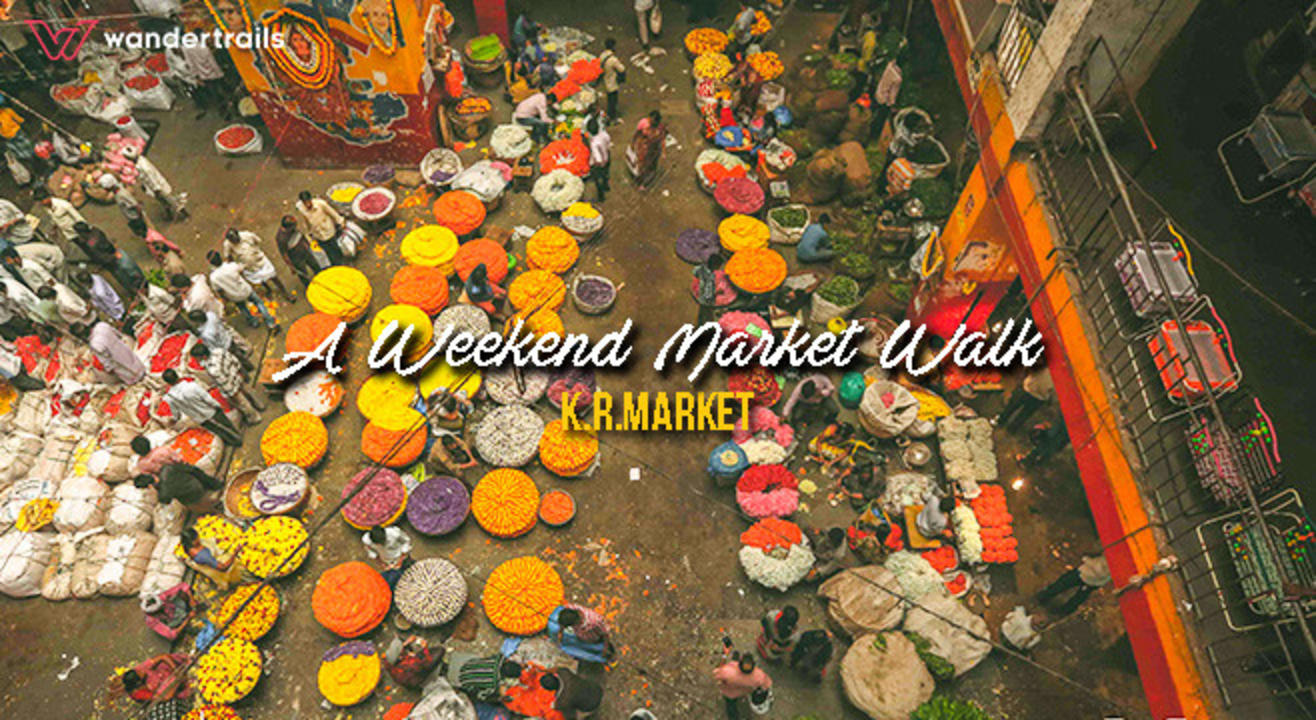 Outdoor
Market Walk: A shopping spree at K.R.Market
Everyday except Monday | 7AM
About
Shopping in Bangalore is an experience that delights every person, be it a native or a traveller.
Make your Sunday a fun day with this shopping experience. The trail takes you to the colourful alleys of K.R. Market, also known as the City Market. Established in 1928, the City Market , is a three-tiered structure, and is marked as one of the oldest bazaars of Banglore. It is host to hundreds of vendors and thronged by thousand shoppers every day. 
You will be meeting your guide at the Bangalore fort at 7:00 am. Go on a shopping spree as the host takes you to shops, hidden in the depths of the market, and lets you get the best deals at the best prices.
The delicious breakfast during your trip will surely make your day energetic and fresh. Shop for fresh fruits and vegetables, and vibrant flowers in the first level. This flower market boasts of being the largest in Asia. The plethora of colours, the whiff of the flowers, greens of the veggies, the baskets of fruits are sure to delight you and lure you to fill up your shopping bags. 
The second level , choose utensils and buy the best of them at wholesale prices. Brush up your bargaining skills, as the vendors coax and persuade you, and take home the best picks.
The final level is a market for machine tools and other such accessories. The basement, that this market sports, was once used as a parking lot for the bullock and pull carts. All through the trail, the host would recount you the enthralling history of how this place came into existence.
Being a Sunday trail is what makes the experience a more exciting one. Buy fresh foods, clothes and trinkets in the exclusive Sunday Bazaar - this expedition might just increase your craving for shopping. This short trail will surely steal your heart and act as a stress buster, for shopping is better than medicines.
Market walk
English speaking guide
Vegetarian breakfast
Pick-up and drop-off
Recommended gratuities
Any additional services provided
Comfortable footwear
Sunglasses
Sunscreen
Cap
Light jacket
Cancellation charges applicable basis duration prior to the date of the commencement of the activity:
0-2 days from activity date: 100% booking charges
2-7 days from activity date: 50% booking charges
7-14 days from activity date: 25% booking charges
More than 14 days from activity date: No booking charges
Venue
K R Market, Bangalore
Old Tharagupet, Kalasipalyam New Extension, Kalasipalayam, Bengaluru, Karnataka 560002