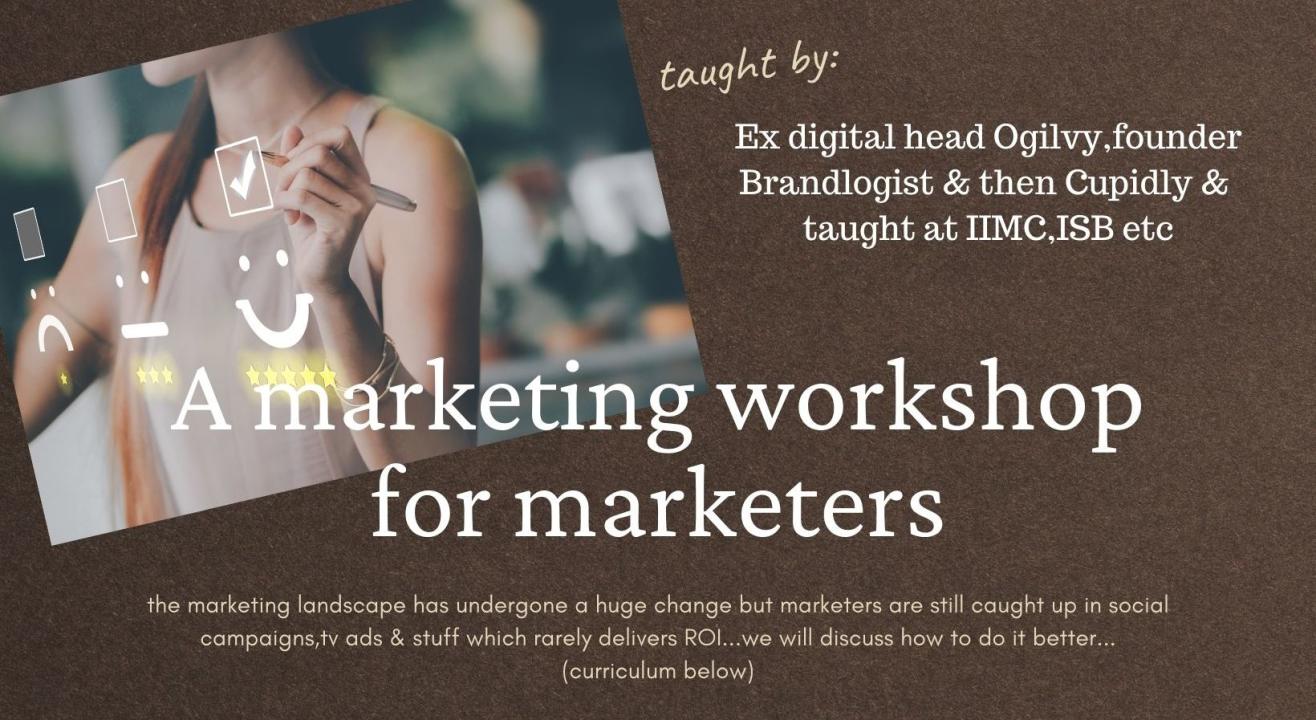 Marketing for Marketers: Marketing Workshop for improving your marketing and career ROI
March 27 & 28 | 1:30PM - 5PM
Enjoy this event from your home
Event Guide
Digital Event
Join on Zoom
Masterclass
Learn from an expert
Invite your friends
and enjoy a shared experience
Event Guide
Digital Event
Join on Zoom
Masterclass
Learn from an expert
Invite your friends
and enjoy a shared experience
About the Event
An alternate perspective on marketing for marketers who want to stay relevant & thrive in this rapidly evolving digital economy.
It's going to be quick, intense based on the case-study methodology.
Key Points:
Customized: Your Queries answered
Growth Hacking -concept & introduction to a few tools
Case Study Methodology: SMBs-Large Businesses
Virtual -Conducted on Zoom-2 days,3:30 hours each day
Curriculum
1. Most campaigns today have a social media element. But while some work, reality is most don't . We are going to compare campaigns in the same category to see what distinguishes the successful campaigns from others & how we can apply it to our own business.
2. We are going to discuss the business of marketing & advertising & where the opportunity is for marketing professionals. Not in fancy jargons but actual real-world examples. (And yes everybody does not have to know AI or Machine Learning –for the folks who keep spouting the jargon in every seminar)
3. Understand growth hacking & a few tools which you can start using tomorrow to enhance your ROI.
4. We will see how good marketing goes beyond the size of budget & business, even during Covid -a chicken farmer in the UK to a food delivery company in France,to a baker in Vietnam.
5. Examples of marketing where brands haven't marketed/advertised but their actions got them customer traction or revenue or even both.
6. Extra if we get time- We will discuss a few case studies from 2 of my favourites:
-This year's Superbowl
- The genius of Ryan Reynolds
Main Point- more than anything I want the interaction to be as customized as possible to your queries/concerns. So I will take out time to answer your queries & we will discuss individual marketing challenges for some of the attendees & how they could relook at them.
Testimonials from other marketers & strategists:
I have known Saurabh since I was his student. With his passion, knowledge and skills, we all benefited. If you really want to learn marketing, digital and social strategies, I think Saurabh is the go-to person.
Alok Bhute -Head of Strategic Planning-AdAsia Vietnam
Saurabh has a very nuanced understanding of integrated marketing, both from a content as well as media point of view. He has been quite instrumental in helping expanding my expertise
Roma Joshi- Senior Lead-APAC Strategy-Khoros ,Australia
He always employed wit and wisdom to make a class interesting and looking back I'm still astounded by how much I remember from the classes almost a decade on! For anyone who has the good fortune to pick his brain on various brand, product marketing and online marketing topics I'd say grab the chance with both hands and you will not regret it!
Ms Gahrotra Product Owner- Career Partner GmbH ,Germany
Saurabh is an exceptional marketing professional with great insight and knowledge on.Global market and changing digital trends. He has extensive experience of entrepreneurship and has varied professional working experience so the teaching skill comes naturally to him.
Nupur Chowdhary -AVP - Strategy and Alliances,Home Credit India
Background of the trainer


• Digital lead at Ogilvy Delhi in 2010
• Was Founder & CEO of Brandlogist-a boutique communication constulancy , which was listed as one of the 'hot players in Brandville by Hindustan Times'.
• Then founded and sold a tech startup called Cupidly -ecommerce plus services marketplace
• Has also conducted classes or workshops at IIMC,ISB, XIC, St Paul's, Babsons USA, 9.9 SOC, SRCC-MBA program, PRCIMS & Delhi school of Economics. Apart from corporates & government institution.
.Written for newspapers and magazines in India & Drum in Europe,SE-Asia
Who should & shouldn't attend?
Who is this for:
-People who have joined or plan to join various marketing including digital media courses but don't know what to focus on.
-Senior Professionals who are wondering if their skills of branding or traditional advertising are getting irrelevant for today's world.
-Young marketers who are overwhelmed with the rapidly evolving ecosystem and want to have a discussion on where it's going & possibilities for their future.
-Those who are sick of paying money & not getting value from their marketing (PS-We can't discuss the exact solution for your business ,but we will start with the approach)
- A social media manager whose career is going well but fails to answer "what's the advantage compared to cost I can provide viz-a-viz a younger,fresher professional who is more in sync with the latest trends. "
Who isn't this for
-Marketers who are happy with status quo or those without a background of marketing.
Marketing Workshop for improving your marketing & career ROI