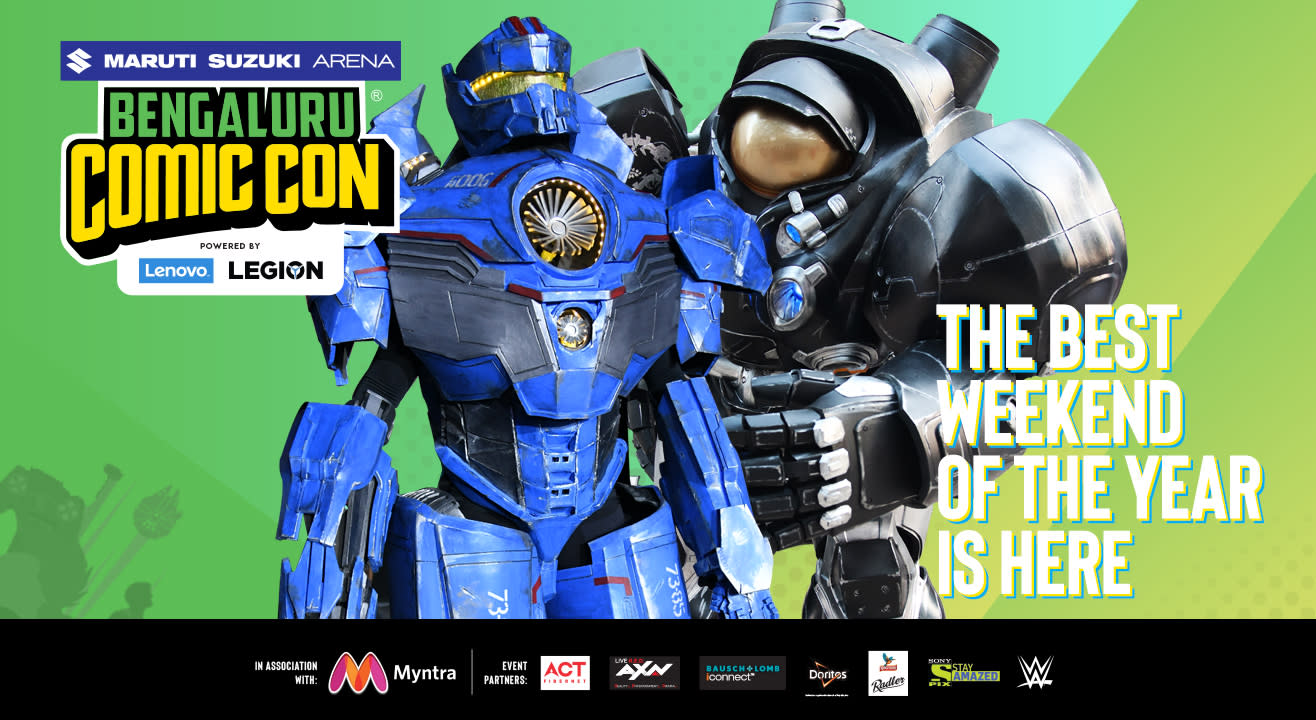 Convention
Maruti Suzuki Arena Bengaluru Comic Con 2019
November 16 - 17 | 11AM - 8PM
About
India's greatest pop-culture event is back! With brand new experiences and the best of comics, books, film & TV, merchandize and gaming at Bengaluru Comic Con 2019, we're promising the best weekend of the year.
Buy the coolest collectables, comics, tees and accessories; watch exclusive stage sessions and performances; take part in celebrity and creator meet & greets and finally; experience world-class exhibits from your favourite studios and franchises.
Engage. Explore. Experience.
Buy passes online and save up to ₹500!
International Guests
Adam Ellis
Former Buzzfeed illustrator and author of Superchill, Books of Adam, and Tiny Hats on Cats is coming to drop truth bombs about life.
Ameno Kitarou (A.K. Wirru)
Cosplay veteran from Sydney, A. K. Wirru has been a part of Alcon Tasmania and Katsucon. Watch him live and get the pro-tips on getting your cosplay game on fleek.
Warwick Johnson-Cadwell
Artist & Writer of fan favourites Samurai Jack and Tank Girl is coming to the Best Weekend of the Year.
Entertainment Guests
Sanjay Manaktala
Sanjay will be bringing his hilarious 'jokes for office folks' to Bengaluru's best weekend of the year!
Sundeep Rao
The world is Sundeep's funny oyster. With 600+ shows across the globe, he's coming to make you ROFL at the Bengaluru Comic Con.
Duality
This acoustic-rock duo will be belting out the Comic Con India Superhero playlist live on stage!
Mentalist Narpath Raman
Narpath Raman is coming to bamboozle you with his mind-boggling magic tricks!
The Void
The Void will be unleashing their girl-power live on stage!

SUPERFAN TWO-DAY PASS
Designed for the Greatest Geeks in the Galaxy! Show your love for pop-culture with the all-access SuperFan pass which comes power-packed with exclusive goodies & perks, at just INR 1999. Limited quantities available, grab 'em before they sell out!
Your SuperFan pass gives you the following super powers:
1. Access on both days of the show.
2. Dedicated Entry
3. Special SUPER FAN - THE FINEST GEEK IN THE GALAXY TREASURE BOX that contains:

A Thanos Funko Pop to Snap up!
An Iron Man tee that we bet you'll love 3000!
Limited Edition Marvel's Avengers Bag for your swag
Exclusive Poster
SuperFan Badge
Limited Edition Comic book
A SuperFan membership card certifying you to be the Greatest Geek in The Galaxy!
SINGLE DAY PASS (SATURDAY / SUNDAY)
Book your single-day pass for Saturday or Sunday, 16th /17th November for the Maruti Suzuki Arena Bengaluru Comic Con 2019 at just INR 599. Awesome merchandise included!
Each pass comes with the following assured goodies:
Access only on 1 day of the show (the day for which you have booked)
Limited Edition Marvel's Avengers Bag for your swag
Exclusive Poster
Limited Edition Comic Book
Comic Con Bengaluru 2018 Aftermovie
Bengaluru Comic Con 2017 - Official Aftermovie
What is Comic Con India?
Comic Con India is the biggest pop culture convention in the country that has brought joy, wonder and happiness to over 1.2 Million fans for almost a decade.
We bring the best in comics, graphic novels, anime, movies, television, cosplay and video gaming, from across the world, to our shows across 4 cities. With amazing live performances and panels by artists and guests from India and the world, the coolest merchandise and a happy, geeky vibe all around – Comic Con India delivers the best weekend of the year.

How old do I have to be to buy a pass?
Anyone with age 3 and above needs a pass for entry.

What types of passes are available?
There are two type of passes –
1. SuperFan Two-Day Pass
2. Single Day Pass specific to Friday (only for Delhi), Saturday or Sunday

I have queries and issues around my booking?
If you have booked via Insider – you can email or call via the following information:
help@insider.in or call on +91 9136622662 / +91-22-61548585.
If you booked via Paytm you can call 0120-3888388 or use the in-app support.
Please note passes once booked are non-refundable and cannot be interchanged between days.

What is the entrance procedure?
Once you have booked your passes, please arrive at the venue with either your e-pass or the SMS that is sent to them post-purchase plus a valid Id proof. You can arrive at the venue anytime between 11 AM & 7:30 PM on the days of the show, head to the BOX OFFICE and pick up your wristbands.
If you have booked a SuperFan Pass, then head to the Superfan counter and pick up your wristband and merchandise.
Please wear your wristband and head towards the main entry gate to the hall, go through security and then head to the hall!
Re-entry is allowed to the show till 7:30 PM each day. However, you need to be wearing your wristband. For Single Day pass holders, this valid only for the day they booked it for.
Only SuperFan Two-Day Pass holders can re-enter on both days.
Visitors with damaged and torn wristbands won't be allowed entry.

Is outside food allowed?
No outside food items are allowed. Only personal water bottles are allowed and in case you are visiting with small children, baby food & milk is allowed. Please note there is a food court inside the venue, where food & water are available at a charge.

Are cameras allowed?
Yes cameras are allowed, however you will have to go through security check. Please note that all images and videos captured at the show are the copyright of Comic Con India and cannot be commercially used without prior written permission from us.
Visitors are welcome to take pictures and make videos, however, please ensure that you take permission from your fellow attendee before taking pictures.

Do you have an Anti – Harassment Policy?
Yes we have a strict Anti – Harassment policy. Click Here

Where do I get the latest updates from you guys?
On our social media handles, of course –
Facebook: comicconindia
Twitter: @comicconindia
Instagram: @comicconindia

Official Hashtag: #ComicCon

Venue
KTPO, Whitefield
Plot No.121, Road No.5, Export Promotion Industrial Park, EPIP 2nd Phase, Whitefield Industrial Area, Bengaluru, Karnataka