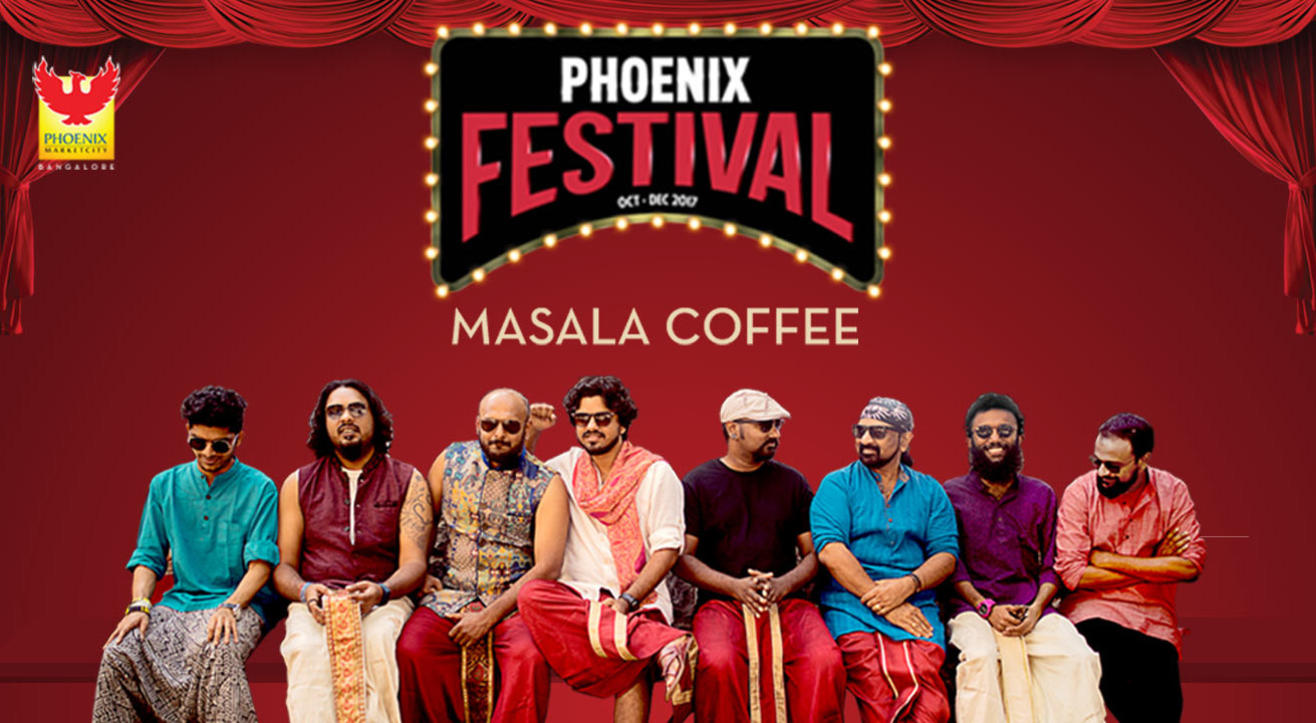 Music
Masala Coffee Live at the Phoenix Festival
Courtyard, Phoenix Market City, Bangalore
About
Great music is what you'll be expecting on 18th November at Phoenix Marketcity, Bangalore, as part of the Phoenix Festival.


Witness a unique blend of music of all genres from the band that gifted the Indie music scene with hits like Munbe Vaa and Kantha.


Join in for the concert of "Masala coffee," a band that has managed to carve a niche in the Malayalam industry with their indie music!
Masala Coffee made its debut on Kappa TV's Music Mojo and has not looked back since. The band comprises of Sooraj Santhosh, Gokul Eknath, Varun Sunil, Joe Jacob, Preeth PS, Pauly and Sunil Geroge. They have an eclectic sound which comes from their desire to combine unexpected elements leading to a heady musical experience just like the spicy beverage. They have composed for the film, Hello Namasthe (2016). They will make their Tamil debut with the film Uriyadi, which is scheduled to release in May, 2016.
Sooraj Santhosh - Vocals
Varun Sunil - Percussion/Vocals
Daya Sankar - Drums
Preeth PS - Guitars
David Crimson - Guitars
Pauly - Bass
Joe Johnson - Keys
Krishna Raj - Violin
Listen to Masala Coffee's cover of Snehithane
About the Organizer & Venue
Redefining lifestyles, Bengaluru's truly international shopping and lifestyle destination designed for the dynamic and discerning customer, Phoenix Marketcity Bangalore is an architecturally path-breaking, iconic destination located on Whitefield Main Road, Mahadevapura. With over 300 stores, representing an exhaustive mix of International, National and Regional premium brands, the mall offers the most comprehensive and compelling lifestyle shopping experience in Bangalore.
Venue
Courtyard, Phoenix Market City, Bangalore
Whitefield Main Road, Mahadevpura, Bengaluru, Karnataka 560048