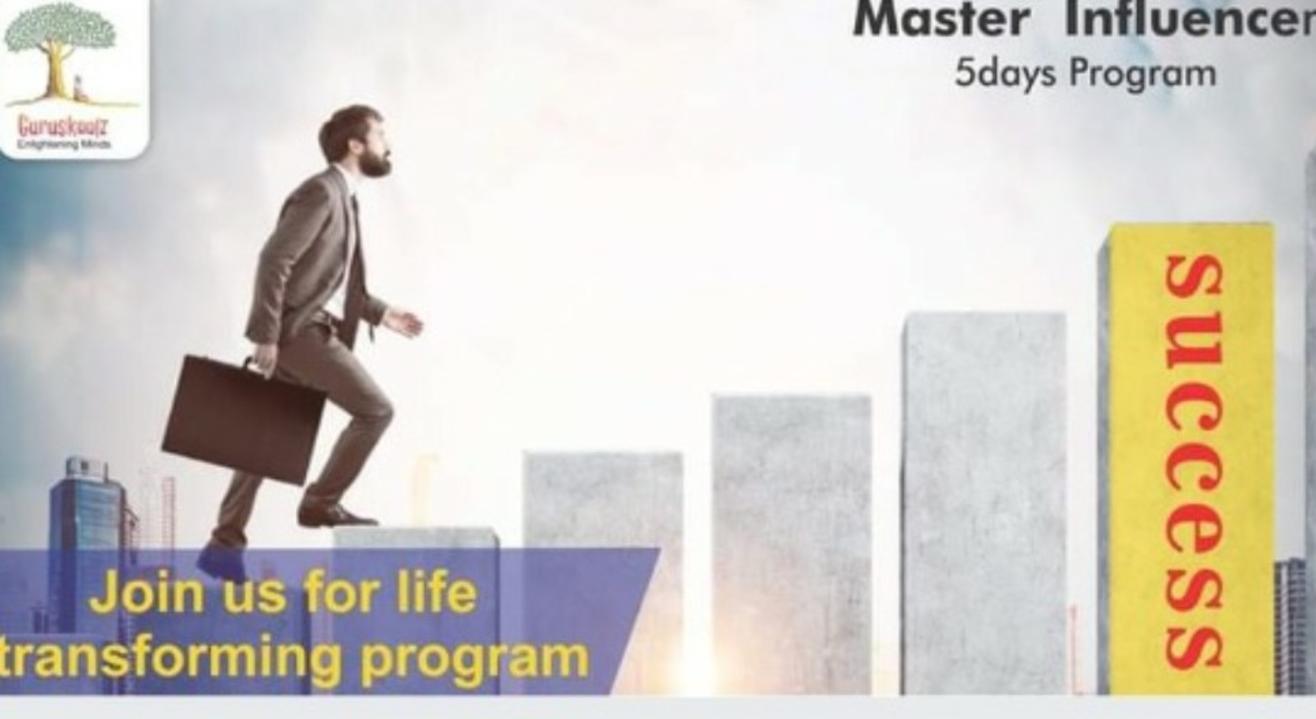 Skill Development
Master Influencer - A 5 Day Life Changing Program
March 22 - April 5 (Saturdays & Sundays) | 10AM - 6PM
Bhaveshwar Arcade Annexe, Ghatkopar West
About
Few questions for you
Do you want to be a winner in life?
Do you want to have a breakthrough financial success in life?
Do you want to break all the barriers in your life and reprogram your journey towards success?
Do you want to be a Master Influencer?
If your answer is yes, join us for a 5-day life-transforming program "Master Influencer" commencing on March 22nd, 2020.
What you will learn:
Powerful techniques to improve your influencing and persuasive skills
Master the art of training and presentation skills
Inner spiritual transformation because unless you master yourself you cannot leave an lasting impact on others
How to apply NLP and emotional intelligence to influence others. NLP is most important and powerful tool in today's age to reprogram yourself.
Leadership and sales mastery enables to successfully showcase yourself effectively and ultimately gain financial success.
Start an alternate career
So this Year 2020 Let's make a resolution to start our journey hereon with this life-changing program.
Dates: March 22/28/29 April 4th and 5th (weekend only Sat and Sunday). Limited seats only since we believe in personalized attention in our training programs.
Timings: 10 a.m. to 6:00 p.m.
Venue: A 310 Bhaveshwar Arcade, LBS Road, Ghatkopar (W)
Who can attend: This program is applicable to all. Be it an individual from corporate, freelancers, self-employed or businessmen, anyone who wants to be an influencer in life. Age 24 and above only.
Fee: Rs. 15,000/- per participant
Rs. 13,000/- for 2 or more participants registering together.
Registration fee: 1000 and remaining you can pay post-registration
At Guruskoolz, we specialize in life skills development, public speaking skills, communication skills, and life transformation programs includes adults and kids.
Venue
Bhaveshwar Arcade Annexe, Ghatkopar West
Saraswat Bank, Near Neelkanth Enclave Society, Shreyas Cinema Bus Stop, Lal Bahadur Shastri Rd, Nityanand Nagar, Ghatkopar West, Mumbai, Maharashtra 400086
GET DIRECTIONS