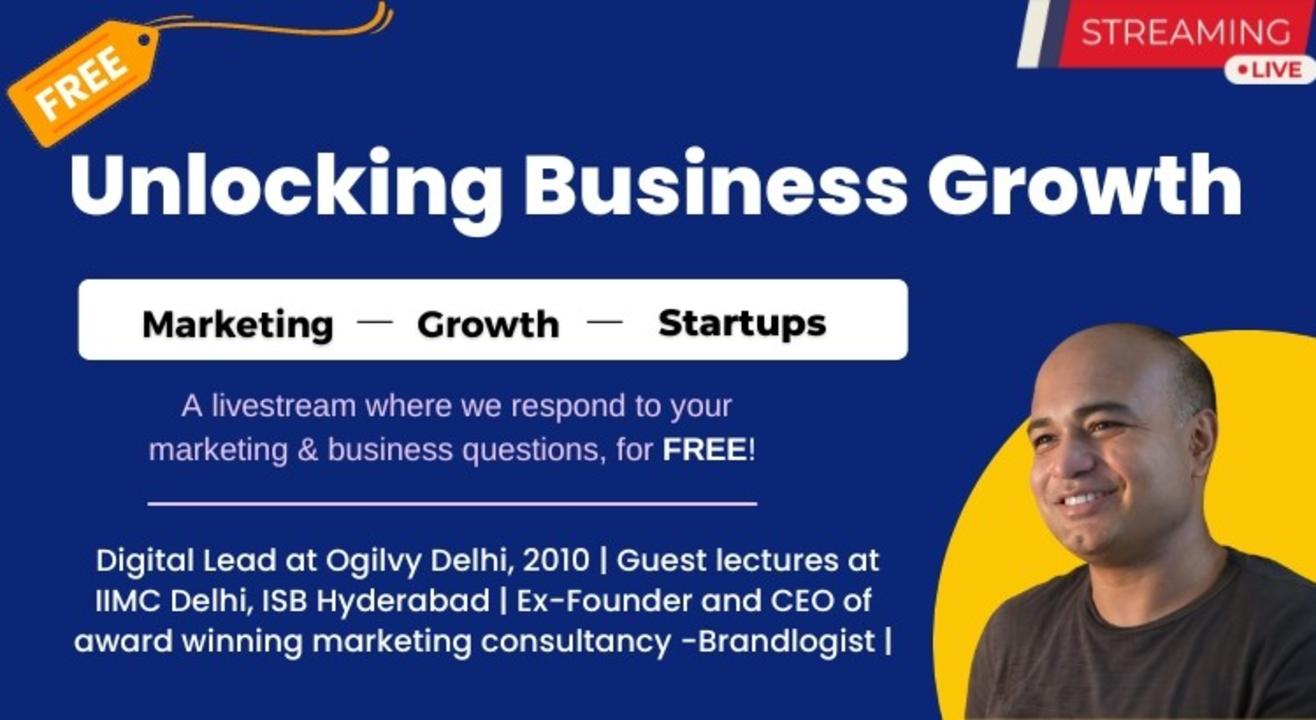 Unlocking Business Growth🧠: Free Marketing Consultation from CEO Brandlogist & Founder of Cupidly (No UPSELLS🚫💲)
Event Guide
Interactive show
Be a part of the show
Invite your friends
and enjoy a shared experience
Unlocking Business Growth🧠: Free Marketing Consultation from CEO Brandlogist & Founder of Cupidly (No UPSELLS🚫💲)
Event Guide
Interactive show
Be a part of the show
Invite your friends
and enjoy a shared experience
Event Guide
Interactive show
Be a part of the show
Invite your friends
and enjoy a shared experience
Consider this live event as an interaction with an industry expert - an agony aunt for your business and marketing challenges.
You can ask your questions on - Business- Marketing Strategy- Startups - Growth Hacking- or even Life as a Digital Nomad.
🚀 We will transform your queries into real, practical solutions 📈 & often even share hacks and tools to achieve your goal more efficiently. 🛠️
So join us for this live Q&A session 💻, on JANUARY 6, Saturday at 4:30 PM IST for 40 minutes on LinkedIn.
🔴💻 Join here: https://www.linkedin.com/events/answers-foryourmarketing-busine7084908074691411969
The host of the event a.k.a. your agony aunt for Business & Marketing problems-Saurabh
👉🏻Saurabh's LinkedIn: https://www.linkedin.com/in/saurabhparmar
🎙️ Saurabh, who is hosting the podcast, is a marketer and ex-tech entrepreneur. He's seen giving guest lectures at several business & communication colleges like IIMC, ISB, XIC, DSE, etc. He has also written for business and marketing publications in India, SE Asia & UK.🌍
✈️ An avid traveler who has traveled to over 30 countries 🗺️, including working and living as a digital nomad in some of them.
🧠To listen to some of our other live sessions and more perspectives on Marketing check out: https://li.sten.to/altstrategy-podcasts
✅Link for the event: https://tinyurl.com/mryw2ve8
✅Podcast🎙️: https://li.sten.to/altstrategy-podcasts
✅For a customized consultation, book here: https://rb.gy/w54pw
Does celebrity endorsement or influencer marketing deliver ROI
Unlocking Business Growth🧠: Free Marketing Consultation from CEO Brandlogist & Founder of Cupidly (No UPSELLS🚫💲)
Event Guide
Interactive show
Be a part of the show
Invite your friends
and enjoy a shared experience