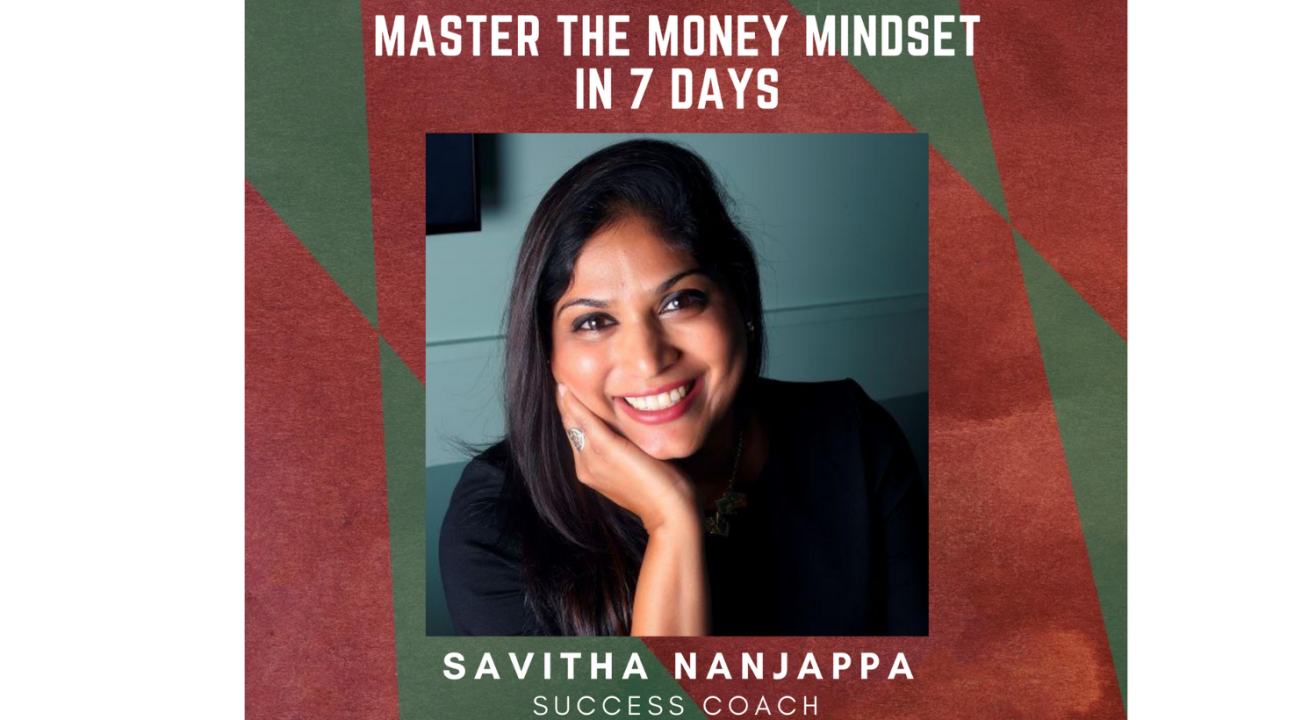 Event Guide
Masterclass
Learn from an expert
Invite your friends
and enjoy a shared experience
Event Guide
Masterclass
Learn from an expert
Invite your friends
and enjoy a shared experience
Event Guide
Masterclass
Learn from an expert
Invite your friends
and enjoy a shared experience
MASTERCLASS ON MASTER THE MONEY MINDSET
I AM A MONEY MAGNIFIER.
Say it. Out loud.
Believe it.
Building wealth is about hard work, dedication, wise and smart decisions. However, a factor that is quite often missed is HAVING THE RIGHT MINDSET. Let's learn from the best the WHAT, WHY, and HOW of manifesting wealth into our lives.
Success Coach Savitha Najnappa takes us through this 7-day course with frameworks, stories, and science to enable YOU to first imagine and then create actual wealth for yourself and your loved ones.
THE COURSE COVERS
Identifying and eliminating limiting beliefs.
How to work with the "energy" of money.
How to calculate and set your money goals.
Understanding your existing relationship with money.
Developing a newer, healthier relationship with money.
Addressing money saboteurs.
How to manifest abundant wealth into your life.
Daily awesome money habits for life.
ABOUT THE COACH
Savitha Nanjappa is an award winning Success Coach, an Entrepreneur, and the Founder of Success With Savitha, a thriving global coaching platform. Her mission is to help entrepreneurs create wildly successful businesses while also living the life of their dreams.
Savitha did her MBA in Marketing from T.A. Pai Institute, Manipal and then proceeded to make her mark in the corporate world - where she super-charged the growth of brands like Airtel, ICICI Prudential, Telenor, Novo Nordisk, and Tata Docomo.
A certified Image Consultant (from Image Consulting Business Institute, India and Conselle, USA) and armed with her corporate experience of 17 years, she started her first business - an image consulting agency that would help young women and men take confident steps in the corporate world.
Fast forward four years, Savitha has not only launched and sky rocketed her own coaching platform, but has also worked with 3000+ individuals and mentored over 100+ businesses to quantum-leap into the coveted 7-8 figure circle.
Savitha has received prestigious awards such as the "Young Achiever's Award" by Garden City College and most recently, the "Young Leaders Creating a Better World for All Award" at the Women Economic Forum 2020 in Egypt.
She has been featured as an expert and keynote speaker on up-and-coming industry podcasts as well as on panels on stage.
So, when you work with her, you can count on someone who has been in the trenches, believes in walking the walk, and is dedicated to helping you move the needle with purposeful action.
Event Guide
Masterclass
Learn from an expert
Invite your friends
and enjoy a shared experience