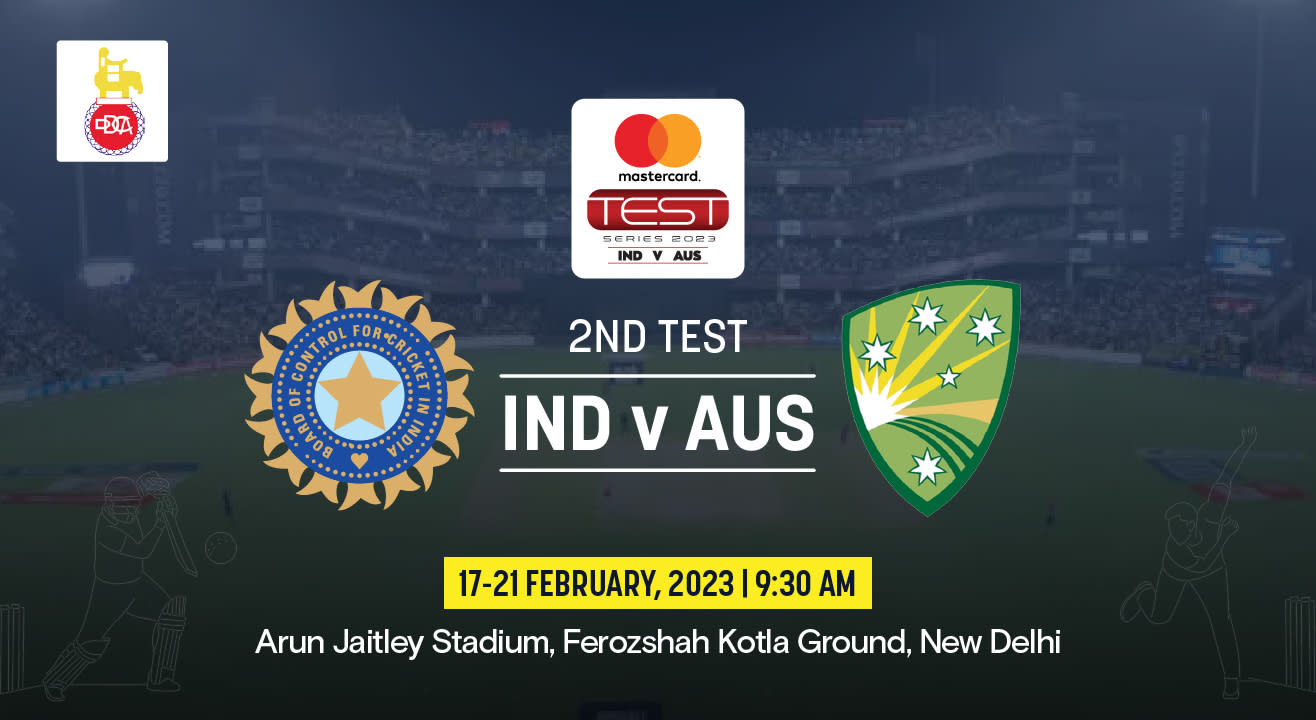 Mastercard Series 2nd Test: India vs Australia, Delhi | Season Tickets
February 17 - 21 | 9:30 AM (IST) Onwards
Arun Jaitley Stadium, Ferozshah Kotla Ground, Delhi
Step out and enjoy this event
Invite your friends
and enjoy a shared experience
Mastercard Series 2nd Test: India vs Australia, Delhi | Season Tickets
February 17 - 21 | 9:30 AM (IST) Onwards
Arun Jaitley Stadium, Ferozshah Kotla Ground, Delhi
Step out and enjoy this event
Invite your friends
and enjoy a shared experience
Invite your friends
and enjoy a shared experience
After that epic cricket season at the Indian T20 Cricket League, the boys are ready to take on Australia! Team India is headed to Delhi on February 17th 2023 to face Australia at the Australia Tour of India 2nd Test.
Last year, India visited Australia for the World Cup where India lost in the semi-finals. Will India hit back on their own turf? And which Indian player might lead the charge?
Find out for yourselves! Watch the action LIVE, come show your support at Arun Jaitley Stadium! Get your tickets, paint your faces and make some noise!!
Q: Is there an age limit to buy tickets?
A: Yes, children above 2 years of age will require a physical ticket to gain entry to the stadium. Children below the age of 2 cannot occupy any seat in the stadium.
Q: Will I be allowed to re-enter the stadium on a particular day?
A: No, you can enter the stadium premises once only on a given day. Once entered, you cannot re-enter the stadium on the same day.
Q: What does a Season Pass mean? Will I get an entry for all 5 days?
A: A Season Pass allows the buyer to attend the Test match on all 5 days. You will be given a separate ticket for each game day. The ticket allows entry into the stadium once. Attendees will not be allowed to re-enter the stadium.
Q: Is alcohol included in the Hospitality tickets?
A: No, it is not.
Q: Can different people attend the match on different days of the test match via the same pass?
A: Photo IDs of the ticket buyer will be checked at the stadium gates.
Q: Can I change my delivery address?
A: No, unfortunately, once registered, the address can not be changed.
Q: By when will I receive my tickets if I have opted for Delivery?
A: Physical tickets will be couriered and delivered to you 2-3 days before the 1st day of the Test Match.
Q: In case of pick-up, when can I collect my tickets?
A: In case you have opted for Pick-up, you can collect your physical tickets from the Box-Office from Feb 13, 2023 11 AM onwards. Box Office details are as below:
Venue: Raja Ram Mohun Roy Memorial Hall, 12, Vishnu Digamber Marg, opposite Gandharv Mahavidyalaya. Directions: https://goo.gl/maps/bVb7BdAZYmSwjmCB8
Arun Jaitley Stadium, Ferozshah Kotla Ground
Jawaharlal Nehru Marg, Raj Ghat, Feroz Shah Kotla, Vikram Nagar, New Delhi, Delhi 110002
GET DIRECTIONS
Mastercard Series 2nd Test: India vs Australia, Delhi | Season Tickets
February 17 - 21 | 9:30 AM (IST) Onwards
Arun Jaitley Stadium, Ferozshah Kotla Ground, Delhi
Step out and enjoy this event
Invite your friends
and enjoy a shared experience