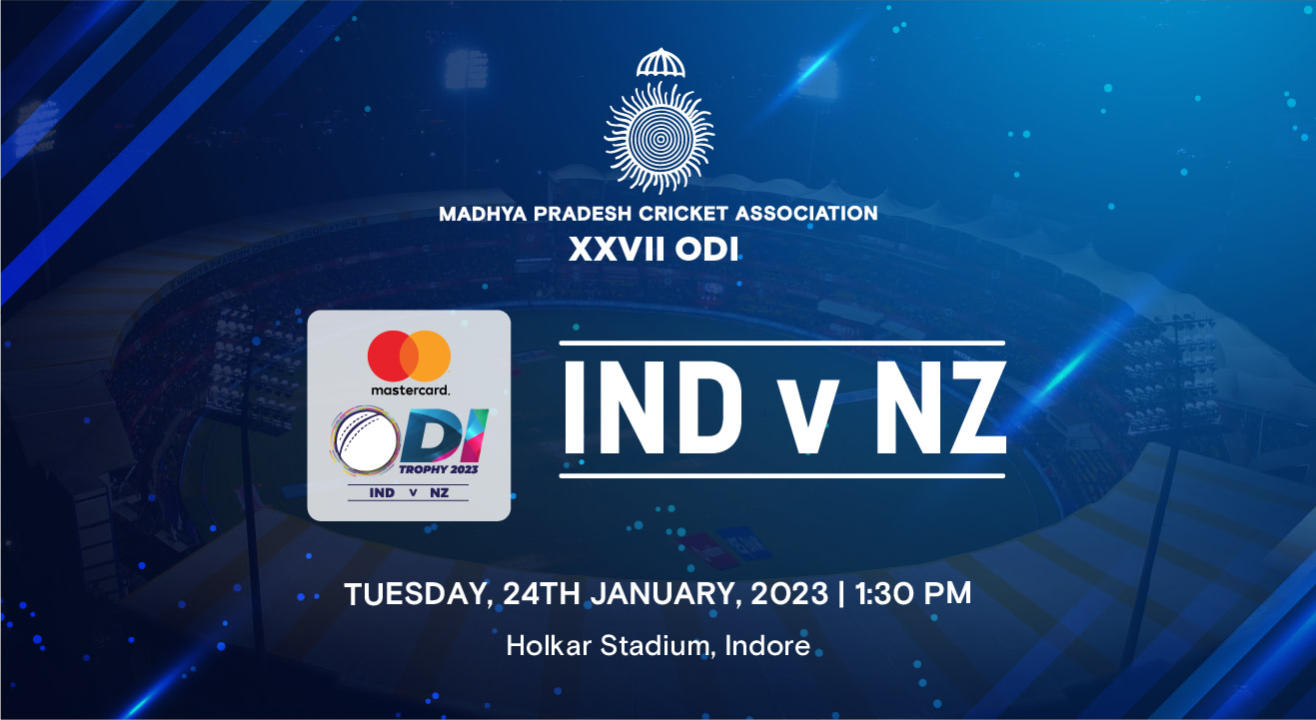 Mastercard Series 3rd ODI: India v New Zealand, Indore
Step out and enjoy this event
Invite your friends
and enjoy a shared experience
Mastercard Series 3rd ODI: India v New Zealand, Indore
Step out and enjoy this event
Invite your friends
and enjoy a shared experience
Invite your friends
and enjoy a shared experience
Sure, you've watched the Men in Blue take on New Zealand more than once, but the magic of this battle is best watched live right from the stadium in Indore. For this is gonna be intense! The crowd, the atmosphere, and the feeling of watching the playing XI live are real opportunities you don't want to miss.?
Find out for yourselves! Watch the action LIVE, come show your support at Holkar Stadium! Get your tickets, paint your faces and make some noise!!
About General Ticket Sales
MPCA feels proud to host the 3rd ODI at the Holkar Stadium scheduled for the 24th of January 2023. Tickets will go live at 6.00 AM on 12th January 2023 and continue up to the end of the quota. However, MPCA reserves the right to take any decision in this regard at any given point of time.
A customer can purchase (as per ticketing agency terms) a maximum of 4 tickets of single or assorted categories. Children above 3 years of age will require a ticket.
What tickets are available for sales?
Ticket Price includes GST and Madhya Pradesh Municipal (Entertainment and Amusement) Tax - Rules 2018 :
South Pavilion Lower - Rs. 5105/-
South Pavilion - 1st Floor - Rs. 6089/-
South Pavilion - 2nd Floor - Rs. 5720/-
South Pavilion - 3rd Floor - Rs. 4490/-
East Gallery - Lower - Rs. 524/-
East Gallery 1st Floor - Premium (First few rows close to the ground) - Rs. 1015/-
East Gallery 1st Floor - Regular (Rows behind premium) - Rs. 953/-
East Gallery - 2nd Floor - Rs. 892/-
West Gallery - Lower - Rs. 701/-
West Gallery 1st Floor - Premium (First few rows close to the ground) - Rs. 1199/-
West Gallery 1st Floor - Regular (Rows behind premium) - Rs. 1138/-
West Gallery - 2nd Floor - Rs. 1052/-
Holkar Stadium
Race Course Rd, Near Janjerwala Square, IDA Building, New Palasia, Indore, Madhya Pradesh 452001
GET DIRECTIONS
Mastercard Series 3rd ODI: India v New Zealand, Indore
Step out and enjoy this event
Invite your friends
and enjoy a shared experience