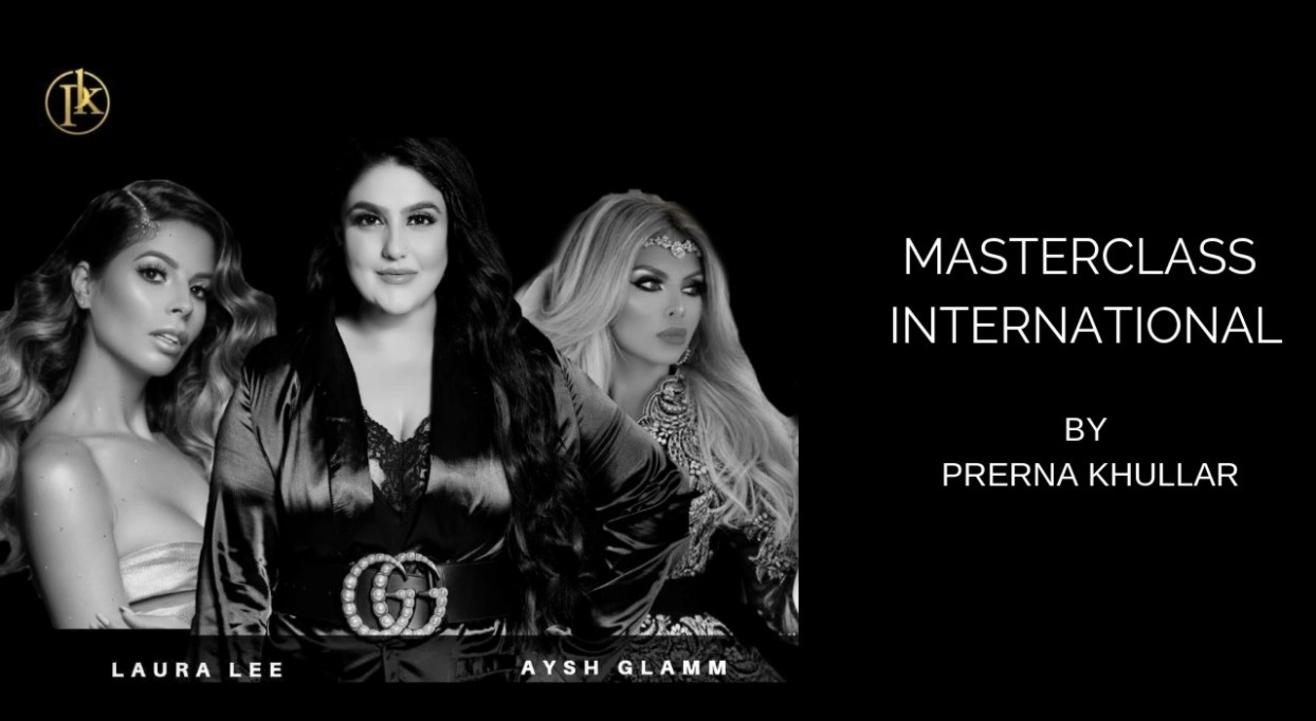 Beauty
Masterclass International by Prerna Khullar
Shangri-La's Eros Hotel, New Delhi
About
BY PRERNA KHULLAR | GUEST APPEARANCE BY AYSH GLAMM
Celebrity Makeup artist Prerna Khullar invites you to attend the one of its kind MASTERCLASS held in India with special guest all the way from Paris , Aysh Glamm who will demonstrate her tips and tricks of the trade. During this once in a lifetime experience, you will master the tricks of the trade that Prerna and Aysh picked with all these years of them being in this business.
This class is once in a lifetime opportunity for makeup artists, enthusiasts and makeup fans. Prerna and Aysh will teach you their techniques, skills, pro tips and how to grow in this industry and turn your passion into a flourishing business.
ABOUT PRERNA KHULLAR
Prerna Khullar, a celebrity makeup artist, India, based in Punjab has acquired her skills while training under Dominic Cruz (Los Angeles) and Gorgeous Cosmetics Australia. Particularly known for her flawless job with brushes, she has been learning and discovering this art for the past 8 years now. Her initiative to do this Master Class is so that people can dig deeper into the subject and learn the minute things that they're missing out and learn the basics that will help them in their career in the longer run.
ABOUT AYSH GLAMM
Aysh is a highly skilled and a celebrity makeup artist based out of France. She will be making a guest appearance at the Masterclass International, by Prerna Khullar.
She will be demonstrating makeup techniques to improve your makeup skills and boost your confidence. 'Makeup is my way to enhance a woman's beauty and to see that glow in her eyes' says Aysh.
ABOUT LAURA LEE
Laura Ann Lee is an American Make up artist, you tuber and blogger. Having begun her career with hosting beauty tips on social media, she has also released her own line of branded cosmetics with MAC. What once was a dream to show others how to re create her amazing eye shadow looks has turned into reality. Laura Lee has blended her love for fashion , beauty and make-up to bring you a quality and lovable brand made possible by family, friends and subscribers. Welcome to Laura Lee, Los Angeles!
FAQ'S
Q: Is there any age limit?
A: No, there isn't any age limit. People of all ages are allowed.
Q: What all do i need to get for the class?
A: Please carry your ticket with you and keep it with you at all times even during the class. Notebook and pen will be provided but you can bring your own if you want.
Q: What is the refund policy?
A: NO REFUNDS. Unless for any reason the class is cancelled, in that case full refund will be given to everyone.Any travel expenses incurred by attendee for the purpose of the class will not be reimbursed due to cancellation. If for any reason you want to transfer the ticket to someone else, please let us know in advance so that we can send u a new ticket with revised name.
Q: How is the seating set up?
A: All the seats will be assigned to all the attendees. There are very limited seats. Platinum ticket holders will be given priority Entry in the hall, followed by gold tickets and then silver. Please wait to be seated up. If you've got a ticket there will be a place for you.
Q:Is filming or voice recordings allowed?
A: NO filming or voice recording of any sorts will be allowed at anytime when the class is on. We request all our attendees to switch of their cell phones or keep it on silent once the class starts. If anyone is seen making videos or filming or voice recording , they will be asked to leave the Masterclass premises that second.
Q: Can't make credit card payment or bank transfers, is cash payment available?
A: Please contact help@insider.in to assist you with the same
Q: Is there a difference between goodie bags of platinum, gold and silver ticket holders?
A: Yes there is. Platinum ticket holders will have the most luxurious bag. Followed by gold and then silver.
Q: Does the seating placement affect the view?
A: NO, it will not. Everyone will have a perfect view. The tickets only differ in goodie bag and meet and greet with Prerna and Aysh.
Itinerary :
8:00 am : Doors open for registration.
9:00 am: Commencement of Hair Style Tutorial
10:30 am: Welcome note by Prerna Khullar and Aysh Glamm
11:00 am : Commencement with Aysh Glamm
1:00 pm : Heavy Refreshments
2:30 pm : Class commences with Prerna.
4:00 pm : Certification and Hamper Giving
4:30 pm: Thank you note and Networking
Venue
Shangri-La's Eros Hotel, New Delhi
19, Ashoka Rd, Janpath, Connaught Place, New Delhi, Delhi 110001