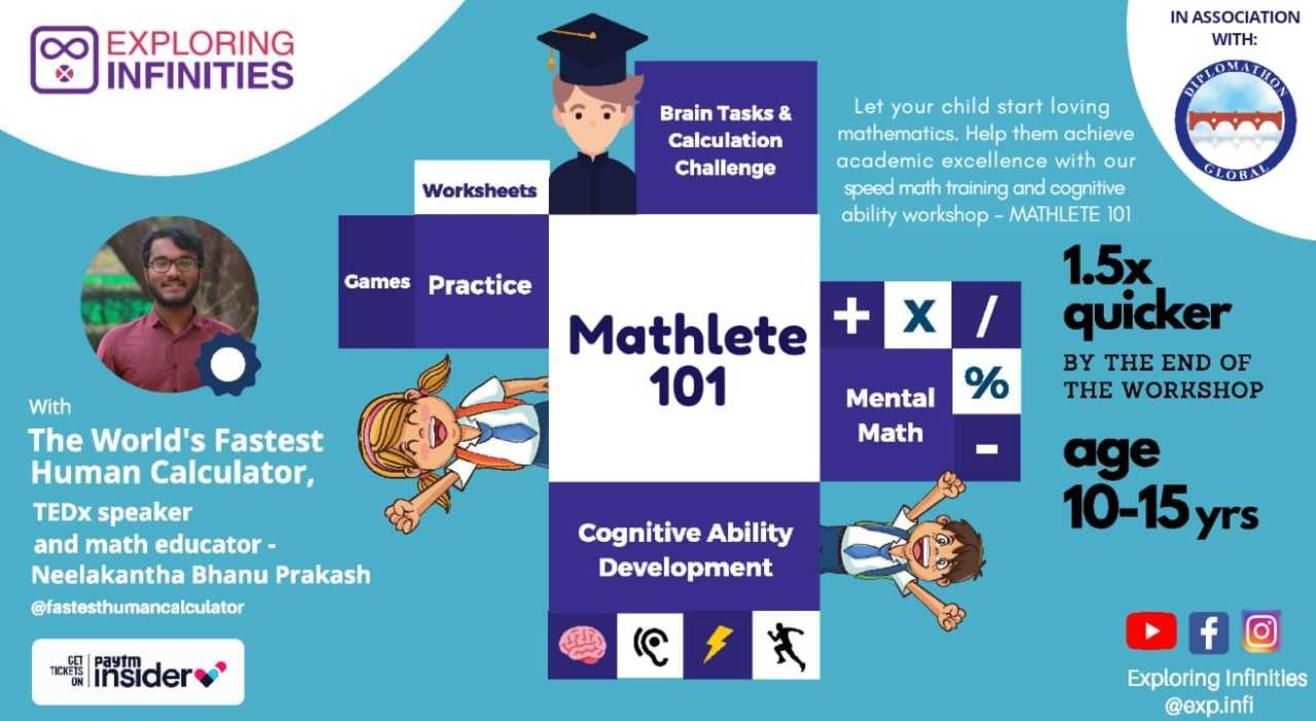 Enjoy this event from your home
Invite your friends
and enjoy a shared experience
Enjoy this event from your home
Invite your friends
and enjoy a shared experience
Invite your friends
and enjoy a shared experience
Mathlete 101: Exploring Infinities brought to you by Diplomathon Global
All the live sessions will be taken by Bhanu Prakash- World's Fastest Human Calculator
Whom is Mathlete 101 for?
● Children between the age 10-15 years who want to become better at arithmetic, be comfortable around numbers and want to enjoy Mathematics!
● Students with trouble in mathematical understanding and are scared of math, this one week workshop is going to do wonders.
● Students who are good at math and love numbers, he/she is going to have a wonderful experience playing number games and learning from the best in the field.
● And also for students who want to take up speed math as a sport!
Course Learnings
● Students will go through a cognitive ability assessment, which will evaluate the current cognitive skills of the students and produce a report.
● Fundamental speed math solving workshop will be conducted right after the assessment.
● Exploring Infinities Calculation Challenge will be conducted at the end of this workshop.
The winners will also be given free access to Exploring Infinities' Turn on The Computer
in You : Level 1 Course from Bhanu for a month along with other campus winners on speed calculation.
Benefits of the course
● The course will let your child excel in mathematical thought.
● The creative methods of teaching will make the student love mathematics.
● 3 out of every 4 students in India are math-phobic. This course will help the student break out of math phobia.
● Certificates will be awarded to every student.
● Interested students can onboard onto our monthly courseware
● Will improve Mental Ability and make your child 1.5x quicker at calculations.
● Will make your child sharper, Agile and Intelligent
● Students will be introduced to the world of fun-math with Bhanu talking over how they can use mental ability as a tool to broaden their thought and make mathematics interesting.
● Research backed cognitive assessment
Choose between 7 Day & 3 Day Workshop:
7 Days Inclusion:
Historical Number System
Math Fun
Intro to speed Math
High Speed Addition
Computer Vs. Brain
Understanding Cognitive abilities
Math around us
Multiplication without Paper
Arithmetic & Visual Sensory
Mental Calculation
Math in Music & Art
Exploring Infinities Challenge
3 Days Inclusion:
Intro to speed Math
Why is Math Fun
Cognitive Ability
High Speed Addition & Subtraction
Computer Vs. Memory
Multiplication without pen & paper
Math In Art & Music
Exploring Infinities Challenge
About Exploring Infinities
Exploring Infinities is an education startup which reaches out to students across different educational institutions and trains them in speed and mental ability by harnessing the infinite brain potentials of the human brain. Exploring Infinities, under Bhanu Prakash has addressed a variety of audiences in various conferences, for creating awareness on capacities of the human brain by holding demonstrations, online workshops.
About Neelakantha Bhanu Prakash - The Number Prodigy
Bhanu Prakash, also known as The Number Prodigy is an 18 year old World Records Holder, demonstrator, teacher with a knack for numbers. Bhanu earned the nickname "The Number Prodigy" because of his superhuman ability in solving complex mathematical calculations including addition, subtraction, multiplication, division, power calculation, square root, cube root, power multiplication, math marathons at unimaginable 100% accuracy. Currently, Bhanu also holds 50 Records in the Limca Book for being the fastest Human Calculator in the World. Bhanu has also been associated with the Telangana Government for this initiative & has also broken Shakuntala's record.
About Diplomathon Global - The Organizer
Diplomathon Global is the Highest Ranked Experiential Learning Platform in India by Education World Eduresources Star Rankings 2019-2020 for Programme Design, Training Support, Soft Skills & Value for Money. Establishing exclusive invitation to schools & students across the world for this unique experience of Model UN & similar Mock Parliamentary Simulations of organisations of global importance, it is a parliamentary form of debate on international organisations to understand real world scenarios and skill development. Diplomathon Global is a solitary stage where millennials meet diplomacy, know more : www.diplomathon.in
Diplomathon Global is the flagship brand of Apogeeoh Education, a leading education service provider and aggregator which aims at providing a one stop opportunity for all spectrum needs and on-demand services by the various constituent members of the education ecosystem.
In case of any queries, you can reach out to : info@diplomathon.in
Enjoy this event from your home
Invite your friends
and enjoy a shared experience