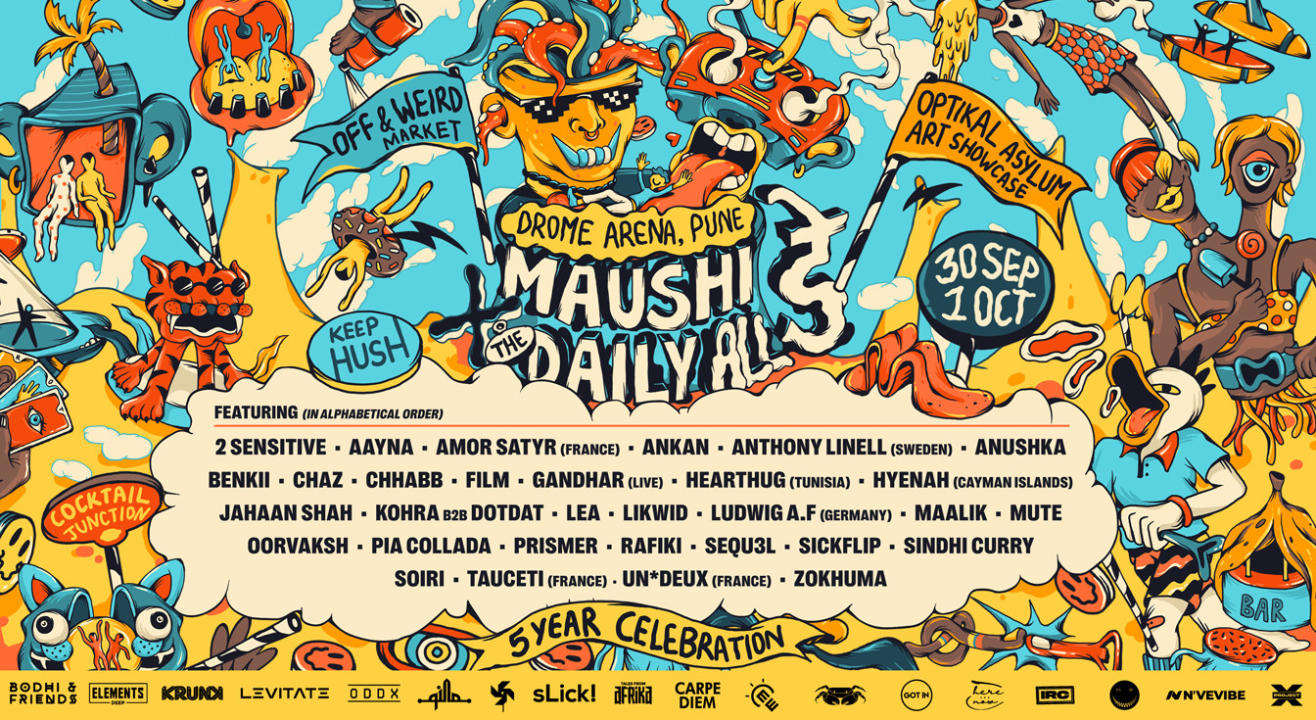 Maushi डे x The Daily All Day 5 Year Anniversary
September 30 - October 1| 2PM Onwards
Event Guide
Live Performance
Enjoy a unique experience
Invite your friends
and enjoy a shared experience
Maushi डे x The Daily All Day 5 Year Anniversary
September 30 - October 1| 2PM Onwards
Event Guide
Live Performance
Enjoy a unique experience
Invite your friends
and enjoy a shared experience
Event Guide
Live Performance
Enjoy a unique experience
Covid 19 Safety Measures
This event adheres to the following

Health & safety measures
Social Distancing
Hand Hygiene Stations
Limited Capacity
Invite your friends
and enjoy a shared experience
Covid 19 Safety Measures
This event adheres to the following

Health & safety measures
Social Distancing
Hand Hygiene Stations
Limited Capacity
Maushi Day x The Daily All Day are coming together to celebrate their 5-year anniversary with a vibrant festival of curated experiences!
2 Days of Music, Art, Pop-Ups, Food, Cocktails & everything cool.
3 Stages: KEEP HUSH TUNNEL, OASIS, AND THE WAREHOUSE.
Featuring 35+ International and Indian Artists:
2 SENSITIVE • AAYNA • AMOR SATYR (France) • ANKAN • ANTHONY LINELL (Sweden) • ANUSHKA • BENKII • CHAZ • CHHABB FILM • GANDHAR • HEARTHUG (Tunisia) • HYENAH (Cayman Islands) • JAHAAN SHAH • KOHRA B2B DOTDAT • LEA • LIKWID LUDWIG A.F (Germany) • MAALIK • MUTE • OORVAKSH • PIA COLLADA • PRISMER • RAFIKI • SEQU3L • SICKFLIP • SINDHI CURRY • SOIRI • TAUCETI (France) • UN*DEUX (France) • ZOKHUMA
Art Market by: OPTIKAL ASYLUM
Flea Market by: OFF & WIERD
30th Sept • 1st October 2023
Drome Arena, Mayfield Estate, Kharadi, Pune, India.
Frequently Asked Questions:
Q. Will there be a parking facility at the venue?
Dedicated Limited parking is available at the venue. But we recommend using public transport.
Q. Will photography or videography be allowed?
No professional photography/videography will be allowed at the concert
Q. Will food, beverages & alcohol be available at the venue?
Yes, Premium Food & Beverage stalls will be present in each section. Alcohol will be available for purchase to people of legal drinking age as per state regulations.
Q. Is ticket shift allowed?
No. All tickets are non - transferable.
Q. Are dogs and cats allowed?
No.
Q. Does the venue have ATMs?
No.
Maushi Day x Social Day Out Aftermovie 2022
PRISMER


One peep into Prismer's music and you will find yourself immersed into his deep and mystical world of influences that are devoid of any bounds. Initiating his electronic music excursions in 2010, after a 5 year successful career as a guitarist, Prismer honed his craft for half a decade before stepping into production and DJing. Being a phenomenal selector behind the decks exposed him to varied styles of electronic music, which he implemented to his enterprises in the studio. Since then, we have seen his sound evolve at every stage; one that makes him one of the most forward-thinking producers in the country. Over the years he has understood that sound is energy that flows through everyone. Using deep frequencies to stir this energy in his listeners, he focuses on sounds that challenge the mind, energise the body, and explore the soul. Prismer has released his intricate brand of music on labels such as Fabric Records (London), Reel Long Overdub (London/Leeds), and Tokyo Hell (Tokyo) while sharing stages with heavyweights like DJ Stingray, Benjamin Damage, Stenny, Denham Audio, Pangaea to name a few



RAFIKI


Rafiki is the artist alter ego of Sohail Arora---a pioneering figure in the Indian music industry, who significantly shapes club culture as the founder of Krunk. Based out of Mumbai, he moves as easily between styles like acid, breaks, house and techno as he does between his roles as a seasoned music curator, music producer, label head, and selector. The result is a signature sound that lies somewhere between a straight and broken beat. It's a space he stakes a unique claim to, as someone who's earned a reputation for cutting-edge taste in music over the last 15+ years.



Sickflip


A composer, music producer and DJ - Sickflip has carved himself a unique space within the Indian music scene in the last few years by carefully diversifying his sound. Focusing on creating a tribal-percussion heavy dance set, SickFlip uses traditional vocals and melodies from deep corners of the world, all glued together with high-energy electronic beats.



CHAZ


Chaz creates evocative techno sounds thumbing with a rebellious drive. Hypnotic repetitions are essential substances for his production as well as performance. He combines the spirit of the genre with enigmatic production techniques. His music sits comfortably at the crossroads where galvanised textures collide with undulating rhythms, as a tribute to his strongest inspiration coming from techno artists and labels of the nordic world. Chaz is defying convention and forging his own path through the revered underground current. Approaching his soundscapes with the care of a scrupulous artisan, adding pensive electricity through interesting details — a methodology that has accrued him constant praise from distinguished artistic figures.



Gandhar


Gandhar is a 25 year old self taught producer, Dj, singer and multi-instrumentalist from Bombay. He blends several genres and his own influences into lush and groovy productions, over which he sings. Performing from a young age, he was heavily influenced by live looping and French musicians like French Kiwi Juice and Daft Punk. He intends to not stick to a certain genre and define his own sound.



HearThuG


HearThuG, is a DJ, producer and head of Are You Alien Recordings. with a God-given gift that allows him to conjure up some of the wildest, twisted (yet still sexy and Acid) grooves one can imagine. Back in the years, picked up by New York's rapidly rising label, Stranjjur Imprint, who have already got him working in the studio with widely known artists such as H.O.S.H.; who co-produced "Technicolour" which has been included with rave reviews in DJ Mag's "Killers" section. Over the years, Jihed collaborated with many artists and released on labels like, Banoffee Pies Records, Pleasure Club, One Eye Witness, Warok, My Favorite Robot Records, and Polymath.



Kohra


Te practice of seeking the unknown is a journey that doesn't guarantee anything in the 21st century. Kohra (ک()رہ - fog or mist) is on such a journey, living by the idea of oneness, defying traditional norms by experimenting with the timeless nature of sounds. It's about fnding what your inner-self seeks the most. His productions have appeared on labels like Sol Selectas, Traum, Endangered, Parquet, Steyoyoke and has performed at festivals like DGTL, Awakenings, ADE, EDC, Far Out, Magnetic Fields including venues across the globe. His single 'Acid Kidz' went on to Beatport's Left-Field House / Techno charts at number one for four weeks straight and he continues pushing the boundaries with an undying love for new realms. He decided to expand his vision further with Qilla (ه Urdu - fort or castle) Records in 2011, with a clear aim to bring together more like-minded artists that live close to the unknown and are conscious of it.



Lea


Lea is an artist, Dj and producer based out of Poona, India. After living between New York and India, her music is defined by Brooklyn's underground techno and baselines and funky house melodies as well as hints of India's classical music elements. She has been a part of the emerging electronic music scene in India for a while and has already produced multiple EP's on Spotify & Apple Music along with her top single, "Into the Night"



Mute


Mute is a rising force in the world of electronic music. With an innate passion for music and a relentless pursuit of sonic perfection, mute is ready to make waves. His journey began seven years ago when he discovered his love for music production and later DJing. During these formative years, mute honed his skills, dedicating countless hours to refining their craft. What started as a hobby soon became an allconsuming passion, as they explored different genres, experimented with soundscapes, and developed an ever-evolving musical identity. mute's style can best be described as a fusion of melodic beats, pulsating rhythms, and atmospheric textures. Driven by an unwavering commitment to connecting with their audience, mute understands the power of music to evoke emotions and create lasting memories. With carefully curated sets, drawing inspiration from a diverse range of musical influences, he seamlessly blends genres to create a captivating sonic experience.



Amor


Amor Satyr is a self-proclaimed romantic raver, but he doesn't stop there. DJ and producer, his sets oscillate between audacity, innovation and pure energy



ANKAN


Ankan is a music producer/beat maker based out of Pune, who intends to transverse through various genres, like dub / drum&bass / jungle / breaks + leftfield bass to name a few. Hugely influenced by the underground bass music culture, his music is combined with deep, tribal and dark atmospheric textures, experimental drum patterns with strong world music influences, pushing these mystical sounds and also paying respect to the deep roots of sound system culture. He is a music enthusiast with an extreme passion for learning and listening to different and all kinds of music. He has also started a collective called SoundsForTheSub, and hosting a radio show on boxout.fm, creating a space for all communities of soundsystem and bass culture, focusing on building the community stronger and bringing them closer



Anthony Linell


The cohesive array of depth charged devices that Anthony Linell has produced is formidable. From his opening statements as Abdulla Rashim on his early label of the same name, right through to his recent work that puts his aliases aside, there is a robust and rigorous intent that compounds the elemental strategies of techno's models to apprehend his singular vision.



Anushka


Hailing from an incredibly successful career in fashion and beauty photography, Anushka Menon is a name that would ring a bell to many. No stranger to the independent music scene, Anushkas transition to the spotlight as a DJ was a natural and much anticipated progression. Anushka began in 2015 taking inspiration from her middle eastern roots and love for Hip Hop music. Her sound has evolved into breaks and seeps into genres like Electro, breakbeat, Leftfield House and Techno. Layering bass-heavy breaks ultimately ensconced in a darker, moody veneer, Anushka's sets embrace a variety of styles making her an icon of edginess with her ability to seamlessly switch between genres. Anushka has released 4 singles since 2019 and recently debuted Boiler Room India.



Benkii


Benkii, aka Sanjana Nyapati, is an upcoming DJ based in Bengaluru. She has been actively creating and curating music for quite some time now. In 2017, she collaborated with renowned Indian producers Oceantied and Aniruddh Menon. She has also been involved with the 4NCY(Foreign Currency) radio since its inception. A platform curating Drum & bass, Grime and Hip-hop, pushing her to begin her own journey towards becoming a unique selector in the Indian music scene. She released her Drum & Bass mix 'Got Fire' for their sub label DarkMode 096 on SoundCloud in 2022.



2Sensitive


2Sensitive are the duo of longtime friends Abhi Meer and Yohann Jamsandekar aka Spacejams from Bombay. Known for their long, adventurous sets, they've been recognized among India's premier party music providers since getting together nearly 10 years ago. 2Sensitive were the youngest recruits aboard the Bhavishyavani Future Soundz vessel, and have since been known for their unadulterated take on club music, DJ history and dance music culture. A classic 2Sensitive performance is a musical rollercoaster ride through the ages, and their no-holds-barred take on DJing lacerates the genre divide leaving no person unchanged.


Drome Arena
Mayfield Estate, Mayfield Rd, near Mio Palazzo Society, Tulaja Bhawani Nagar, Kharadi, Pune, Maharashtra 411014, India
GET DIRECTIONS
Maushi डे x The Daily All Day 5 Year Anniversary
September 30 - October 1| 2PM Onwards
Event Guide
Live Performance
Enjoy a unique experience
Invite your friends
and enjoy a shared experience