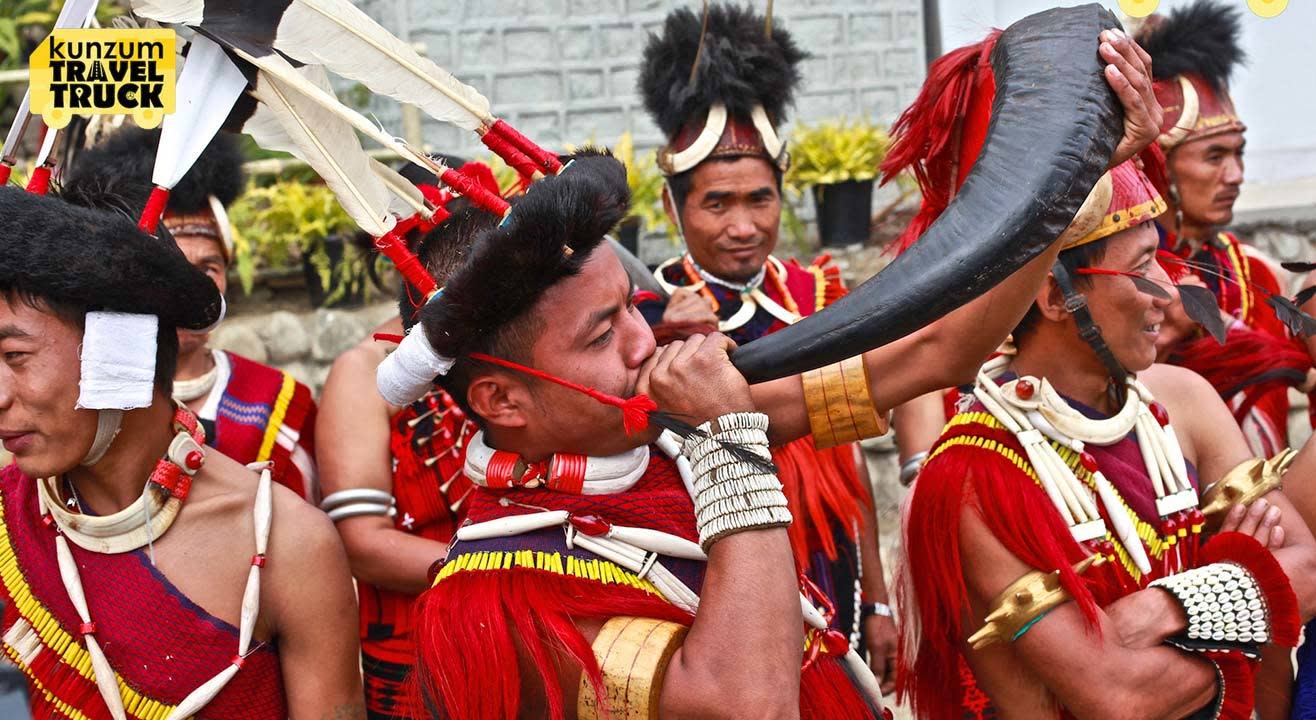 Experiences
Meet the Vanishing Tribes of Nagaland at Hornbill Festival
About
The North-East of India is one the last frontiers in tourism - raw, virgin and mostly untouched. This is where societies live like they have for centuries - especially their tribes with facial and body tattoos, unique dressing, festivals, culture and habitats.
But it is all going away as changes sweep in. There are not too many opportunities left to see this rich human heritage - and that is what makes the Hornbill Festival in state capital Kohima so significant. All major tribes come together to show their lifestyle and culture to the world - it is an event not to be missed by those who care about all that is rich and beautiful on this planet.
Kunzum has made special arrangements for select participants to attend the Hornbill Festival and also to live in and visit some of the villages and countryside around Kohima.
Day One:
Land in Dimapur. Lunch at the Bamboo Resource Centre. Drive to Khonoma Village, about three hours away. Check into hotel / homestays. Dinner in the village.

Day Two:
Tour of picturesque Khonoma. Visit Thevoma Fort, Semoma Fort (the strongest fort during British rule), Merhiima Fort, British Officers Monolith, Peer Group house, Morungs etc. Admire the terraced fields of the village and go Hornbill spotting in the forests. Drive to Kohima to see the famous Cathedral funded and built by the Japanese as a gesture of giving back after the gruesome World War II. Visit the World War II Cemetery where you cannot help feeling overwhelmed reading the tombstones. Walk around Kohima town, browse local markets, and have lunch in town. Return to Khonoma Village via Jotsoma village to see the stunning view of Kohima town in the evening. Dinner and overnight at Khonoma.

Day Three:
Breakfast in Khonomafollowed by drive to Dzuleke village, one of the first community based ecotourism destinations in Nagaland. Check out sustainable alder based jhum cultivation, Mithun salt licking places, Khonoma community initiated conservation site and more. Lunch at Dzuleke village. Visit Poilwa village, one of the oldest village of the Zealang Naga tribe - don't miss out on one of the longest beds ever made and many other preserved antiques. Travel back to Khonoma for dinner and overnight stay.

Day Four:
Breakfast and check out. Travel for one hour to Kisama Heritage Village to attend the Hornbill Festival. Attend tribal dances and performances, visit the traditional houses and exhibits created by the 16 major tribes of Nagaland and experience ethnic foods and drinks. Shop for tribal handicrafts too. Experience the night bazaar of Kohima set up during Hornbill Festival only. Check in to hotel in Kohima followed by dinner.

Day Five:
Check out and drive to Dimapur for return flights.
What is Kunzum Travel Truck?
The Kunzum Travel Café opened its doors to the world on June 12, 2010 – it has since become synonymous with the idea of a traveller community.
As Brand Kunzum, established earlier in 2007, completes a decade, we have introduced an idea that promises to be another game changer – we call it the Kunzum Travel Truck. Very simply, it is recreating the café on wheels. People would no longer just talk travel, but head out together too.
On journeys curated by experts. In vans that make travel fun and engaging – comfortable push back seats, unlimited bar, WiFi on board, funky interiors, LED screens, music systems and more. Trips have been scheduled every week taking you to places you may not have considered on your own. With service standards that will delight you.
In other words, the Kunzum Travel Truck would be the destination in itself. Where you will make new friends too. Hop aboard – book a journey at http://kunzum.com.
Want to book a truck for your family, friends, alumni and office colleagues? We all like to head out with our private groups – why not do it in style in a Kunzum Travel Truck? We can suggest itineraries and you can express your preferences. Leave the rest to us – we will handle all research, curation, bookings and organisation of the trip.
Dates: December 6 - 10, 2017.
We fly to Dimapur early morning on day one and return by an evening flight on the last day [These dates don't suit you? Call us to organize a private tour on a date of your choosing.]
Accommodation: You will be staying in basic hotels and homestays - the limited infrastructure in the region enables it to retain its charms.
Travel: We fly to and from Dimapur. We travel in Innovas throughout in Nagaland, with five guests to a car.

Refund of 50% to be given if cancelled at least 30 days before departure date. No refunds will be possible otherwise but you are free to transfer your booking to anyone else.