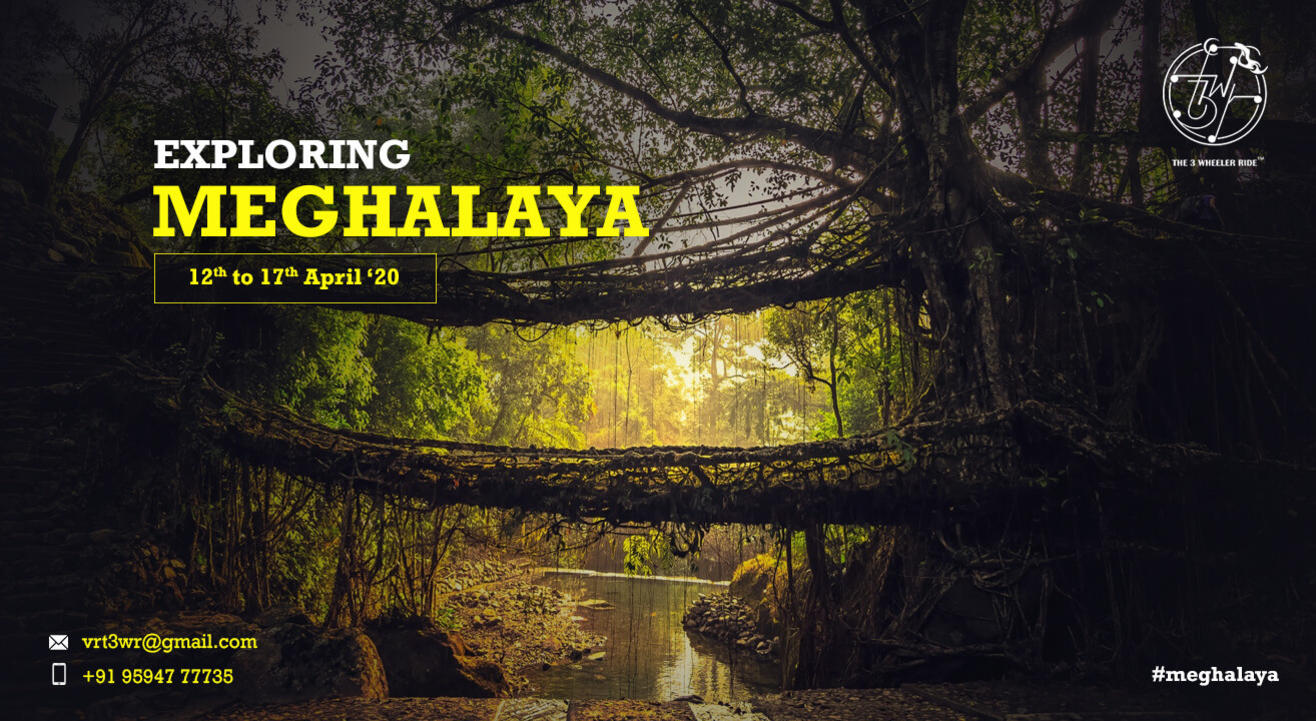 Meghalaya Backpacking Tour
April 11 | 11AM - April 18 | 1PM
Step out and enjoy this event
Invite your friends
and enjoy a shared experience
Invite your friends
and enjoy a shared experience
About the Event
About The 3 Wheeler Ride
Since the last decade, travel and tourism is catching up in India. The otherwise mundane lives, gets a fresh twist on a holiday. Till few years ago, travel comprised of visiting selected destination that have been so exploited in recent times that it has lost most of its indigenous charm.Whereas many beautiful havens still remain undiscovered, these untouched beautiful places have become the new travelers delight.The 3 wheeler ride will take you many such undiscovered destinations for an adrenaline gushing Adventure travel.Therefore we follow our motto of travel different, be different!
Our Vision :


T3WR started by our founder Jigar Lalai with a simple vision of taking people to an amazing location, to show them staggering scenery and interesting towns and to introduce them to the fascinating people that live among them.It is this ethos that has seen our company grow and our clients return to us again and again. We aim to provide exceptional travel experiences because we believe that travel should be stimulating and that it should give you an authentic experience of a destination. We want our travelers to relish the amazing diversity nature has to offer through our repertoire of adventures.
Our Mission :
To ensure an authentic and unforgettable life-changing experience for everyone. We firmly believe that travelling is all about experiences and it's in the details – the places you stay, the transport and route that gets you there and the people you meet along the way that make the trip; hence we specialize in drawing on our own extensive local knowledge and array of contacts to give our clients the very best experience possible. We want to offer a style of travel which is all about exploration.
Travel Philosophy :
"The World is a book, and those who do not travel read only a page."Adventure travel is more than a vacation, it is freedom. It is intensified living, with maximum thrills per minute. The great joy of adventure is simply leaving all your luxuries and certainties at home and seeing everything you thought you knew in a different light and from a crooked angle. Travel to open your hearts and eyes and learn more about the world. The key purpose of travelling - grow from each trip, learn something new about yourself and let the experience change you. Biking, hiking, whitewater rafting and other ever-so-amazing- activities await. Come and get 'em.
OUR ENDEAVOR:
Always dreamed of getting deep inside one of the world's greatest and most out-there destinations? Travelling with T3WR is the best way to get up close and personal with your planet in a way you'd never manage on your own.Opportunities for adventure are scattered all over this planet; you just need to know where to find them. Active adventures get you closer to the destination by letting you hike, bike and multi-sport your way through it. We provide the equipment, the experts and the opportunity; you provide the energy makes your trip planning fun, exciting and nearly effortless.
About the Meghalaya:
'Meghalaya' is a Sanskrit term which denotes 'abode of clouds'. True to its name, Meghalaya is a distinctive state where clouds have a tendency to settle on the surface whereas you will discover yourself up above the clouds. The land rests in North Eastern frontier and is opulent in cultural diversity.
Meghalaya invites travellers from across the world to experience its moist climate, warm folks and visually eye-catching landscapes. The cool breeze and picturesque landscape cover panoramic backdrops, foggy hills, flowing waterfalls, meandering rivers, and terraced slopes pacify the minds of stressed travellers, giving the viewer a breath-taking sight of Meghalaya during the trip.
Sited in the crib of high pine trees and shrubs, Shillong is one of the most sought-after destinations to visit on the trip. Cherrapunji bestows one of the most picturesque settings and unmatched scenic magnificence. The surroundings are generally speckled with towering Khasi hills and valleys beyond your vista.
Meghalaya is indeed one of the most picturesque states of India, which serves as an ideal trip for individuals in quest of beauty and serenity.
Detailed Itinerary:
Day1: Guwahati-Shillong trip (120 kms) – Arrival at Guwahati Station / Airport. Transfer to Shillong.
Arrive in the morning at Guwahati by around 11-11:30am. Hop on the bus/car and head out to have the first meal of your trip in Guwahati. Enjoy the landscape on the way to Shillong. En-route visit Umiam Lake (Barapani), a beautiful, man-made lake that encompasses an area of 221 sq kms. Enclosed by coniferous forests, it is a really distinctive getaway for those travelling to Shillong. Fill your time witnessing nature express her feelings and emotions throughout the passage of the day. Apart from nature, perceive the captivating goings-on in the everyday lives of the people who come to the area of the lake in hunt of grass, twigs and other things. In evening, travel the local market. Overnight stop in Shillong.
Day2: Shillong-Mawphlang-Mawsynram-Shillong (130kms)
Today we begin our day with tour to Mawphlang Sacred Forest. The sacred grove has an astonishing life form of plants, flowering trees, orchids and butterflies. It is a perfect destination for nature aficionados. The sacred-groves which have been well-looked-after since time immemorial, are in sharp contrast to their neighbouring grasslands. Next, we head to Mawsynram. Known as the wettest place on earth, the village of Mawsynram is a nature aficionado's dream and the finest place to witness the intensity of the rains. Picturesque waterfalls and plush greenery make up for the scenery. The drive from Shillong towards Mawsynram is a trial for drivers and needs exception skills. Overnight stop in Shillong.
Day3: Shillong- Dawki- Mawlynnong village- Cherrapunjee (220kms) – Early morning, we start our journey to Dawki, one of the most beautiful places in the country. We get prepared to ride in the boat and adore the beauty around. Then, we head towards the cleanest village in India. Yes, there is a mystic paradise called as Mawlynnong – a tiny village which won the prestige of being the cleanest village, not just in India, but in entire Asia. The settlement offers striking natural beauty, view of Bangladesh and a walk to the "living root bridge" at a bordering village Riwai. The village also provides a view of natural balancing rock, a strange natural wonder of a large rock balancing on another rock. Overnight stop at Cherrapunji.
Day4: Cherrapunji Sight-seeing tour (54kms)
Day begin with visiting Thangkharang Park, followed by the Mawsmai Caves that are a major attraction amongst tourists. After eating lunch, we visit Dainthlen Falls, among the several falls that Cherrapunjee tour boasts of. Dain Thlen Falls is also one of the well-known falls particularly as it has a remarkable folklore associated with it. Next, we visit Nohkalikai Falls, which is the 4th highest waterfall and is the highest plunge waterfall in India. Dropping from a great height of 1,100 ft, this fall is a best attraction of Cherrapunjee. Revel in the evening with some melody and stories while relaxing on the porch of the resort. Overnight stop in Cherrapunji.
Day 5 : Cherrapunji - Double decker living root bridge - Cherrapunji
Early in the morning, we head to double decker "Living Root Bridge". Meghalaya's double decker and single decker root bridges are exceptional in the world and are a view to capture. The bridges are tangles of huge thick roots, some of which are over a 100ft long, take 10-15 years to become completely functional, but they're extremely strong. The one we visit is on the decline of 2400 ft and is 180 yrs old. We head towards a wonderful restaurant to have lunch and then relax for the day. Overnight stop in Cherrapunji.
Day 6 : Cherrapunjee - Mawlyngbna - Natural amusement park
Today post breakfast leave for Mawlyngbna, it has many natural swimming pools and lagoons. Reach mawlyngbna by afternoon rest and have lunch on reaching post that we go for a split rock trek and enjoy the sun set from the sun set point with the view of Bangladesh in front and return back to your homestay. Overnight at Mawlyngbna..
Day 7 : Mawlyngbna - Water activity
Today post breakfast you first go to swim and dive in a natural swimming pool and start with your trek to lew luri lura. Locals believe that this place was a market for animals thousands of years back, when animals could speak. The impressions are believed to be footprints of Huge animals and also you could witness fossils of some rare species from the time when Meghalaya use to be under water. Post the trek have your lunch and we get ready for the most awaited activity that is river canyoning. (kyunke Darr ke agge jeet hai) once we are done with river canyoning one can also enjoy kayaking around the river. Overnight at Mawlyngbna.
Day8: Mawlyngbna - Guwahati Airport.
Today early morning, freshen up get ready for the return journey to Guwahati have breakfast on the way. The long drive through Meghalaya will have numerous viewpoints, you could stop and admire the spots as long as you have time to make it for your flight/train back home. Arrive at Guwahati by afternoon and proceed towards onward destination with happy memories.
Inclusions :
1. Accommodation on sharing basis in clean and decent rooms/homestays.
2. Pvt vehicle for sight seeing.
3 .Airport transfers.
4.Living root bridge trek with local english speaking guide.
5. Breakfast throughout the tour.
6. Inner line permits, entry fees.
7. All entry fees & Monument charges as per itinerary.
8.English speaking guide for water activity at mawlyngbna.
9. Your savior and your best friend on board (T3WR Explore Buddy)
Exclusions :
1. To and fro Air or Rail fare and Airfare.
2 Personal expenses such as laundry, drinks, bed tea, any joy ride, sightseeing which are not in the itinerary.
3.Lunch & Dinner.
4. Anything that is not mentioned in the inclusion.
General Terms & Conditions:
1. Itinerary is subject to change without prior notice.
2.Organizers reserve full rights to claim any additional expenses due to delay/breakdown of buses / Rail / Strike / war / Riot / Natural Calamities.
3. In case of damage whatsoever done by the participants, cost of the same will be borne by Him/Her.
4. The organizers will not be responsible for any loss or damage.
Once you Book our team will get in touch with you, to assist you with flight ticket bookings and also answer all the questions pertaining to the trip to your satisfaction be assured.
Shillong Airport
Shillong Airport Road, Umroi, Meghalaya 793103
GET DIRECTIONS