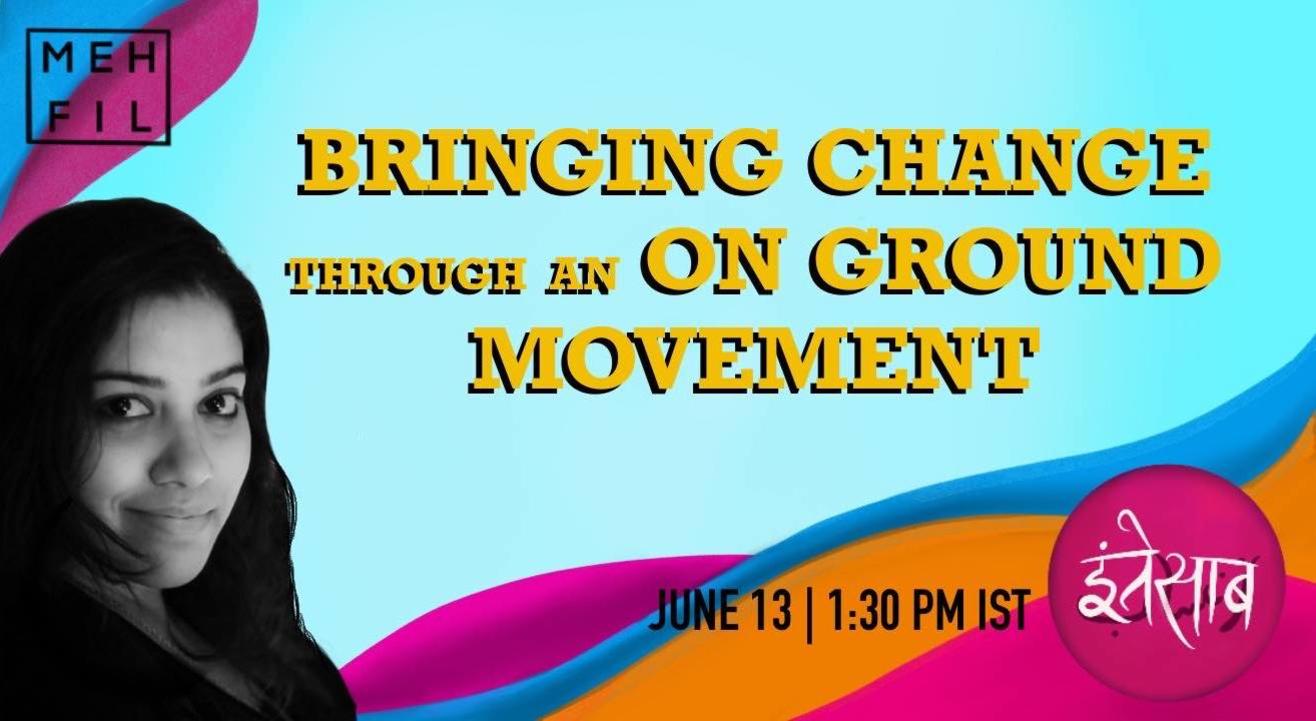 Mehfil: Bringing Change through an On Ground Movement
Enjoy this event from your home
Invite your friends
and enjoy a shared experience
Invite your friends
and enjoy a shared experience
About the Event
Intesaab 2020 Presents a Mehfil on Bringing Change Through an On Ground Movement
Females have been considered divine creatures of humanity personified by beauty, grace, and elegance throughout social history. They have been referred to as the epitome of love, peace, and fierce character. However, the tragedy of society is that it is pietist in that the very women society idealises are subjected to discrimination, prejudice, and genital mutilation. Such inhumane actions, which take away the right to expression of identity, are what Intesaab stands against. We believe that social evils born of sexism, such as female genital mutilation, which comprises of all procedures involving partial or total removal and injury of the external female genitalia and organs for non-medical reasons, need to be eradicated.
This sort of mutilation has no health benefits, and harms female bodies. The removal and damage of healthy genital tissue increases the severity of health and pregnancy risks, leading to miscarriages and early death. Carried out mostly on young girls, this practice has affected more than 200 million girls and women in today's India alone. Even though no religious scripts prescribe the practice, practitioners often believe the practice has religious support, which increases the issue further. That even urban centres like Mumbai abound with untrained religious midwives who continue to scar young girls from the Bohra community, a Shia subsect, makes this issue a very important one as one realises that it is not something only tribal communities follow, but quite literally the modern monster of sexism, lurking in the shadows, waiting to ruin young girls' lives and their identity. We believe that such petrifying rituals lead to the demise of the self-identity of a woman as she is not able to embrace herself after such trauma. Many organisations fight against female genital mutilation, but there is still a long way for us to go.
In order to solve this social issue, Intesaab believes dialogue to be the best method as it promotes awareness for such issues, something which is crucial to modern India and the World in general. We would be eternally grateful for you to come and talk about such evils and battle them with opinions and insights, helping us make the difference today's world needs.
Priya Goswami is an independent filmmaker from India. She is the recipient of the young leader German Chancellor Fellowship by Alexander Von Humboldt Foundation (Bonn, Berlin' 18-19) and co-founder of an international collective, SAHIYO based in Mumbai, India, and Boston, US. Priya's documentary 'A Pinch of Skin' ('13) won the 60th National Film Award of India and screened worldwide. She's the recipient of the International Association of Women in Radio and Television (IAWRT) grant for a four-country feature film collaboration called 'Reflecting Her.'
About Intesaab 2020
Intesaab 2020, organised by the Ishan Foundation Trust, Jaipur x Mumbai, marks a new beginning where art and artists find their way to express their inhibitions. Scheduled on the 12th, 13th, and 14th of June 2020, it is India's first virtual festival, where these three days are an amalgamation of panel discussions, talks, events, and workshops, where Intesaab shall diverge into an iconic platform for art across the nation to be rediscovered and cherished.
With the grasping clutches of the COVID-19 pandemic, we also believe in making a change in society that sustains us. Hence all proceeds from the festival shall be donated to NGOS which provide relief to the victims of the COVID-19 crisis. Thus, Intesaab 2020 is a cradle for new avenues to emanate, reorient, and unravel incredible directions that will divulge our past, mold our present, and inspire our future.
Find more about Intesaab on www.ishantrust.org
Follow us on instagram: @intesaabfest
For queries: intesaab@ishantrust.org