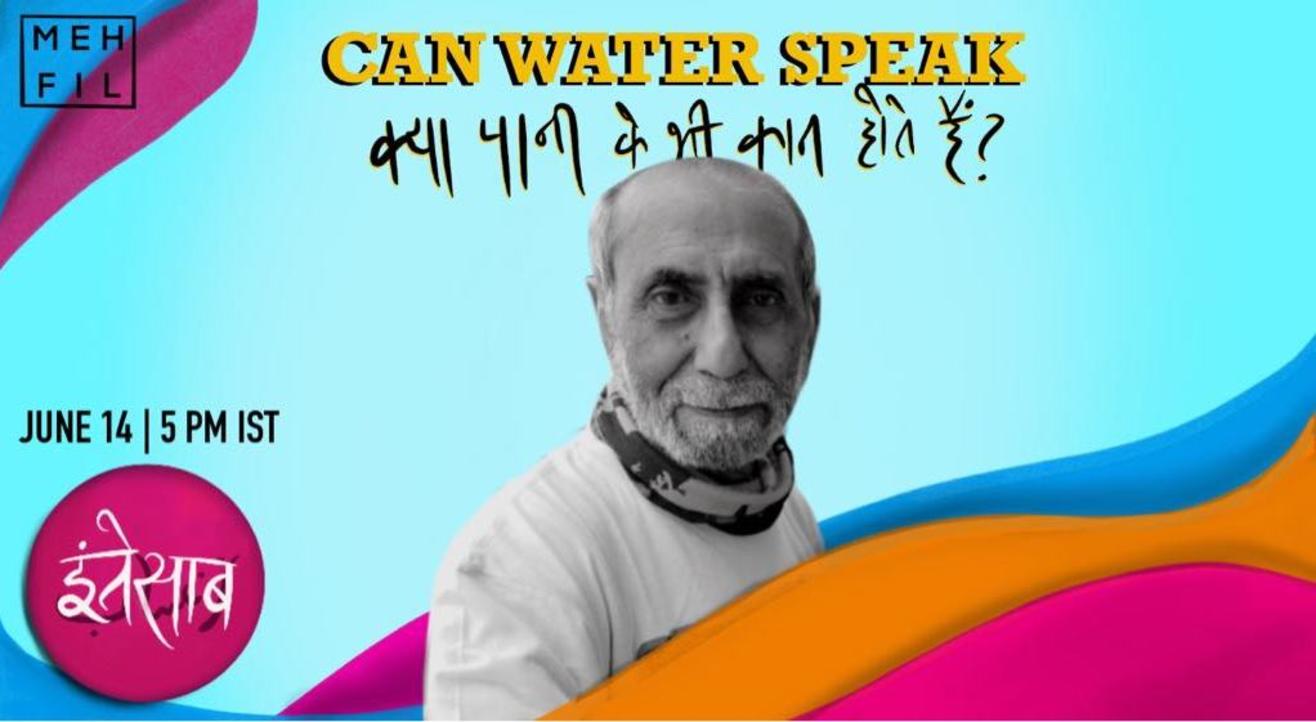 Enjoy this event from your home
Invite your friends
and enjoy a shared experience
Invite your friends
and enjoy a shared experience
About the Event
Intesaab presents a Mehfil with Abid Surti where he asks a pertinent question, 'Can Water Speak?'
Aabid Surti believes that thoughts are like seeds. Fortunately his drop of a thought turned into a vast ocean just like a small seed that turns into a massive banyan tree. HAving saved 20 million litres of water single handedly, from going down the drain.a very renowned artist and water conservationist will delve into a very pressing issue. He asks a very rudimentary question and tries to answer it in a manner which is bound to leave you thinking. He believes that water has hidden messages exactly like humans do, and it also shares feelings . He compares water to God, and discusses that if an atheist dives into the mysteries of water, he is sure to become a believer. He talks about the discoveries of scientists in relation to water with several facts and the journey of his esteemed foundation.
In order to solve this social issue, Intesaab believes dialogue to be the best method as it promotes awareness for such issues, something which is crucial to modern India and the World in general. We would be eternally grateful for you to come and talk about the basic necessity of humanity and battle them with opinions and insights, helping us make the difference today's world needs.
Aabid Surti
Chairman, Drop Dead Foundation
National Award-winning (1993) author, Aabid has written around 80 books, which have been translated into almost every Indian language. An accomplished painter, he has held 16 exhibitions in India and abroad. In 1971, the Indian government commissioned a short film 'ABID' on his creative work. As a cartoonist, he created the lovable simpleton 'Dhabbuji'. This was a highly original and most popular comic-strip, and the longest-running (30 years) comic strip in India, Aabid has also created the first Indian comic book superhero, 'Bahadur' (1976), which achieved cult status globally.
About Intesaab 2020
Intesaab 2020, organised by the Ishan Foundation Trust, Jaipur x Mumbai, marks a new beginning where art and artists find their way to express their inhibitions. Scheduled on the 12th, 13th, and 14th of June 2020, it is India's first virtual festival, where these three days are an amalgamation of panel discussions, talks, events, and workshops, where Intesaab shall diverge into an iconic platform for art across the nation to be rediscovered and cherished.
With the grasping clutches of the COVID-19 pandemic, we also believe in making a change in society that sustains us. Hence all proceeds from the festival shall be donated to NGOs which provide relief to the victims of the COVID-19 crisis. Thus, Intesaab 2020 is a cradle for new avenues to emanate, reorient, and unravel incredible directions that will divulge our past, mold our present, and inspire our future.
Find more about Intesaab on www.ishantrust.org
Follow us on instagram: @intesaabfest
For queries: intesaab@ishantrust.org