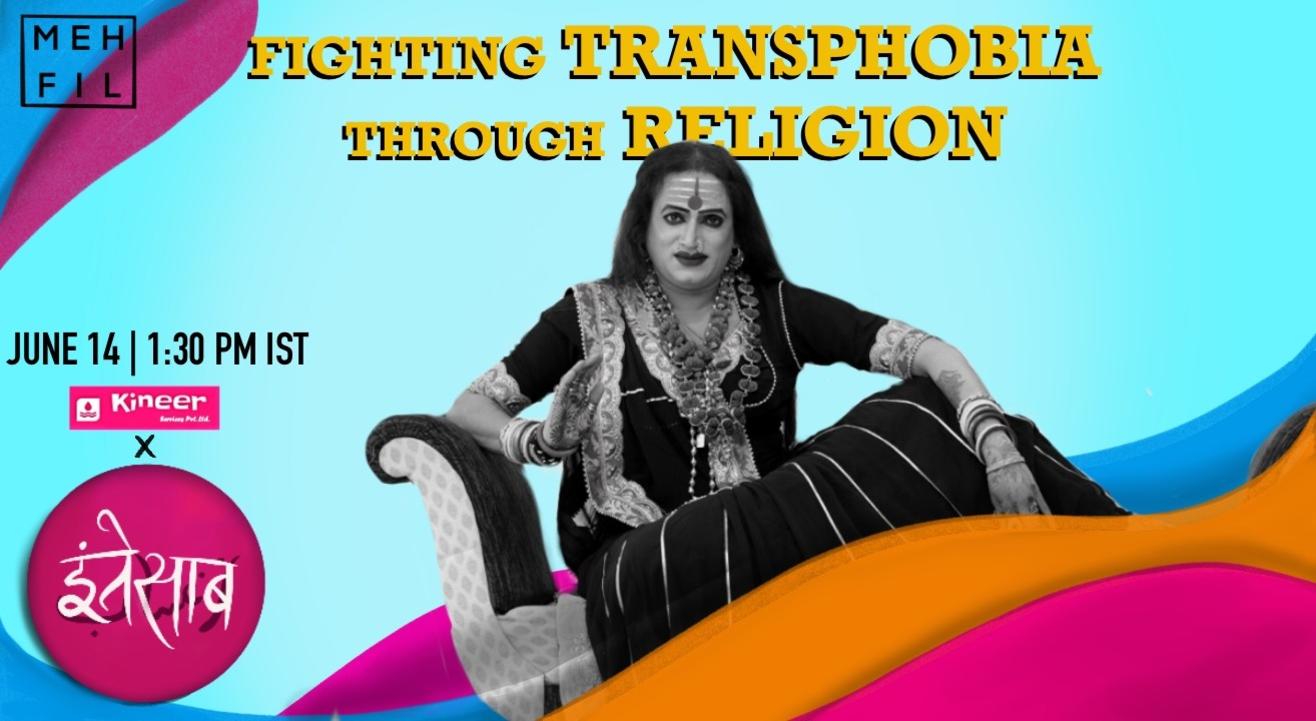 Mehfil: Fighting Transphobia Through Religion
Enjoy this event from your home
Invite your friends
and enjoy a shared experience
Mehfil: Fighting Transphobia Through Religion
Enjoy this event from your home
Invite your friends
and enjoy a shared experience
Invite your friends
and enjoy a shared experience
Through time and again, transphobia has found basis in religion by providing a strong evidence to justify one's insecurities and hatred towards the transgender community. This has led to the demise of individual transgender identities and freedom. Today, in India alone, such gruesome and inhumane acts have led to a range of negative attitudes, feelings, and actions toward transsexuality in general, which has led to transgenders being denied basic rights of education, livelihood, and having to turn to odd and menial jobs such as being a sex-worker. That religion, something that preaches love towards all, is something that is used to justify such hate angers us here at Intesaab.
Yet, festivals such as the Koovagam festival, an 18-day festival celebrating transgenderism, remind us that our world is not filled with hate, but rather, love and acceptance shadowed under what people have made of religion.
This is why Intesaab questions the role of religion in promoting transphobia. We invite you to talk about how religions in themselves do not promote transphobia but rather lead one to the acceptance of transgenderism as an integral part of society. We ask for your help in making audiences realise that the very Lord Krishna that they praise once took a gender-amorphous form during the war, that even the great Arjun from Mahabharata remained Brihannalla, and that Shikhandi, a woman turned man commandeered a legion of soldiers to fight Bhishma. We request you to help us fight this narrow-minded thinking by reminding people of the importance of acceptance in Religion and promote acceptance of transgenderism in the world today by engaging in open dialogue about the taboo of transsexuality. We would be eternally grateful for you to come and fight transphobia through Religion with us using your opinions and experience, here at Intesaab on a session exclusively about fighting transphobia cultural transphobia.
Shri Laxmi Narayan Tripathi
Acharya Mahamandaleshwar Shri Laxmi Narayan Tripathi is a renowned activist and a public figure in the country. She founded noble organisations like Astitva and Kineer to represent the LGBT community, to assist and shelter sex workers and PLHIV families.
About Intesaab 2020
Intesaab 2020, organised by the Ishan Foundation Trust, Jaipur x Mumbai, marks a new beginning where art and artists find their way to express their inhibitions. Scheduled on the 12th, 13th, and 14th of June 2020, it is India's first virtual festival, where these three days are an amalgamation of panel discussions, talks, events, and workshops, where Intesaab shall diverge into an iconic platform for art across the nation to be rediscovered and cherished.
With the grasping clutches of the COVID-19 pandemic, we also believe in making a change in society that sustains us. Hence all proceeds from the festival shall be donated to NGOS which provide relief to the victims of the COVID-19 crisis. Thus, Intesaab 2020 is a cradle for new avenues to emanate, reorient, and unravel incredible directions that will divulge our past, mold our present, and inspire our future.
Find more about Intesaab on www.ishantrust.org
Follow us on instagram: @intesaabfest
For queries: intesaab@ishantrust.org
Mehfil: Fighting Transphobia Through Religion
Enjoy this event from your home
Invite your friends
and enjoy a shared experience