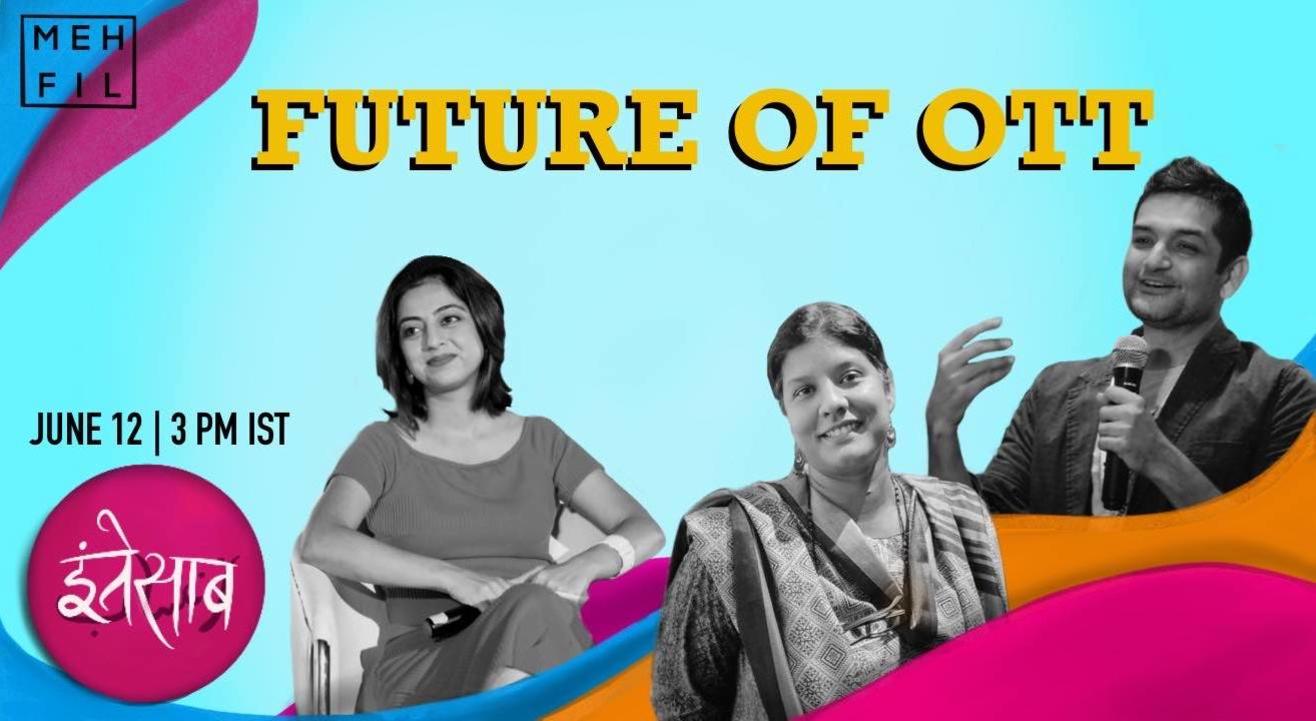 Enjoy this event from your home
Invite your friends
and enjoy a shared experience
Invite your friends
and enjoy a shared experience
About the Event
Our vision at Intesaab 2020, is solely focused on addressing issues and initiating conversations about the future, discussing the next big change, understanding, as well as giving our audience an idea to comprehend what's coming next. Given the current scenario, when all entertainment has shifted from mainstream cinema halls and daily soaps to short films, web series, and other original OTT content, broaching the topic of the rise of Over the Top platforms, seems appropriate.
The rise of OTT platforms has had a transformative impact on the larger media and entertainment industry. It has changed how we create, distribute and consume content. The OTT sector in India grew by 59% because of the undoubtedly available data and its affordability spearheaded the revolution. These platforms offer content that is well packaged, hyper personalised, relevant and engaging.
The subtle shift we, as consumers of media, made during this pandemic from TV to OTT. And it's not just the young crowd but the shift's been uniform across almost all ages. Other than the shift in the medium of consuming content, we also ended up changing the the kind and nature of content we consume. OTT platforms tend to offer us more modern, relevant and forward-looking content. When things come back to normal, will there be a major change in TV consumption due to the tough competition by OTT or will we go back to watching the content on TV that we used to earlier?
Mayur Puri
Mayur Puri has donned many hats over his two decade long Bollywood career as director, film writer, lyricist and actor, but he primarily is and always will remain a passionate storyteller at heart - a role he'd never grow out of. Mayur is a leading game changer responsible for the localization, transcreation and adaptations of various Hollywood films into Hindi translated blockbusters.
Perrie Subramaniam
Ms. Perrie Subramaniam values her roots as a Tamizhan. She works as a Sr. lecturer in Mass Communication at St. Xavier's College, Mumbai, India. After working for a decade in Sales, Advertising and Human Resource Consulting, she moved into Education in the year 2000. In her current role as the Head of Department she helps design and implement media education courses with Jesuit values and Gandhian ethos.
Atika Farooqui
Atika Farooqui is a Television and films media person with over 15 years of experience. Having been in the launching teams of at least 6 News and Entertainment channels like ABP news, News18 India, News24, News Nation and Colors Cineplex she has been an Anchor, Entertainment Editor, Poet, Film Critic, Celebrity Chat show Host and theatre actor par excellence. She is sole heartedly responsible for bringing poetry, literature and love for culture, back into mainstream television.
About Intesaab 2020
Intesaab 2020, organised by the Ishan Foundation Trust, Jaipur x Mumbai, marks a new beginning where art and artists find their way to express their inhibitions. Scheduled on the 12th, 13th, and 14th of June 2020, it is India's first virtual festival, where these three days are an amalgamation of panel discussions, talks, events, and workshops, where Intesaab shall diverge into an iconic platform for art across the nation to be rediscovered and cherished.
With the grasping clutches of the COVID-19 pandemic, we also believe in making a change in society that sustains us. Hence all proceeds from the festival shall be donated to NGOS which provide relief to the victims of the COVID-19 crisis. Thus, Intesaab 2020 is a cradle for new avenues to emanate, reorient, and unravel incredible directions that will divulge our past, mold our present, and inspire our future.
Find more about Intesaab on www.ishantrust.org
Follow us on instagram: @intesaabfest
For queries: intesaab@ishantrust.org